Monroe Wins but Bowne #Plays4Lenny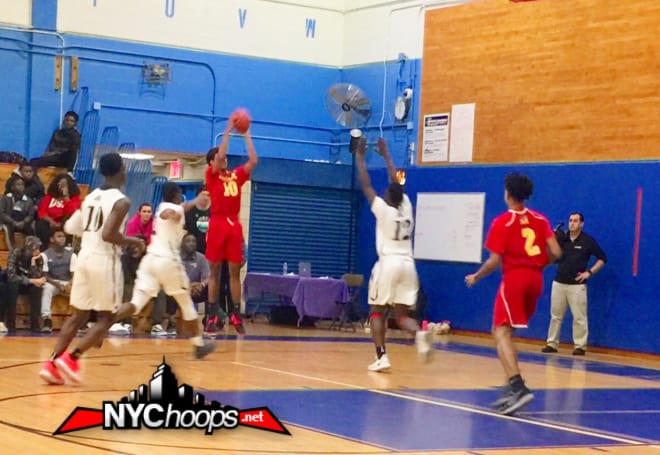 FLUSHING, NY- It was an emotional day on Saturday for John Bowne in their return to the basketball court for the first time since the passing of Lenny Pierre, a Wildcat junior who collapsed during practice on Wednesday and pronounced dead soon after his arrival at a local hospital.
With the hearts of everyone associated with John Bowne still grieving they hit the floor for the first time on Saturday as a part of their Queens Jam Christmas Classic where they took on a strong James Monroe team out of the Bronx.
Down 10 at the half it looked as if the Wildcats were struggling to get going after a rough few days, though wanting to do all they could to Play for Lenny John Bowne made a valiant comeback, taking a late fourth quarter lead before a three at the buzzer by James Monroe's Ismar Martinez '19 sunk Bowne's chances as the Eagles shocked them at the buzzer, 63-61.
After going through as traumatic an experience as the John Bowne coaches and players went through this past week it was sort of an unknown as to how the Wildcats would perform on Saturday, with head coach John Tsapelas going so far to admit that after with what they have dealt with over the past few days since Pierre's untimely passing that it really put things into perspective into what's really important.
"It's hard to gauge honestly," Tsapelas said when asked how he felt his team was mentally coming into the game. "Under these circumstance winning is really secondary."
While the emotions of pain were primarily on the sides of John Bowne, the emotions were certainly felt by the coaches and players of James Monroe as well. Eagles head coach Nigel Thompson said that yesterday he had a long talk with his team about the situation that the Wildcats are going through and that he saw it affected his players in a major way as well.
They may not be as close to the situation, and none of the Eagles players said they knew Pierre, but Thompson said that their hearts and minds were certainly not entirely on basketball coming into this game either.
"We spoke to our young men about the situation and they understood that there are more important things than basketball even though sometimes it seems like that's all that matters to them," Thompson said about the situation.
Basketball was almost a respite for everyone involved, a chance for everyone to honor Pierre's memory with a great game, and with the John Bowne players wearing Play 4 Lenny shirts during warm ups, and with a LP 31 patch on their jersey's, for the first time this season the Wildcats hit the floor ready for action without their teammate, classmate, and friend on the bench with them.
From the start it looked as if Bowne wasn't totally in it as they fell behind early and struggled to get much going offensively, falling behind 36-26 at halftime after back to back buckets by Elijah Gonzalez '20 heading into the locker room.
In a situation like this Tsapelas said he wasn't going to get on his players for how they played in the opening half noting that he still didn't truly know everyone on his team's mindset, but he still believed something good could happen as the game went on for his group.
"We started out sluggish and I can't blame them for that but at halftime we went in just wanted to come out and play as best as we could in the second half," Tsapelas explained.
With chants of Who's House, Bowne's House coming from the crowd and a motivated group of Wildcats ready to bring an A+ effort the rest of the way things started to turn around for them as slowly it surely the defensive intensity stepped up, and the shots that weren't falling early began to drop.
Bowne got the deficit to just 47-46 after three quarters and were able to take an early fourth quarter lead off a spin in the lane from Jayd Talbert '19. It was a back and forth game for much of the game the rest of the way after that, until Tyshawn Trail '21 stepped up and hit back to back three's, one from the left corner, and the other from the right wing as the shot clock was winding down to give the Wildcats a 61-57 lead with under a minute to go.
Maybe at that point the Wildcat players took their foot off the gas a bit as Tsapelas admitted that they may have gotten too comfortable as a team with the two possession lead, but Bowne missed a couple front ends of one and one opportunities that could've put the game away, and with 4.9 seconds left and down 61-60, James Monroe had one last chance for the win.
A missed FT by the Wildcats was rebounded by Sage Borbon '19 who took three dribbles and then kicked it into the right corner to Martinez who buried the game winner at the buzzer falling away as the Eagles players mobbed the court as they shocked John Bowne and took the 63-61 victory.
For as big of a shot as it was for Martinez, it was a shot he said after the game that he wasn't sure was good until the referees signaled that it counted to end the game.
"Honestly I thought I was out of bounds but I just shot the ball and it went in," Martinez said with a big smile.
Thompson said he also wasn't sure if Martinez was in bounds when the shot left his hands from the far corner, but he did say that if Martinez was inbounding, he believed the shot would go in with a feeling in his gut saying it was going to be nothing but net.
It was the only field goal of the game for Martinez who finished with 4 points in the game, while Borbon was the Eagles high scorer with 18 points. In the defeat for John Bowne they had a game high 20 points from Trail who nearly helped bring the Wildcats all the way back before they saw the game taken away from them right at the very end.
Without question it was a great win for James Monroe who will look to have this buzzer beater propel them the rest of the way, but for John Bowne just getting on the court again could be considered an accomplishment.
They are still as a team in a deep grieving process that may never truly end, and it may have been a tough way to lose a game, but with everything as a team the Wildcats are going through it's just a game as Tsapelas explained as he says he will leave the gym at the end of the night happy with his team's play, his team's effort, and his team's maturity as they grow as players and people during this difficult time.
"We would've loved to have won of course but to play today and play hard the way we did, I'm proud," Tsapelas said.