Girls: Christ the King takes control, Wins State Championship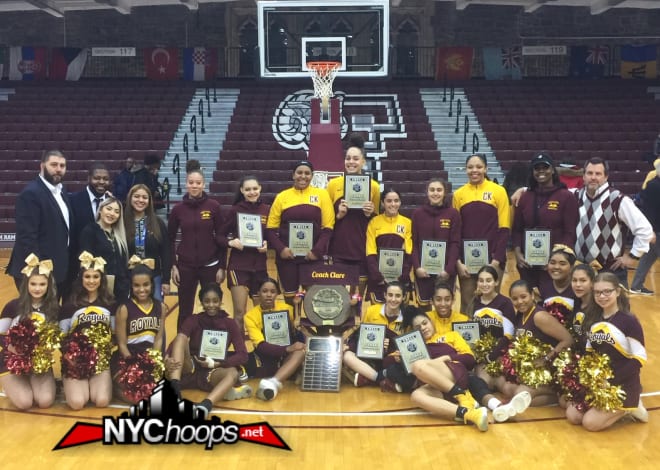 BRONX, NY- Feeling that she didn't live up to her own or her teams expectations during Christ the King's 77-72 CHSAA City Championship win over Msgr. Scanlan on Wednesday, Royals senior guard Khadija Demry '19 looked at Saturday's CHSAA Class AA State Championship Game as her redemption.
It was a chance for Demry to prove that she deserved to be on the big stage going up against the very best, and boy did she deliver. Scoring a game high 20 points for Christ the King, Demry also was a defensive stopper in limiting Scanlan star guard Kateri Poole '20 to just two made FG's in the game, none of which came before the midway point in the final quarter.
Doing just about everything it was Demry that everyone said was the key catalyst for the Royals as Christ the King went up early and never looked back in dominating their way past Msgr. Scanlan to earn back to back CHSAA Class AA State Championships, 67-45.
Coming in Christ the King head coach Bob Mackey knew how Demry was feeling as Demry had made it known to him that in her eyes she failed her team on Wednesday. Even though the Royals would win that game against the Crusaders she knew she could do better, and Saturday's game 72 hours later against the very same Scanlan team with even more on the line was a perfect chance she said to make sure her teammates knew they could depend on her.
"I felt like I needed to come out and she what I could do after that game," Demry stated. "I needed people to see what I could do and how it wouldn't affect me. We couldn't lose because I wasn't going to let us."
Mackey believed that Demry would come up big, and he knew that his team was prepared and ready to go, but what he got from the start was pure domination as the Royals came out of the locker room with a motivation to not just win, but make a statement in the win.
If it wasn't Demry finishing on drives to the rim, it was Klarke Sconiers '19 finishing off shots inside, or it was Natalija Marshall '20 connecting on short jumpers, and with the offense clicking on all cylinders, along with a stifling defensive beginning, Christ the King jumped out to a commanding 16-0 lead just over five minutes into the game.
Pretty much the perfect start for the Royals, Sconiers said she knew this kind of start from them was coming. Starts to games haven't always been the best this season for Christ the King and she wanted to set a tone and show that they could change that way when the game mattered most.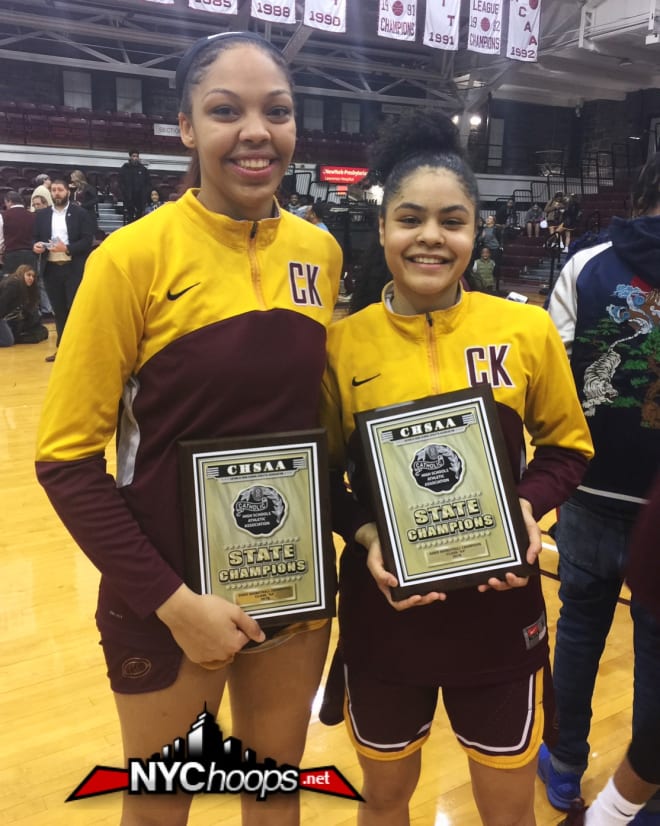 "We expressed in the locker room how we need to come with intensity," Sconiers admitted. "We usually get off to sluggish starts and that's what usually let's teams stay with us. We didn't want that happening today."
It most certainly didn't as it wasn't just the offense for Christ the King that was something to behold, it was the lock down defense by Demry on Poole and the ability to dominate the glass that stood out in major ways.
Msgr. Scanlan did get a strong second quarter from Imani Harris '21 as the sophomore guard was able to slice and dice through the defense of the Royals to get the Crusaders within 27-19 at the half, but the single digit deficit wasn't held for long as Christ the King being again pushing away in the third, clamping down even more defensively and getting more and more from Sconiers down low.
The Christ the King lead was up to 20 at 42-22 with just over four minutes to play in the third quarter as the doors were blown off as everyone began to get in the offensive barrage for the Royals. Nina Rickards '19was great pulling up off the dribble knocking down midrange jumpers, and even Kaelynn Satterfield '19 in her first game back after coming off a 6 week layoff from an ankle injury was getting in on the act.
Most impressively was the fact that Poole didn't connect from the floor for Msgr. Scanlan until there was just 5:20 left in the fourth quarter and Christ the King was up by 21. It was a masterful defensive performance by Demry and the Royals as a whole with Mackey crediting Christ the King boys coach Joe Arbitello for giving him the idea for the new defense that his Royals played.
"I was sitting there the other night taping ankles and I was watching the boys beat Bishop Loughlin and I kept saying how much I love that defense," Mackey said. "They did a great job so I just said let's go. I threw it in and we worked it so Arbitello gets credit for this win just to get me to look at something else."
He didn't want to delve too much into the defensive schemes in case they use it again in the future but it worked to perfection on Saturday for sure as the Royals limited Poole to a 2-10 game and just 10 points overall, while Christ the King outrebounded Msgr. Scanlan by an astounding 60 to 29 margin which combined to help them win the CHSAA Class AA State Championship for the second straight year by defeating the Crusaders, 67-45.
Scoring a game high 20 points was Demry, while Sconiers added 16 points and 11 rebounds while still sick and full of Mucinex after sitting out most of Friday's semifinal game.
The win puts Christ the King now back in a familiar position of going to Glens Falls to play for a NYS Federation Tournament of Champions Class AA title in two weeks time. They fell short of winning the championship a year ago, losing to Baldwin in heartbreaking fashion, and with so much to play for this time around Sconiers says it's going to be near impossible to deny them this time around.
"That is something that pushes us every day knowing how close we were, and we want to do it for Clare," Sconiers said referring to former Christ the King player and assistant coach Clare Droesch who passed away over the summer after a long battle with breast cancer. "Clarke knows how special this group is and this is something we definitely owe to her."
Playing for more than just themselves, this is without question a motivated and hungry group of Royals ready to add a Federation Title to their already deep load of championships in this very special season.