CHSAA Class A & B State Championships
BRONX, NY- The CHSAA Class A and Class B State Championships took place on Saturday at Fordham University with a pair of Buffalo vs. NYC matchups on the schedule to determine who will represent the CHSAA in a couple of weeks in the NYS Federation Tournament of Champions.
On this day it was the Buffalo teams that proved to be best as both pulled out hard fought squeakers to move on. How they got there though? That's what we are here to tell you as we recap the action from Rose Hill Gymnasium.
The Park School Edges Msgr. Farrell, 48 - 47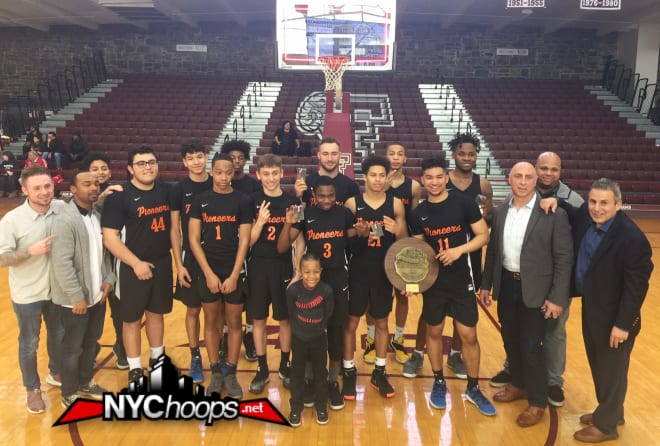 It may not have been easy but as the defending CHSAA and NYS Federation Tournament of Champions Class A winners, the Pioneers of The Park School rallied back from a halftime deficit to advance back to Glens Falls with a 48-47 victory.
Getting a strong start from lead guard Noah Hutchins '19 it was a quick Park lead as the Pioneers looked to push the pace and get out more in transition. They struggled shooting from the outside when the game did slow down but Park still led 13-9 after one.
It's after the first and into the second quarter though that the Lions began to really present problems as they ran the clock and got strong play attacking the rim from Anthony Clemenza '19 to overcome a four-point first quarter deficit and ultimately take a 21-17 lead over the Pioneers into halftime.
With Hutchins held in check for the most part in the second quarter it was nowhere near the style of game that Park School head coach Richard Jacob wanted feeling as if they needed to get going and run more than they were.
"This is a highly disciplined team Msgr. Farrell and they did everything they could and gave us their best shot," Jacob said. "We didn't get the flow we wanted offensively there and they executed very well against our defense and it really presented a big challenge for us."
As Jacob said the credit must go to Farrell though for really pressuring the ball, and even though they were giving up size to the bigger Pioneers, hanging on the glass and doing a good job in the paint.
Quentin Nnagbo '19 was able to begin to instill his will in the third as Hutchins began looking to find his big man posting up down low, and along with Desmond Davis '21 who was finding his range as the lone weapon for the Pioneers from the outside, Park would take what looked to be a commanding 7 point lead at 48-41 with under 90 seconds to play.
From that point on though it seemed as if the desire of Msgr. Farrell was going to carry them to another great closing finish. Chris Edwards '19 connected on a runner for the Lions, and then after Park struggles at the charity stripe it was a Justin Zieris '20 three to get the Lions within 48-47.
The FT issues continued for the Pioneers as with 7.1 seconds to play Hutchins, a normally reliable man from the charity stripe missed a pair to give Farrell a chance to win.
Hitting on a pair of game winners already this season, Farrell got the ball in the hands of Edwards who got into the lane and put up a contested floater just before the buzzer against tight defense from Hutchins, but the shot hit off the side rim at time expired, allowing Park to hold on and win their second straight CHSAA title, this time in dramatic fashion over the Lions, 48-47.
Hutchins was the high man in the game as he scored 19 to lead all scorers while Nnagbo had a double-double with 12 points and 12 rebounds for the Pioneers, and while seeing Edwards get up that last shot had his nerves on edge, Hutchins said he was confident knowing that defensively there was little else in that spot they could do.
"Yeah a little bit because in the past he hit the last two game winners so I definitely was a little nervous but I knew it was a good defensive stop," Hutchins said after the win.
Pacing the way for Msgr. Farrell in a hard-fought loss was Clemenza and Edwards as each had 11 points for a Lions team that won the CHSAA Class A City Championship for the third time in four years and again proved themselves to be a worthy foe for one of the state's best.
With the victory Park will now advance to the NYS Class A Federation Tournament of Champions Semifinals in two weeks' time where they will open their run against Albany Academy, the team they took down in another dramatic finish to win the title. It will be an anticipated matchup to watch in Glens Falls now that it's official set, and a game that Hutchins says he is looking forward to in hopes of claiming yet another title before the senior's high school career comes to an end.
"I'm going to enjoy this one today and then tomorrow we will be right back at it knowing Albany Academy is waiting," Hutchins said. "It should be a good one."
Cardinal O'Hara Tops Regis, 45 - 35
Since 1994 the boys basketball program at Cardinal O'Hara has been championship-less as they have struggled to maintain the pace set by the girls team who have won title after title.
That is all changing though as O'Hara put together one of the best regular seasons in school history, and while the girls team fell short in the Class AA State Semifinals on Friday, the boys team will be bringing home the championship this time around as paced by the 18 points of Jermaine Haynes '19 the Hawks were able to rally from a slow start to defeat Regis, 45-35.
It was the definition of a perfect Regis start as the Raiders were able to slow down the tempo and play a halfcourt style of game which enabled the likes Peter Murray '20 and Andy Vittoria '19 to control the paint and give Regis an 18-13 lead at halftime.
Averaging over 80 points per game it was a tempo that was anti everything that the Hawks were looking for in this one with O'Hara head coach Tony Pulvirenti saying if things kept up at the pace of play that they were it was going to be a long finish for his Hawks team.
"You score 80 points a game and not many teams will beat you, if you score 13 points in a half then pretty much everyone can beat you," Pulvirenti said. "We were playing the kind of game Regis wanted us to play and we had to adapt."
What Pulvirenti wanted was to see his team do a better job on the boards and be able to get out in transition and score the way the Hawks are accustomed to.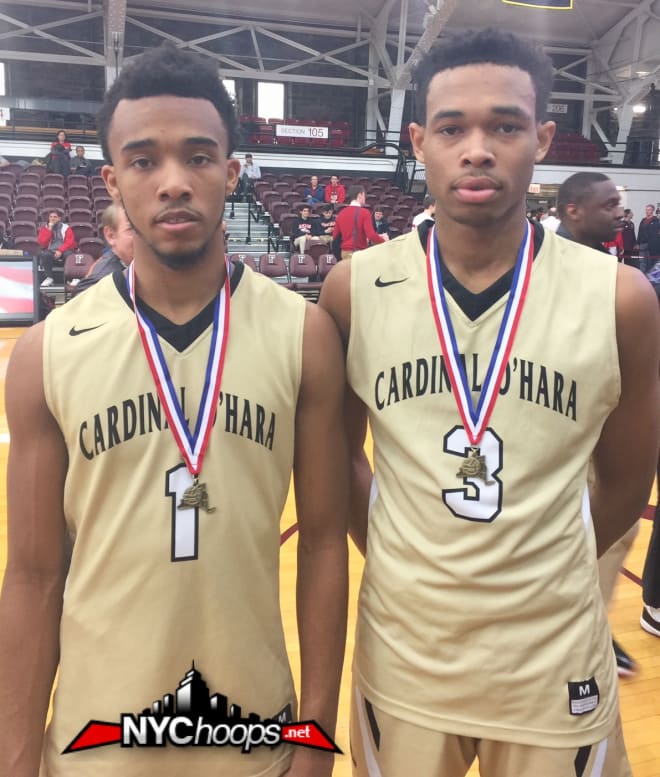 Things got better for them in the third as Haynes and Haakim Siner '19 were able to get going from behind the three-point line, but they still weren't able to really play O'Hara basketball with the game tied at 28 going into the fourth.
The final stanza though is where Cardinal O'Hara came alive and were really able to do a better job on the offensive glass with Siner finishing on putbacks inside, and with Jaedin Cottman '20 also doing a better job inside slowly but surely the tempo picked up and the Hawks began to pull away.
After scoring 28 points through three quarters and just 13 in the first it was 17 in the fourth for O'Hara as they took a double digit lead late to win the first boys CHSAA title since 1994, defeating Regis in a low scoring contest 45-35.
Haynes had 18 points to lead all scorers for Cardinal O'Hara while Siner added 11 points and 15 rebounds for the Hawks who will next play in a couple weeks in the NYS Federation Tournament of Champions in the Class B bracket representing the CHSAA.
For Regis they were paced by William Eastwick '19 and his 12 points in a season where the Raiders again proved to be among the best in New York City.
Winning the Manhattan Cup was a special moment for the Hawks but bringing back a CHSAA State Championship to Buffalo is an especially big moment for the Hawks and Haynes, with the senior captain saying it's a perfect way for him to go out, helping boys basketball at the school he loves come back in a major way.
"Ever since my freshman year the school kind of forgot about boys basketball and I have always wanted to bring it back," Haynes stated. "This win means we were able to do that so it's really special for me, my teammates and all my classmates who will celebrate this together."