Underdogs Rise Up in Beacon 158 Playoffs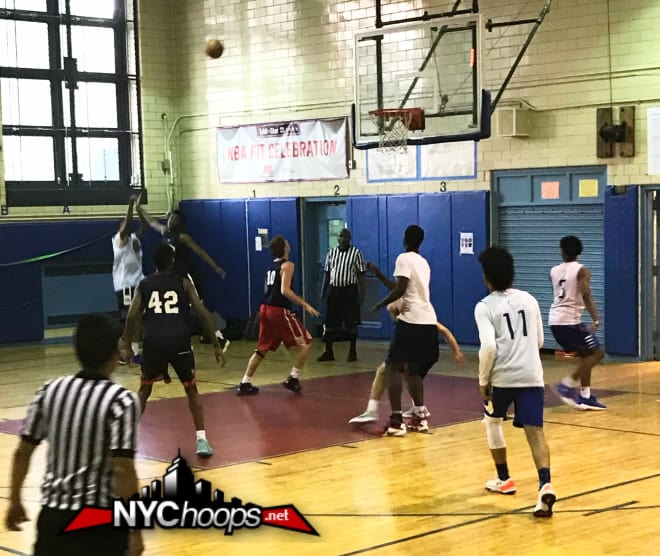 BAYSIDE, NY – Friday evening at Marie Curie Middle school was quite revealing as the Beacon 158 Spring Fling settled into its playoff rounds. In two of the three games it would be the underdog that prevailed and advanced.
Stevenson eliminates Wings Academy, 60 – 57
Powered by Jayden Davis '19 and Justin Mazyck '18 in the first half, the players from Stevenson H.S., a Class A team from the Bronx, had the players from Wings Academy on its heels fore the entire contest. Wings carried a lead early in the opening half with offense from Jose Cuello '20 and Tommy Thomas '19 but Stevenson managed to tie the game at 28 as the second half got underway.
Both squad struck blows upon the other throughout the final half and with 2 minutes left to play the game was knotted at 57. A late basket by Rashawn Clemente '20 along with a free-throw by Antwan Wilson '18 would seal Wings Academy's fate as the first upset of the evening.
Davis led the way for Stevenson with 25 points with Mazyck and Clemente adding 17 points and 14 points respectively. Thomas was the high man for Wings Academy with 20 points.
St. Francis Prep Handles Dozo, 64 – 49
The Terriers jump out in front of the players from Cardozo H.S. and stayed there as Justin Hendrick '19 and Aramis Santiago '19 went nut on the Judges in the first half. With additional firepower from Anthony "A.J." Lopez '20, St. Francis Prep increased its lead to 36 – 17 at the midway point.
Throughout the second half Cardozo was playing catchup as Hendrick, who led the Terriers with 23 points, was relentless from the perimeter. The Judges eventually suffered a 15-point loss. Chamarri Baskerville '20 was the high scorer for Cardozo with 14 points.
Brooklyn Law bumps off St. Mary's, 56 – 45
It appeared as if the bigger St. Mary's squad was going to put down the players from Brooklyn H.S. of Law early & Technology on. After all, buckets by Jovan Walters '21 and Tymell Stevenson '21 had the Gaels up 9 – 1 against a Brooklyn Law squad that lost most its team to graduation.
That lead, however, was fool's gold as the Class "A" team, known for beating up on Class AA opponents, rose from the ashes led by PG Davonta Cook '19 with long range bombs coming from his teammate Joseph Pena '19. When the dust settled Brooklyn Law had amassed a 17 – 1 run and finished off the half lead 40 – 21. A second half push by St. Mary's spearheaded by Kyle Jackson '21 made the final result more respectable but an 11-point loss nonetheless.
Pena led Brooklyn Law & Tech with 21 points (including five 3-pointers) with Cook contributing 13 points. Jackson finished with 16 points for St. Mary's.