Top Seeds Get Reality Check @ iS8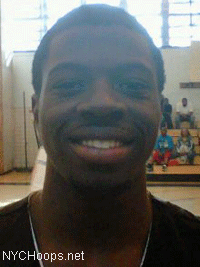 Though the top seeds of each division were awarded a one-game bye for their pool play successes on the hardwood, six out of eight of these squads were one-and-done, crushing any hopes of advancing to the quarterfinals.
Let's take a look at four of these upsets on Saturday.
Raising Champions Lock Up Rebels
Roth Running Rebels is a very tough team, but Raising Champions proved to be tougher. Still, one cannot help but wonder what would have happened if team leading scorer A.J. West (five points) had been available for the first half. However, regardless of the 'what ifs,' Raising Champions grinded out a scrappy win over Roth Running Rebels, 65-55.
Raising Champions and Roth Running Rebels clashed, staying neck-and-neck throughout the game. Raising Champions held the advantage for the majority of the contest, but Roth Running Rebels had its moments. Though the Rebels could not hold onto a substantial lead, the threat of a coup d'etat was still looming.
After leading at the end of the first quarter, Raising Champions were holding a 25-23 advantage at the 3:54 mark of the second quarter. Roth Running Rebels'
Leroy Isler
(11 points) drained a pair at the charity stripe to take a 26-25 lead. But, Raising Champions quickly regained the lead on the next possession.
Raising Champions led 31-30 at the break.
Mike Alvarado (eight points) started the third quarter with two back-to-back baskets to raise the Raising Champions by five points, 35-30. Both teams continued to work hard, but Alvarado and company extended the lead to nine points.
Now with the addition of West into the picture, the flow of the game altered. The Roth Running Rebels who were running low on energy got a second wind and brought the game within one, 48-47, in the opening minutes of the fourth quarter.
Roth Running Rebels took the lead again thereafter, 49-48. However, Raising Champions could not stay down for long, regaining and extending the lead to eight points, 63-55, on a left-handed basket by Jeff Mack (11 points).
Vaughn Allen
(17 points) sealed the game with a big block and a huge basket to send the Roth Running Rebels on vacation until next season.
Raising Champions' Amire Tariff added 11 points in the win, while Roth Running Rebels Tymell Murphy had a team-high 17 points in the loss.
Raising Champions advance to play the Panthers at 10 a.m. in the first iS8/Nike Spring H.S. Classic Quarterfinal on Sunday at the Queens, N.Y. location.
Varsity Boys & Girls Negate Positive Direction
Both squads were without the services of star combo guards - Varsity Boys & Girls sans
T.J. Curry
and Positive Direction sans Harvard-bound
Ernest Rouse
. However, because of the absences of key role players on both sides, the squads were on an even playing field.
Varsity B&G defeated Positive Direction with a 21-point trouncing, 86-65.
Varsity Boys & Girls went on a 6-0 run early in the first quarter, and the squad still led 16-4 later into the quarter. Positive Direction tried to keep up by closing the margin to five points, 20-15. Still, Varsity B&G increased its advantage to 13 points, 31-18, by the close of the first period.
UConn-bound seniors
Maurice Harkless
(20 points) and
Shabazz Napier
(18 points) continued to steer the Variety B&G ship into the second quarter. However, the hard work ethic of Positive Direction's
Reynaldo Walters
(15 points) and Maurice Barrow (14 points) aided in the chipping away of the deficit to a hole of only three points, 38-35.
Positive Direction used some gritty defense and toughness baskets to stay within striking distance, but Variety B&G could not be entirely contained. By the close of the first half, Variety B&G was leading by 10 points, 46-36.
Variety B&G's big man Dominykas Milka (23 points) received an abundance of great setups to the hole and cashed them in. Positive Direction saw a deficit of as much as 19 points, 59-40, surmount after a 3-pointer by Napier.
Positive Direction chipped down the Variety B&G advantage to 12 points. However, Harkless and company were back at it with dunks and opportunities at the line. Variety B&G gained a lead of as much as 27 points, 71-44, late in the third quarter.
Into the fourth quarter, Positive Direction continued to work just as hard as a hamster on a wheel but, in like manner, was not going anywhere.
Varsity Boys & Girls advance to play New Heights at 11:15 a.m. in the second iS8/Nike Spring H.S. Classic Quarterfinal on Sunday at the Queens, N.Y. location.
NIA Prep Shoot Stars
Shooting Stars was at the top of everyone's short list of possible champions of iS8/Nike this season. These basketball faithful skipped over the second round matchup, probably thinking of it as a speed bump, not a road block. However, there was one group of individuals that thought 100-percent differently.
NIA Prep was confident from start to finish against the firepower of
Josh Selby
(16 points) and
Kyrie Irving
(37 points). The pair, arguably, two of the best guards in the country of the 2010 recruiting class and often compared to each other in basketball circuits, shared a backcourt on the Shooting Stars.
However, NIA Prep guard
Devon Gibson
(26 points) and forward
Shaquille Thomas
(31 points) sent Selby and Irving packing. NIA Prep defeated Shooting Stars 109-91 - the only second round matchup with a score more than 100.
"This was just another game where we just felt like we had to come and play at the highest ability and obviously we can compete with anybody in the country," said NIA head coach Rudy King. "We beat the No. 1 team in the nation twice. We knew that this was the tournament to be in and they showed up."
Shooting Stars led for the entire first half. NIA Prep matched the dynamics put out by Shooting Stars, vying for rebounds as aggressively as the Stars. However, NIA Prep had a hard time guarding Irving, who was hot from all points on the floor as evident by his 22 first-half points.
Despite Irving's performance, however, NIA Prep used a collective effort from its main five point contributors.
On a jumper by NIA Prep's Jamir Hanner (14 points) and a dunk by teammate Kelvin Amayo (21 points), NIA Prep tied the game 50 by halftime.
NIA Prep took over in the third quarter, leading by as much as 12 points, 74-62, on a bucket by Thomas. Shooting Stars seemed to lose steam, as NIA Prep gained momentum. The third quarter ended with the same 12-point margin, 83-71.
Irving was able to cut the deficit down to eight points twice in the quarter, but the nagging deficit this late into the game could not be overcome. Shooting Stars would not be able to cut the deficit down any further than eight as the NIA plane was on a nonstop flight to the quarterfinals.
"Don't punk out, just keep playing," said King of what he told his team when the game was close. "Don't punk out. We've been here before.""
Shooting Stars' Daison Knight added a strong 22-point performance in the loss.
NIA Prep advances to play East Coast Elite at 12:30 p.m. in the third iS8/Nike Spring H.S. Classic Quarterfinal on Sunday at the Queens, N.Y. location.
Sports University Declaw MetroHawks
Both teams had a slow, helter-skelter momentum. Though the scores were pretty much matched throughout the contest, it was not indicative of a good game. Ultimately, Sports University did just enough to shut down and prevent the MetroHawks, who was without the services of some star players, from advancing. Sports U. defeated the competition 87-69.
Things only began to heat up late in the second quarter, when Sports University started to pull away. By the close of the first half, Sports U. was up by seven points, 41-34.
The MetroHawks fought back, bringing the game within one point, 51-50, on a 3-pointer by Antoine Mason (26 points) with 2:30 remaining in the third quarter. Mason tried to do it all for his squad, but could not piggyback his team long enough to carry them through to the quarterfinals.
Eventually, after tying the game at 54, Sports U. saw a surge in its offensive power. Eli Carter (24 points) and Andres Mistes (20 points) churned out a lot of second-half points to pull away again. A four-point advantage at the close of the third phase, extended to a 73-60 lead on a 13-4 run into the fourth quarter.
From that point, Sports U. outscored the competition 14-9 down the stretch.
Sports University advances to play the Sean Bell All-Stars at 2 p.m. in the last iS8/Nike Spring H.S. Classic Quarterfinal on Sunday at the Queens, N.Y. location.
Go to
NYC Hoops
for all the late breaking NYC basketball news and rankings.
Sign-up for our FREE eNewsletter to get the even more news right in your email box.
For On-Demand Webcasts of the iS8/Nike Championship game go to:.