Top Northeast Teams Clash @ The Collision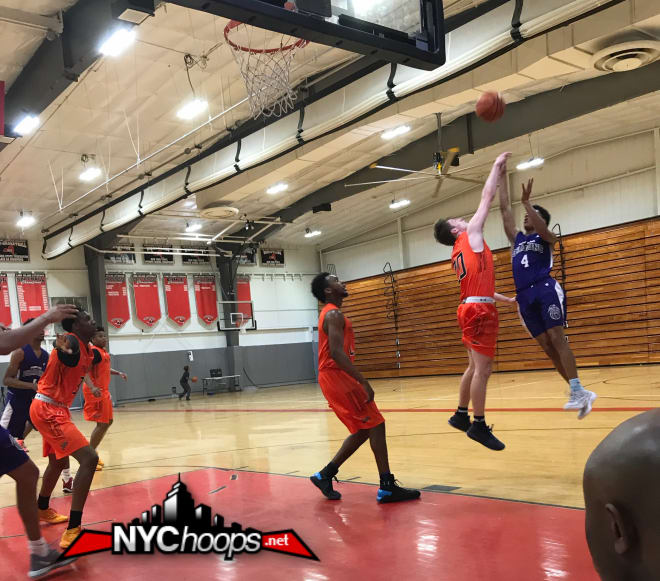 BROOKVILLE, NY – Some of the best teams in the Northeast intersected at Long Island Lutheran HS over the past weekend in the inaugural Collision Tournament. 17U, 16U and 15U squads from NYC, Long Island, New Jersey and Philly went full steam ahead at each other for two days. When the dust settled on Sunday after the high-impact matches subsided, there was only one survivor in each division.
 17U CHAMPIONSHIP
Philly Pride Slay New York Dragons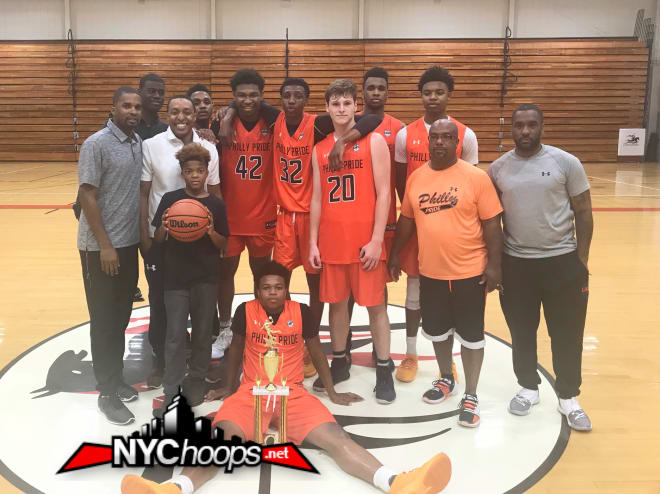 A well-oiled Philly squad came ready to play armed with inside threats and outside threats. From the perimeter the Pride had 6'3" Chris Arcidiacono (Perkiomen HS '19) and 6'3" Hakim Hart (Roman Catholic '19) with 6'7" Donta Scott (Imhotep '9) and Tyree Corbet scoring both inside and midrange.
The Dragons kept the game close in the first half with three pointers by Payton Hudson (Archbishop Stepinac '18) along with floor generalship from 5'10" point guard Gavin Thompson (Our Savior Lutheran '19) and consistent scoring from Ethan Rohan (Archbishop Stepinac '18) and D'Andre Barrett. The NY squad who were down by 10 with 5:30 left in the opening half still trailed 35 – 29 as the second half got underway.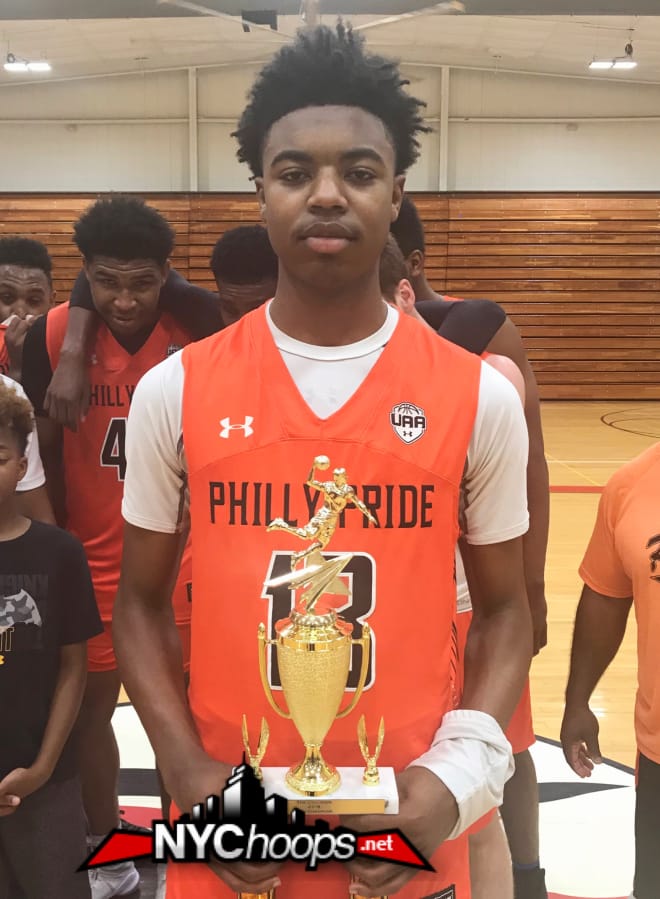 The Philly Pride was only seven deep but came fully loaded. Corbet, Scott and Hart carried most of the load in the final half, the beneficiaries of exceptional ball movement. Hudson and Keyshawn Kennedy (Paterson Kennedy '18) tried to counter but Pride train was on auto pilot, capitalizing on every NY Dragons misstep. The Pride's lead balloon to 22 points before the game was called.
Arcidiacono led Philly Pride in scoring with 16 points with Corbet and Hart adding 15 points and 13 points respectively. Hudson was high man for the Dragons with 13 points.
HOW THEY GOT TO THE CHIP:
The NY Dragons edged New Heights, 62 – 56
Payton Hudson led the Dragons with 6 threes for 18 points.
The Philly Pride punish NY Jayhawks Gold, 71 – 53
Hakeem Hart led the Pride with 12 points
16U CHAMPIONSHIP
New Heights Overwhelm Boys 2 Men, 79 41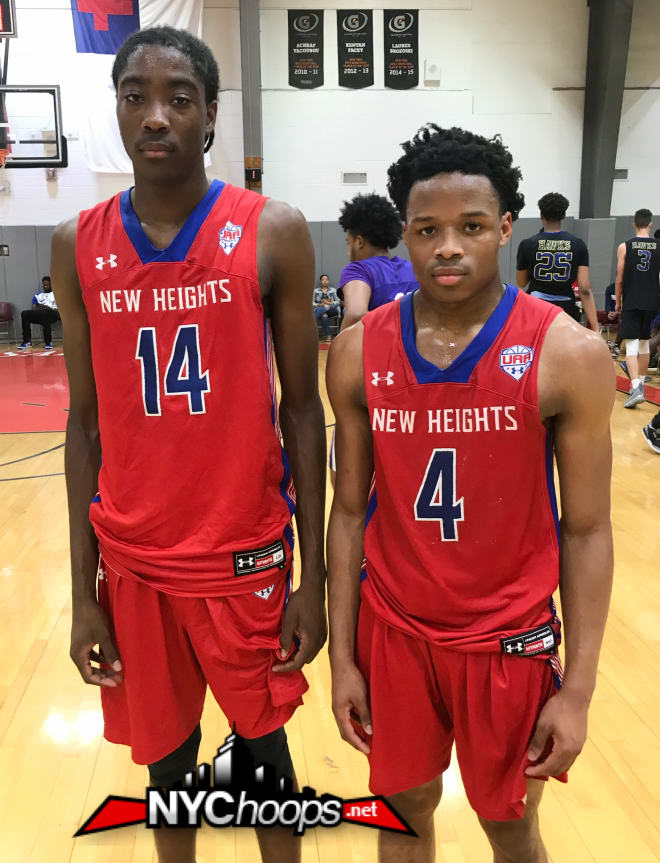 Boys 2 Men had been riding high having recently defeating an undefeated JayHawks, but the undersized Long Island squad had all it could handle versus a Division I laced New Heights team. With that being said, Boys 2 Men did not go down without a fight.
New Height got to work early in the opening half. Marcus Burnett (Thomas Jefferson '20) and Ryan Myers (Christ the King '19) knocked down shots from the arc while PG Jaquan Carlos '20 continuously fed 6'8" Hason Ward (Springfield Central '20) alley-oops. All signs pointed to a shut out until Malik Edmead (Deer Park '20) put on an offensive extravaganza. The sophomore scored Boys 2 Men's first 10 points. Teammate Kenny Lazo (Brentwood '20) joined in late, but the New Heights juggernaut was already all systems go. At the half, Boys 2 Men found themselves deep in a 56 – 28 sinkhole.
After surveying the landscape, New Heights made some defensive adjustments, limiting Boys 2 Men to a total of five field goals for the entire second half. Meanwhile, New Heights kept their foot on its opponent's neck and did not relent until time expired and they won by 38 points.
Myers paced New Heights with 20 points with Burnett and Julian Champagnie (Bishop Loughlin '19) netting 16 points and 11 points respectively. Edmead scored 19 points for Boys 2 Men.
15U CHAMPIONSHIP
Milbank Beats Sports U (NJ), 52 - 46
IN OTHER ACTION:
Rising Stars/Team NYC Upsets JayHawks-Gold, 74 - 67
In the 17U Consolation game, the Rising Stars came to play. Falling behind early, the Long Islanders clawed and scratch their way back on top. At one point the JayHawks found themselves down by ten as PG Romello Faison (Hastings on Hudson '20) pushed the pace and set the tempo. Devin Bryant (Academy of New Church '20) was the high scorer for the Rising Stars with 23 points (including seven 3-pointers). Faison added 21 points and double-digit assists.
Rising Stars – Elite Knockout Boys 2 Men, 60 – 38
It was an uphill battle for Boys 2 Men during the 16U consolation game. With multiple scoring options, the Rising Stars had Boys 2 Men on the ropes for most of the contest. Elijah Perry (Holy Cross '19) and Tyler St. Furcy (Lawrence Woodmere Academy '19) held it down in the first half but Quinton Williams (Knox HS '19) and Elijah Whitty-Ford (Longwood '19) countered for Boys 2 Men who were only down 25 – 23 at the half.
Even with Perry going down and out with a sprained wrist, Boys 2 Men still lost ground as St. Furcy and Lawrence Foreman picked up the slack. The Rising Stares – Elite went on to win big.
St. Furcy led the way for the Rising Stars with 13 points with Foreman adding 9 points.