Top Middle School Talent Showcased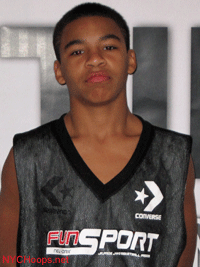 Regular season action continued Saturday at the FunSport Junior Pros, showcasing the region's top middle-school talent who will become the stars of the high school scene over the next few years.
The Albany Dream Team, featuring the highly-skilled backcourt of Jerron Love and Juwan Gooding, needed overtime to remain unbeaten (4-0) in pool play, earning a 60-58 decision over a tough Abyssinian squad that twice had the upstaters on the ropes. Albany trailed 58-55 with 28 seconds left in the extra session when Love hit a huge three-pointer to even it at 58-58. And, with 13.3 seconds on the clock, he was fouled on a drive and calmly sank both free throws to pull it out for Albany.
The game seesawed for almost the entire first half when Gooding, Dyaire Holt and Isaiah Dobere hit successive treys in the final 1:03 of the half, giving Albany a 29-20 advantage at the break. Abyssinian fought back through the third quarter and tied it just before the quarter-ending buzzer when Guy Narys converted a pass from Randy Corporan to make it 33-33 entering the final period.
Gooding made another long three and a layup at the start of the fourth quarter to regain the momentum for Albany but Abyssinian stayed close. And when Gooding was assessed a technical foul in the final minute of regulation, Narys made both free throws and his subsequent putback of a missed shot sent Abyssinian ahead 50-47. But Ray Harris gave Albany another chance with a bank-shot three-pointer with 22 seconds to force overtime and set the stage for Love's clutch ending.
In a physical game with a playoff atmosphere, Gooding and Love scored 18 points apiece to lead Albany, which also got 12 points and 9 rebounds from Holt. Jaquan Hickman led all scorers with 22 points while keeping Abyssinian in the game throughout with several strong drives to the basket.
Team Final, a pre-season favorite to reach the January 2nd championship game at Madison Square Garden, also improved to 4-0 with a pair of easy wins. The Philly-based unit, coached by former NBA player Pervis Ellison, received 17 points and 13 rebounds from 6-6 Trevaughn Wilkerson in a 60-35 romp over the NJ Pirates. Malachi Richardson added 12 points and 8 rebounds for Team Final, then had the game-high of 18 points in a 46-22 triumph over Positive Direction. Along with Levan Alston and Sam Foreman, both of whom also scored in double figures, Team Final has an excellent combination of athletic, scoring guards to go along with their dominant big man Wilkerson.

Click
Here
to view this Link.