The iS8/Nike Spring Classic '18 Sparks Up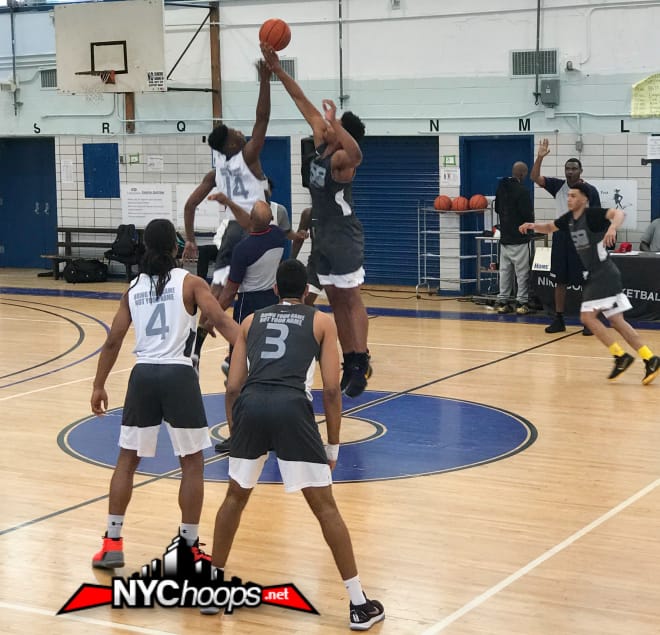 SOUTH JAMAICA, NY – The iS8/Nike Spring Classic got underway as twenty teams are vying to win its legendary championship hardware. On Saturday as the league pool play got underway, it was mix of nail biters and blowouts as some teams got exposure while others got exposed.
Team Long Island make Ballhogs squeal, 86 – 68
With some of the better talent in Nassau and Suffolk county, Team L.I. put a big hurt on the Ballhogs early from scoring from Billy Muller (North Babylon '18), Tyler Small (Holy Trinity '18) and Julian Crittendon (Half Hollow Hills East '18). The Ballhogs tried to close the gap with scoring from Tyler St. Furcy (Lawrence Woodmere Academy '19) and Jaqui Parks (Roosevelt '18) but they trailed significantly at the half.
Phil Joseph (South Shore'19) came to life in the second half for the Ballhogs but Crittendon and Small kept the pressure on, extending Team Long Island's advantage as the final quarter. Gaining no ground in the 4th quarter, an increasingly frustrated Ballhogs squad began to implode until finally their head coach and player had to be physically separated from each other.
Crittendon finished with 19 points for Team L.I. with Small adding 13 points. Parks scored a game high 22 points for the Ballhogs.
Northeast Basketball Club Smash Shooting Stars & PF Stars
In the two games played by NEBB the opposing teams might as have been orange cones on the court the New Jersey squad defeating both the Shooting Stars and Pennsylvania based PF Stars by 19 point each.
Playing with only 5 players, NE Basketball Club pulled away from the Shooting Stars in the opening quarter and never really looked back as McDonald's All-American Jahvon Quinnerly along with Ron Harper, Matt Harajme (Don Bosco '18) and recent St. John's signee Marcellus Earlington scored early and often. Leading by 17 at the half, NEBB would go on to win, 77 – 58.
Earlington paced Northeast B'Ball Club with 19 points. Pierre Perry (St. Mary's '18) was the high man for the Shooting Stars with 12 points.
Versus the PF Stars it was basically déjà vu all over again. The PA squad was almost invisible in the first half as Harajme and Harper piled on points for the NE Basketball Club. Trailing 41 – 16 at the half, the PF Stars were merely trying to avoid a certified blowout. Second half production by Caleb Mims (Freedom HS (PA) '20) achieved that goal.
Harajme and Harper led NEBB with 20 points apiece. Mims was the high man for PF Stars with a game high 23 points
2GZ Goes 2-0 vs. LPAC & Mt. Vernon Recreation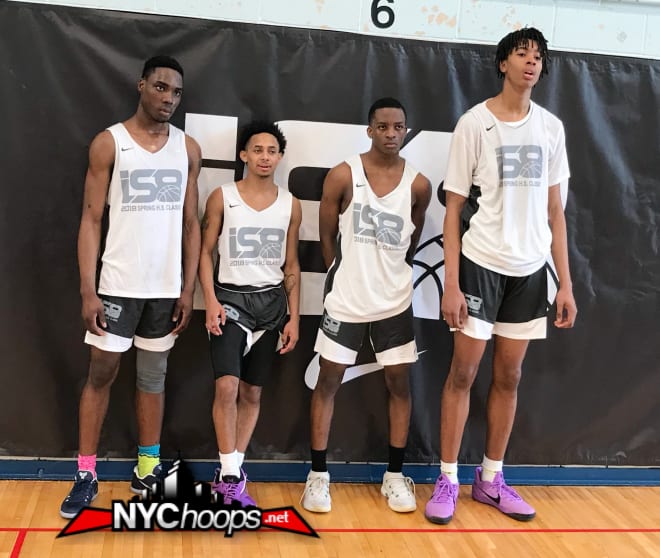 It was a mixed bag for 2GZ as they dominated in their first game while only winning by the skin of their teeth in the second. There would also be a scary moment for one of its star players.
LPAC made a go of it early as Dontae Walker (Innovation Charter '20) and Elijah Wynn (Wadleigh '19) got buckets. They even led but two as the second quarter got underway but late arrival Moses Brown '18 gave 2GZ a significant advantage as the 7'2" UCLA-bound McDonald's All-American was a problem in the paint.
At first LPAC absorbed the blow as Wynn, Walker along with clutch baskets by DeMarley Smith '18 gave them a 54 – 53 halftime lead. The momentum would shift to 2GZ as the third quarter played out.
The frontcourt tandem of Brown and KC Ndefo (Abraham Lincoln '18) began to wear on LPAC and ultimately translated into a 9-point 2GZ advantage by the end of the third quarter. Added firepower from Tyler Bourne (Notre Dame Prep '18) put the nail in the coffin with LPAC absorbing a 107 -88 loss.
Brown paced 2GZ with 29 points with Ndefo contributing 22 points. Walker led LPAC with a game high 39 points
Mt. Vernon Recreation (formerly known as the Ben Gordon All-stars a/k/a Mt. Vernon HS) came out blazing against 2GZ as George Mason commit Jason Douglas-Stanley '18 was lights-out from the perimeter. 16 first quarter points by the senior gave Mt. Vernon a 9-point lead as the warm up quarter ended.
Unfortunately for the Westchester squad, Douglas-Stanley was providing lion's share of the offense and second quarter baskets by Brown and Bourne soon closed the gap. At the half, 2GZ was only down 44 – 40.
While Douglas-Stanley's offense tailed off some, other Mt. Vernon players like PG Charles Loach '20 and Brandon Scott '20 stepped to the plate. In the second half, Brown had to be subbed out, suffering from extreme leg cramping. Eventually the cramping became so severe that an ambulance had to be called.
Bourne and Omar Rowe (Abraham Lincoln '19) tried to fill the offensive void left by Brown's absence and 2GZ managed to maintain a 5-point lead as the fourth quarter started but when Mt. Vernon clamped down on 2GZ defensively, the former iS8 champions almost cracked.
Baskets by Douglas-Stanley and Loach trimmed Mt. Vernon's deficit to a one-point with 11 seconds. Pressure defense forced 2GZ to cough up the rock with 5 second remaining in regulation. Fortunately for 2GZ, Mt, Vernon Recreation was unable to score, giving 2GZ a 75 – 74 victory.
Brown and Bourne were the high scorers for 2GZ with 19 point each. Douglas-Stanley netted 35 points for Mt. Vernon Recreation.
On other action:
Road to Riches Crushes PF Stars, 62 - 44