State Champs Fall; Eagles Fly High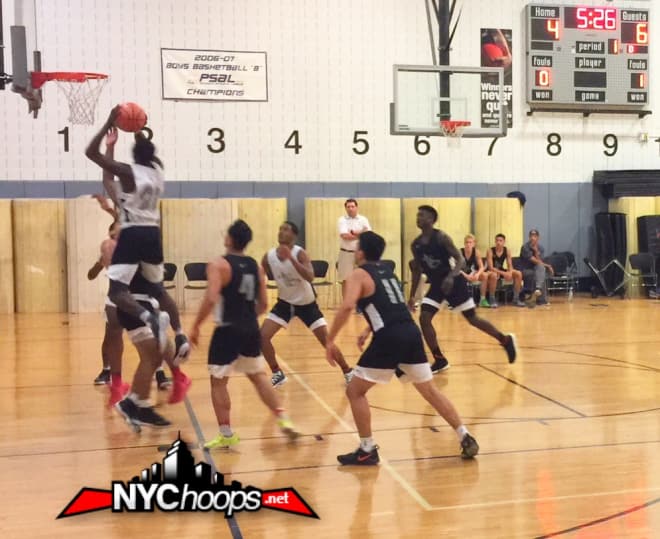 BRONX, NY- For the first time this preseason the players from Archbishop Stepinac took to the court as the defending CHSAA and NYS Federation Tournament of Champions winners looked to get going on a good note against Eagle Academy at Tru Ballaz Preseason High School Classic on Tuesday.
Things don't always go according to plan though as Eagle Academy was able to grab momentum in the 4th quarter and turn a 4-point deficit heading into the fourth into a 56-49 victory over the Crusaders.
Both teams were missing an integral piece of their lineups with R.J. Davis '20 missing this one for the Crusaders, while star freshman Noel Echevarria '22 was forced to sit it out with a concussion for Eagle. Early on it was A.J. Griffin '21imposing his will for the Stepinac players as he was able to knock down a pair if of triples from the wing to give the Crusaders a quick 11-6 lead. Griffin would then see the Eagle defense collapsing in on him and found Justin Morety '20for an open jumper as the Stepinac lead continued to grow.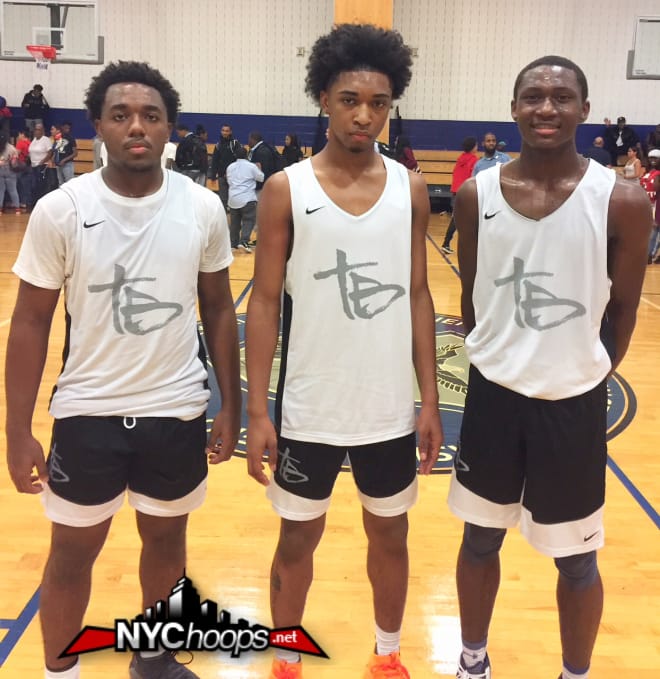 It was a 5-point lead for the Crusaders after one quarter, and it grew to as many as 11 in the second quarter, though DaMarco Watson '20 was able to find his way into driving lanes and get some sort of offensive rhythm going as Eagle Academy started to gain some momentum before the half, but still trailed the Crusaders 33-25.

Going into the 3rd it was a matter of Eagle Academy doing more on their chances from long range. They struggled early to find good shots from the perimeter but started to get things going with Vernon Simmons '20 and Edwin Santiago '21each starting to erupt, with Simmons able to blow by defenders and Santiago doing great work from behind the arc in knocking down back to back treys late in the stanza.
Stepinac still led 41-37 going into the final quarter but it was a more manageable spot for Eagle to be in as they had started to really stretch out the Crusaders defense. Morety and Griffin were valuable options still for Stepinac as they each had solid performances but Joel Simpson '19 was money throughout the final quarter as he had three long balls, each coming from the left corner to help Eagle not just get even, but eventually take their first lead of the game at 44-41 with 4:35 left in the game.
With the game being played at Eagle Academy, and the Eagles packing the stands full of their supporters the noise was defining as they took control for good, denying Stepinac good looks from deep, while also managing the boards extremely well.
Mike Caldero '20 sealed the deal late for Eagle Academy with a steal and a layup with under a minute to play as the Eagles made a major statement in taking down the Crusaders and shocking the defending Federation champions, 56-49.
A balanced team effort as a whole for Eagle Academy was paced by the 15 points of Simmons, while had Simpson had 11 of his 13 points in the 4th quarter to push his team over the top, with Caldero adding 10 of his own in the victory.
For the Crusaders in the defeat it was Griffin with a game high 20 points, with Morety making a major statement in showing he will be a major part of the team this year coming up for the JV team and scoring 18 in the loss.
W.H.E.E.L.S. up; Lehman down, 61 - 52
Holding a 3-point lead at the half, WHEELS were able to use their speed to beat Lehman up and down the floor on multiple possessions down the stretch and use their athleticism and speed to ultimately take down the Lions by 9.
Ryan Pye '19 has been a team leader for the Wolfpack for over two seasons now and his ability to knock down shots in the open floor while being an offensive facilitator for newcomer Luis Ducasse '19 and big man Keshawn Williams '19 who were both huge factors in the victory.
Lehman got good shooting games from Jelani Smith '19, who had a game high 17 points, and Mekhi Purser '20 as each were able to knock down shots in the half court from long range, but credit to WHEELS for containing the outside in the second half and really limiting the Lions opportunities from behind the arc.
When WHEELS needed to buckle down and make plays they did as Pye had 15 points, while Ducasse added 11 in what would prove to be a good Tru Ballaz start for one of the best years in and year out in the PSAL Manhattan AA.