St. Francis Prep Sweeps Holy Cross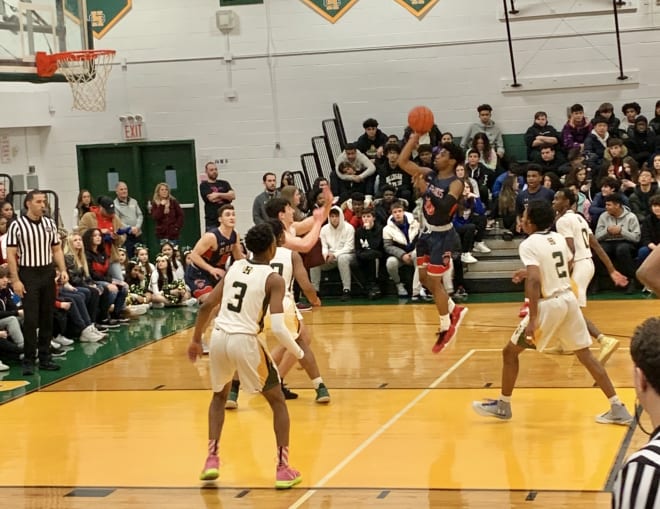 FLUSHING, NY – After traveling to Fresh Meadow and losing to the Terriers on January 24th, you can be sure that Holy Cross was looking forward to serving up healthy doses of get-back to St. Francis Prep during their home court rematch on Friday evening. While Knights put up a good fight from beginning to end, St. Francis Prep stuck to Holy Cross's go-to-guy like glue and pressured the Knights until there was no more time on the clock and the final score was 46 -44 in favor of the Terriers.
"Our strategy was to play as hard of a defense as we can," said St. Francis Prep head coach Jimmy Lynch who admitted that the Terriers perimeter shots weren't falling at first. The Knights shot weren't falling either but they held a one point lead after the warm-up quarter ended. Holy Cross seemingly had St. Francis Prep in check when the team's 6'2" fearless leader Todd Rochelle '21 picked up two early fouls and had to ride the bench for the first half but not checkmate.
The Terriers began to get a little separation in the second quarter. "We had to make a change," said Lynch. "When we started driving the ball, we were a little bit better but our threes just weren't falling tonight."
As a team that might be true but clutch perimeter shots by 5'11" Chance Morrish '22 helped propel SFP to a 27 – 16 halftime advantage. During the intermission the Holy Cross faithful were reeling as they tried to process the 20 – 2 run that left their Knights in a hole.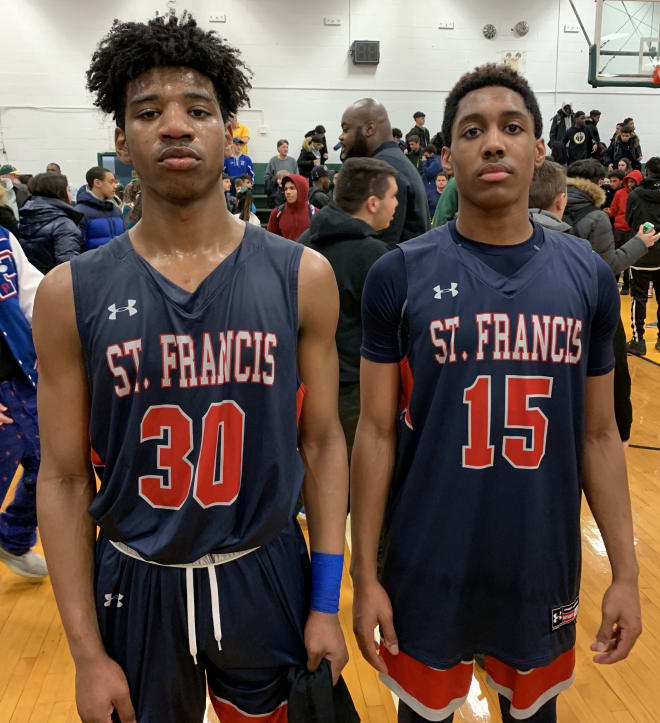 Part of the Terriers strategy was to silence Holy Cross's primary scorer 6'0" Tyler Chapman '20. The senior had just received his 1000th point trophy before the game but on this night he'd remain scoreless for two of four quarters due to relentless white-on-rice defense from Morrish and teammate 6'1" Latiek Briscoe '22.
"We knew we had to take the ball out of Tyler's hands as much as possible," Coach Lynch confessed. "He's a tremendous scorer. He's a great player but their other guys stepped up for them." That was evident in the third quarter.
Down 11 and in a crunch, Chapman may have had an off night but still manage to score clutch shots when his team made a run in the third quarter. Buckets from the senior along with shots from 6'3" Anthony Walters '20 and 6'3" Ryan Panagakos '20 sparked a 15 – 4 Holy Cross run to knot the game at 31 apiece with three minute left in the quarter. A deuce by Morrish put St. Francis Prep back up by but an inside play by Walters followed by a trifecta from Chapman gave the Knights a two point lead, its first since the first quarter.
Both teams were all in as the fourth quarter began as so were each team's fan base. There were more loose balls and bodies hitting the floor than during the Super Bowl as Terriers and the Knights dug in for the final chapter.
Holy Cross extended its lead to 4 points before the Terriers strung together points to take back the lead with 2 minutes left to play. The Knights did receive sparse 4th quarter firepower from 6'3" Jovone Cater '20, 5'10" Rodney Lewis '21 and 6'4" Regan Burke '20 but Chapman, the head of the Holy Cross snake was smothered defensively and held scoreless in the quarter by Briscoe and Morrish. Gassed, the Knights lost their second straight to Prep.
"It's always gonna be a fun game between us and them," said Lynch. "That's the fun of it.
Morrish led St. Francis Prep with a game high 18 points with Briscoe adding 11 points. Chapman and Walters netted 10 apiece for Holy Cross.