St. Anthony's Checkmates Chaminade; Wins NSCHSAA Chip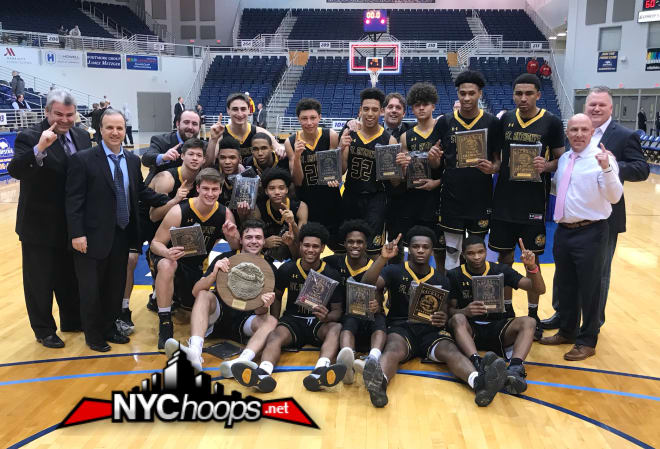 HEMPSTEAD, NY – Since 2015, the Nassau/Suffolk CHSAA Class "AA" Championship has flip-flopped between the Chaminade Flyers or the St. Anthony's Friars. According to the order of succession, it was the Friars turn to be it for 2018.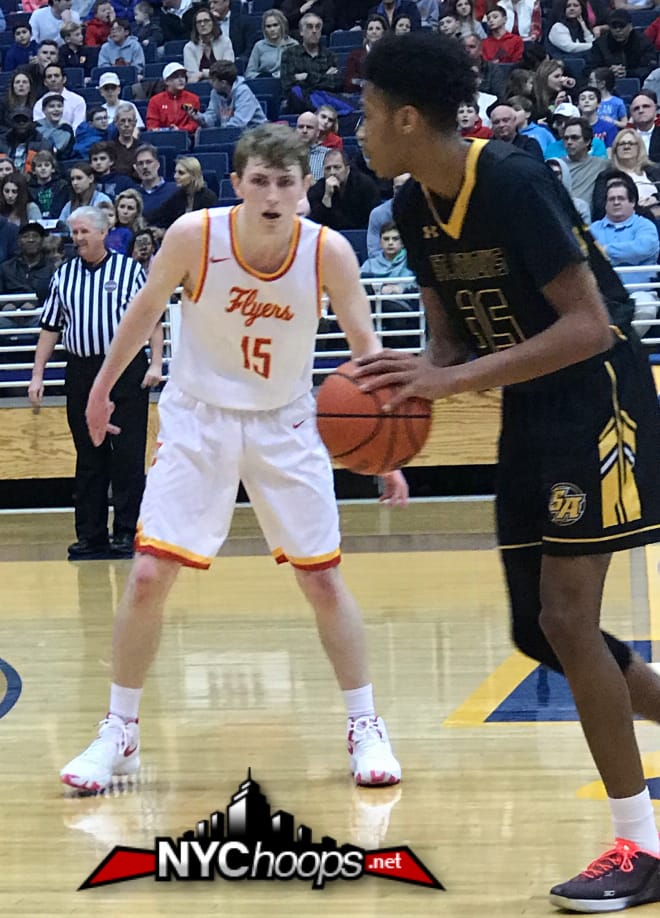 However, a championship by #10 ranked St. Anthony's this season was not expected as they were a team that had bounced in and out of the rankings throughout the regular season. As a result, the South Huntington, NY squad had a host of naysayers and were the underdogs against the #7 ranked Flyers. That is until St. Anthony made everyone believers again albeit with a narrow 63 – 60 win over a tough Chaminade on Tuesday at Hofstra University.
"So many people doubted us," said a tearful Tyrone Lyons '18. "Just for us to be here was a big opportunity but for us to win means so much to me and especially the team."
The Flyers came out flying in the first quarter with Mike O'Connell '20 lighting up the scoreboard from the perimeter. After the first quarter, Chaminade had built up a 15-point advantage with their long-distance game showing no end in sight but St. Anthony's had been to this rodeo before.
"I've seen it before. That's what they do," said Friars Head Coach Sal Lagano. "We weathered the storm. It's like losing five black jack hands in a row. You gotta play the sixth [hand]."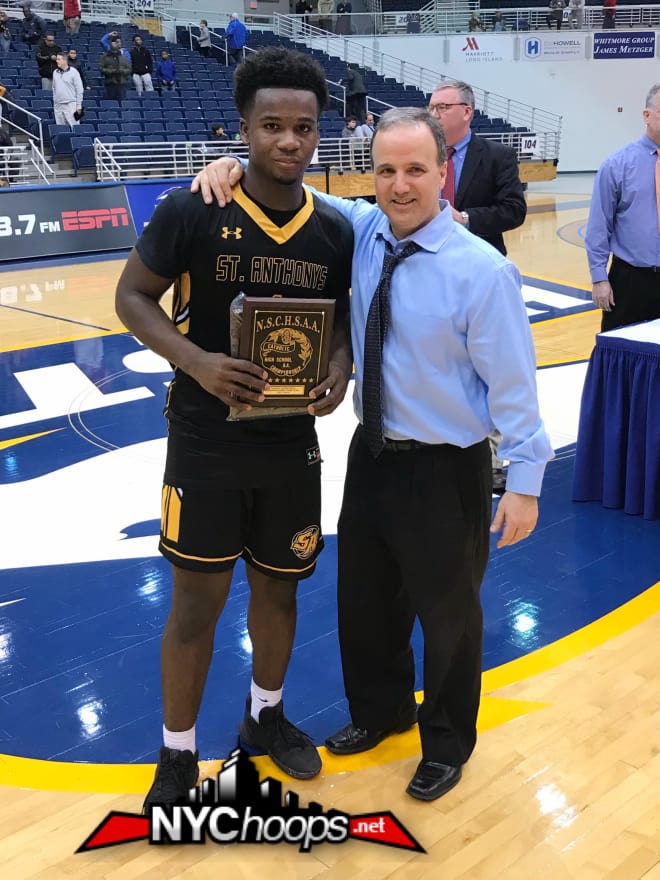 In the second quarter, St. Anthony's made significant headway as PG Jon Harewood '18 and Lyons began puncturing Chaminade's zone. An 18 – 0 Friars run ensued as the Flyers shots fell short and ended with 19 seconds remaining in the half as Antonio Lopez '18 tied the game at 25 apiece. A buzzer beater by Kieran Dorney '20 gave Chaminade a two-point lead at the midway point but for all intent and purposes it was zero-zero again.
In the third quarter, Chaminade head coach Robert Paul recalibrated and threw in a different defensive zone at the Friars. Their long-ball once again found its mark as Brendan McGuire '18 and Robert Connors '18 chimed in along with O'Connor. St. Anthony's tried to counter as Makhai Murphy '19 found some offensive daylight but they once again fell behind by 9-points as the championship quarter got underway.
As with any game of chess, it's all about moves and countermoves. While Coach Paul made his initial move changing his zone, Coach Lagano's counter ended up being the checkmate of the game. "[The taller] Tyrone switched positions and went to point guard when we were struggling with the one-three-one [zone] so we could see over it. It gave Harewood a chance to really step up [offensively]."
A clutch shot by Mike Regan '19 set off St. Anthony run and with 2:20 left to play a drive by Lyons put the Friars back in front, 58 -57 and that is as close as Chaminade would get. Harewood, who's St. Anthony's point guard and fearless leader ,earned MVP honors, closing out the game with big shots and without missing a free-throw but credited his teammates for the win. "Its easy when I have a teammates and coaches who believe in me. It makes my job much easier. I'm so proud of my guys."
Harewood scored 22 points for St. Anthony with Lopez and Lyons contributing 13 points and 12 points respectively. O'Connell led Chaminade with 21 points with Connors adding 16 points.