Slam Dunk Tournament Day 2 Recap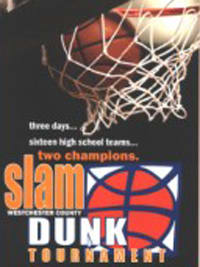 Day two of the Slam Dunk Tournament at the Westchester County Center features two semifinal match-ups between four of the top teams in Westchester. The first game was between the Peekskill Red Devils and the Jamesville-DeWitt Red Rams.
Mookie Jones
scored a game high 22 points and 15 rebounds as Peekskill squeezed out a win against Jamesville DeWitt by the score of 63 – 60.
Elliot Wilson
added 16 points and 7 rebounds. The high scorers for Jamesville-DeWitt were
Brandon Triche
with 13 points and five rebounds.
The second game featured the White Plains Tigers versus the Port Chester Rams. In this game the offensive tandem of
Sean Kilpatrick
and
Rashad James
was simply too much for even for Port Chester's defensive specialist
Jordan Henriquez
as White Plains cruised to a victory 74 – 51. Kilpatrick had a day high 28 points while Rashad James contributed 19 points and eight rebounds. Henriquez scored 15 points and pulled nine rebounds for Port Chester while his teammate
Kafele Carter
yanked 13 boards.
The championship is on Sunday, as Peekskill will play White Plains.
---------------------------------------------------------------------------------------------------------------------------
Go to
NYC Hoops
for all the late breaking NYC basketball news and rankings plus access to
FREE BASKETBALL WEBCASTS.
Sign-up for our FREE eNewsletter to get the even more news right in your email box.
Talk about NYC Hoops on our Message Board.