S.F.P. Terriers win 1st B/Q chip in 23 years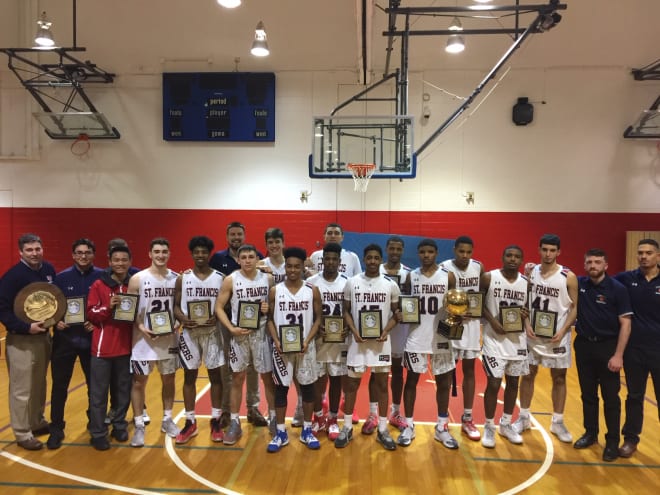 Young Terriers fight back to claim B/Q Diocesan Championship  
FRESH MEADOWS, NY- Having lost their star from last season's team to transfer before the school year began, this wasn't supposed to be a year St. Francis Prep was in contention for any sort of championship as most wrote off the Terriers as a young team a year or two away, that is except for everyone associated with the St. Francis Prep program.
They all held a belief that while very young the talent was there for them to do something special and do something special they did.
St. Francis Prep surprised nearly everyone by finishing first in the CHSAA Brooklyn/Queens Division during the regular season, and then after trailing by 6 going to the fourth quarter during Friday's Diocesan title game against Xaverian it was the young, scrappy group of Terriers who fought back and wouldn't be denied as Latiek Briscoe '22 scored the game winner with under 30 seconds to go, and then a last second stand that would seal the deal as in front of a packed crowd on their home floor it was St. Francis Prep who finished the job by knocking off the Clippers 57-56 for the school's first Brooklyn/Queens Diocesan title since 1997.
Five of St. Francis Prep's top players are sophomores who came into the season with zero varsity experience, and with experience being the name of the game at times many picked the Terriers to finish near the bottom of the CHSAA which rubbed players like Key'Sean Maynard '22 the wrong way and immediately back in November put a chip on their shoulders.
"At the start of the year they ranked us 6th in all of Brooklyn/Queens so we got offended to that and worked hard in practice to show we weren't going to be sixth," Maynard stated.
Even Terriers head coach Jimmy Lynch saw it in his team as they heard the chirps from everyone that this wasn't a year anyone had to focus on St. Francis Prep with his young team using everything they heard before the season as motivation to show everyone they were wrong.
As the season moved along people started to see what St. Francis Prep was about and some got on the bandwagon, though even entering the postseason as the #1 seed in the Brooklyn/Queens Diocesan playoffs many were looking toward Christ the King or the Terriers opponents on Friday in Xaverian, but again the Terriers heard that this wasn't to be their year and were out again to prove those doubters wrong.
Xaverian in the championship would prove to be a difficult challenge, but it just seemed as if nothing was going to stop St. Francis Prep from achieving their destiny.
Things went well in the early going for the Terriers as they did a solid job closing out on the perimeter, and even though smaller than the Clippers it was St. Francis Prep doing a very good job on the glass denying Xaverian good looks down low which allowed them to take a 28-25 lead into halftime.
While St. Francis Prep was confident coming into the third quarter it proved to be a very rough start to the half as Xaverian scored the first 8 of the to take a 33-28 lead, and Briscoe was hit with a technical foul after he and Clippers guard Shawn Fulcher '21 exchanged words.
After a pair of threes from Billy Reyes '20 it was Xaverian grabbing their biggest lead of the game at 41-30 with 3:26 to go in the third. St. Francis Prep did a good job of containing things as the quarter went on but the ability to get into driving lanes for Fulcher and Nick Folk '21 was starting to give the Terriers trouble as the Clippers lead 49-43 going to the fourth.
It was at this point that Lynch said he had a choice. Did he throw a gimmicky type of defense at Xaverian to try and limit Fulcher and Folk? He leaned on a trusted assistant coach at that point as they went with their gut to stay the course and trust that what they have done all season long would pay off down the stretch.
"Dan Angelastro is my assistant coach and he runs our defense and you know how our defense has been all year long. We were thinking though about trying some gimmicks there to throw some different things at them but Danny has done such a good job with our defense I said man to man the rest of the way and that's how we are going to do it," Lynch explained.
It was trust and faith in the process, and with the crowd getting louder and louder it was the Terriers who began their climb back. They tied it at 49 with a Becir Hot '20 three from straightaway, but Xaverian showing their poise would score the next five to up their late back to 54-49. The Clippers would grab a 56-51 lead with just under two minutes to play when everything would turn in St. Francis Prep's favor once and for all.
Todd Rochelle '21 would come around a screen and sore driving in, and then off a missed jumper from the Clippers it was Maynard scoring on a second chance to get the Terriers within 56-55 with 1:03 to play. A missed runner in the lane for Xaverian gave St. Francis Prep the ball with under a minute to go with a chance to take the lead, and while Rochelle missed on a pull up jumper from the left elbow it was Briscoe, a sophomore who has done it all this season who flew through the lane and put back the miss to put the Terriers up 57-56 with 28.9 seconds to go.
Briscoe climbed over three Xaverian defenders, all of whom were bigger than him, for the putback, and even he had a tough time figuring out how he was able to get the go ahead bucket to go down.
"Miss or make I was going to crash there and I tried my best to get up there and tip it in and yeah I somehow was able to get it done," Briscoe said with a shocked look.
Xaverian ran the clock down and would call their final timeout with 8.5 seconds to go to set up one final play to try and get the win. They got the ball in the hands of Folk who drove down and saw his floater roll around and out, and then the Clippers had two other chances tips that could've won it that stayed out as the final buzzer sounded as the St. Francis Prep gym went crazy in celebration as they had proven all those who doubted them wrong in defeating Xaverian 57-56 in a thriller for the Brooklyn/Queens championship.
Getting 16 points from Briscoe, 12 from Jonathan Medley '22 and 10 from Morrish helped push the Terriers over the top in the win, while in defeat it was Xaverian getting a game high 18 points from Folk.
Down the stretch in the final seconds Lynch admitted nerves in seeing Xaverian get a couple of good looks just before the buzzer, but he knew that the presence of his mentor in the late legendary St. Francis Prep coach Tim Leary was on the floor with them in those final seconds, helping the Terriers pull out the victory.
"The one guy I keep going to in the back of my mind, Tim Leary had this crowd forever going the right way," Lynch started. "I truly think Tim Leary was involved on those last shots, we were playing 6 on 5 right there."
It broke Lynch's heart he said to not have Leary there to enjoy this moment with him and the rest of the Terriers but he said he knows with all of his heart that his mentor and friend is smiling down and extremely proud of what St. Francis Prep accomplished on Friday, and the entire season to date so far.
There is still more work to do though for St. Francis Prep who will look to keep shocking the New York City basketball world as they move onto the CHSAA Intersectional Playoffs, going straight to next Sunday's quarterfinals at Fordham as the #1 seed out of Brooklyn/Queens.
People may still keep doubting them but Briscoe says he is now ok with that, having embraced the role of the underdog even though he knows and believes that this is the true start of something big and special for this hungry group of Terriers.
"It is going to better, much better," Briscoe confidently said. "We gonna keep going and we are gonna fight in the city playoffs and for years on to come we are going to keep winning."