Rochester Overtakes Buffalo; Takes BCANY Chip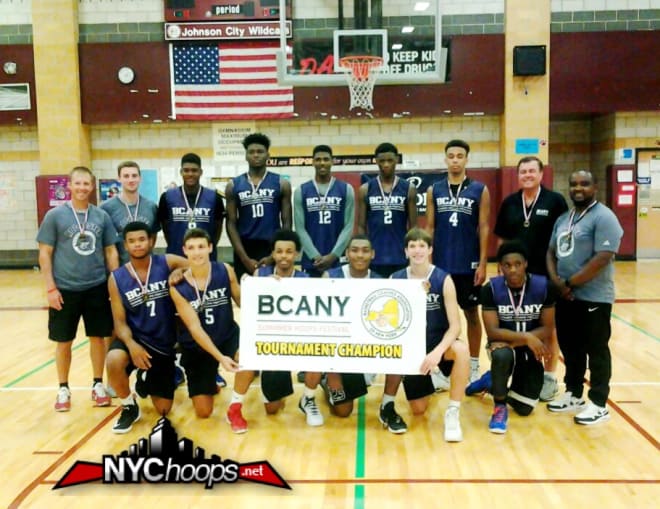 JOHNSON CITY, NY - It was a dream matchup in the BCANY Boys Summer Hoops Festival title game as Rochester would square off with Buffalo in a game that saw many of New York's stars on the court with a championship on the line.
What took place on the floor was not shocking at all as both teams brought the very best out of each other with many swings of momentum going back and forth throughout the game, but a late run by Rochester, and great play from guards Nahziah Carter (Bishop Kearney '17) and Zach Stenglein (West Irondequoit '17) pushed them to the championship as they slipped past Buffalo, 75-66.
In a game where 8 of the players combined held Division 1 offers you knew you were going to get a game that was played at a high level and have excellent intensity as both teams clearly wanted to bring the title home with them on Sunday night.
From the opening tip it was clear the Carter was going to have a major impact on this one as with Rochester winning the tap he was able to get the ball and attack down the right side with a beautiful reverse finish to set the tone for what the rest of the game would be.
For Buffalo at the start it was all about guard Greg Dolan (Williamsville South '18) as he was able to score in a variety of ways be it with spins around defenders driving inside, or step back jump shots from the outside. No one was able to defend him in the early going and with 10 points in the opening 8 minutes, Buffalo took a 23-14 lead.
Slowly but surely Rochester started to get their footing back into the game though as wing Jeenathan Williams (University Prep '18) was able to put back and monster one handed slam that got the crowd on their feet, and with that followed up by a pair of pull up jumpers, Rochester got themselves within 3 with just over 5 minutes to go in the half.
Stenglein tied things up with his second three of the game and the game was once again officially on, though right back the other way was Buffalo young stud guard Daniel Scott (St. Joe's Collegiate '19) who would connect on a three ball of his own to give Buffalo back the lead.
A big difference in the final 3 minutes of the half though was big man Isaiah Stewart (McQuaid Jesuit '19) as the ultra-talented Rochester big man was able to impose his will down low and score 6 straight to give Rochester back the lead, and with Carter connecting on a 3 ball in the closing seconds, Rochester was able to fight back and take a 39-34 lead into the half.
It seemed like all the momentum was on the side of Rochester, but momentum doesn't always last and with Dolan connecting on a 3 to open the second half, the momentum went away quickly as that triple was the start of a 15-2 run that was led for the most part by Buffalo big man Joe Jones (The Park School '18) as he controlled the paint and allowed Buffalo to take a 52-41 lead with 11:22 to go in the game.
The momentum never seemed to last all that long for either team though as after a Rochester timeout they were able to right the ship as Pickett was able to finish going down the lane to break up the run, and then two Stenglein threes allowed Rochester to get the 11-point lead down to just 2 in what seemed to be almost an instant.
Aggressive and athletic Buffalo wing Dominick Welch (Cheektowaga '17) was able to break up the run temporarily with a beautiful up and under finish in the lane, but Carter and Jason Hawkes (Aquinas '17) came back and scored on back to back possessions and with exactly 4 minutes to go the game was tied at 62.
It was the closing stretch in this one that would ultimately determine a champion, and even though Welch and Dolan were trying to will Buffalo to the win with impressive buckets from the outside, it seemed like Rochester had just a bit more late as Carter took control with tough drive after tough drive down the lane as he used his 6'5" frame to fight his way down low for important buckets in the closing minutes, and when he wasn't coming up big it was Stenglein who fought his way around Jones inside for a bucket with 1:30 to go to put Rochester up 69-65.
It seemed to be the final straw for Buffalo as after that Stenglein bucket they never got any closer with Williams hitting a clutch turnaround jumper, and Carter finishing on a reverse to close things out at the buzzer to give Rochester back to back BCANY titles with a 75-66 victory.
Carter led all scorers in the championship game with 21 points while Stenglein added 18 points and Williams chipped in with 15 points in an impressive team victory for Rochester.
Dolan was the high man for Buffalo as he had 20 points in the defeat with Welch and Jones both adding 12 a point in the defeat.
Both teams played great all weekend long with both proving to be worthy of being in the championship game, but in the end it was Rochester that did everything necessary down the stretch to be crowned very deserving BCANY Summer Hoops Festival champions.