PSAL Borough Championships (Part One)
FLUSHING, NY- The first two games of the PSAL Borough Championships on Saturday saw Eagle Academy take on Wings Academy in a major rivalry game for the Bronx title to start off the day, while South Shore took on Boys and Girls for the coveted Brooklyn championship.
It proved to be an exciting pair of games to start of the day at Queens College, and with NYCHoops.net in the building from start to finish let's take a look at how the two openers went as we recap the action.
Eagle Academy Takes Down Wings Academy, 62-59 in Double OT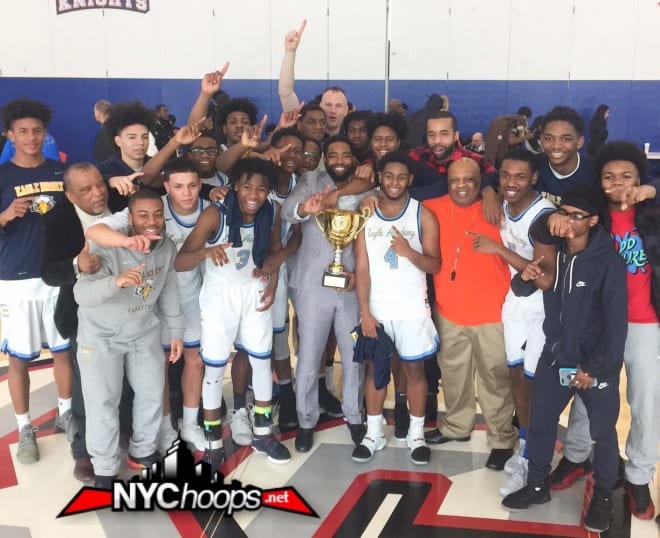 Having been a bridesmaid for years but never the bride, Eagle Academy knows all too well the feeling of finishing in second place. They have fallen short to Wings Academy in the PSAL Bronx Borough Championship more times than they want to remember, but Saturday gave them a chance to finally get over that hump.
Prior to this season Eagle had never beaten Wings and it was like a monkey on their backs. They finally were able to knock them off when the Eagles won both regular season matchups, but the borough title game was a whole different beast.
Wings Academy hadn't lost a borough title game in nearly a decade, and out of the gate in this one it seems as if that streak would continue as the Billy Turnage led team got out to a flying start from behind the arc to take control.
Brian Mitchell '18 got into the act first as he canned his first long range jumper, and then it was Derrick Crothers '19and Mohamed Fofana '18 who began to find their range as Wings Academy opened up a 30-10 lead with 3:50 to go in the first half.
It was a performance from his Eagle team that saw their head coach Ryan Queen begin to get down, which in turn he felt affected his team's play. They weren't shooting the ball well from the outside with Floyd Samuels '18 not able to get anything going offensively, and with the interior weapons for Eagle also not able to finish around the rim it was all Wings Academy in the opening half as they took a 31-17 lead into the break.
For as disappointing an opening half as it was for Eagle Academy, Queen felt that it could've been worse which gave him hope to go into the rest of the game.
"At halftime we talked about our deficit only being 14 because we played a half that we should've been down by 30," Queen stated.
Queen was not thrilled but the belief in his team never went away. He remembered what happened last year when his team blew a 12-point halftime lead in this very game to Wings Academy and understood that anything could happen.
What they needed to do as a team was play better defense because at the end of the day forward Nelson Samuels '18said it was all about the lack of defensive execution that put them in the whole they were in.
"We didn't play any defense at all in the first half and that allowed them to get the early lead," Samuels explained. "We did that to ourselves."
Raise the energy level and play better defense were the keys to getting back into the game, and that's exactly what Eagle did as they held Wings to just 3 points in the 3rd quarter, while shooting better from the outside themselves with Kendall McInnis '18 drilling a pair triples to get Eagle within 34-29 after three.
The belief in the huddle going into the 4th was even stronger as both Samuels, Nelson and Floyd, preached to the Eagle team that the comeback was possible, to keep playing hard and give it their all and they could get the job done.
It was all about Eagle as with 5:35 to go in the 4th Mike Caldero '20 hit on a floater in the lane to give them their first lead at 35-34. It was a 25-4 run overall and it put Eagle in the driver's seat the rest of the way as momentum was on their side with Wings only hitting on 1 FG in a span of almost 12 minutes of game time.
Mitchell would step up and hit on 4 FT's late, and when Mahamadou Nimaga '19 hit his first three ball of the game, Wings had retaken the lead back with just over 2 minutes to go in regulation.
With the lead going back and forth in the final minute, it seemed as if Samuels put the game away with FT's to make it 45-42 with 21.8 seconds to play, but Mitchell putback a Fofana miss while getting fouled, ultimately tying the game up at 45 and Eagle couldn't get a last second shot off sending the game to OT.
The 1st OT session couldn't decide things so a 2nd OT was needed, and in that extra session Eagle took its biggest lead of the game after a Caldero three made it 59-51 with 2:02 to play. Wings would fight back even after Fofana and Mitchell fouled out as Crothers would finish in transition while Nimaga scored on a short jumper in the lane, but big FT's from Eddie Cintron '18 put the game away for good.
A last second heave at the buzzer for Wings would fall way short and Eagle Academy would secure their first ever Bronx Borough Championship by downing the ultimate Bronx power in Wings Academy, 62-59 in 2OT's.
In the victory for Eagle it was Nelson Samuels who had 20 points to lead the way while Floyd Samuels added 12 for the first time Bronx champs.
Wings in defeat saw both Nimaga and Mitchell pace the team with 15 points apiece.
The best word to describe the win for Eagle Academy was historic as this means everything to the Eagle players and community. They fought back from a 20-point deficit showing the character of a champion and because of that it's Samuels says it's a day and moment he will never forget.
"It's history for us and we will definitely enjoy the moment. It's amazing."
South Shore Dominates Boys & Girls, 72-52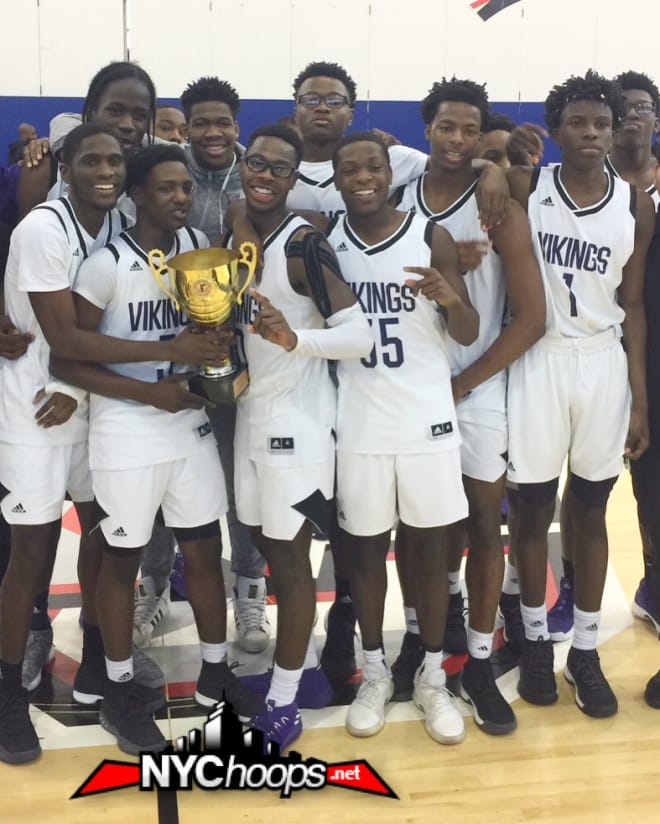 Wanting redemption from the disappointment of last year's 74-46 loss in the Brooklyn Borough title game to Abraham Lincoln, South Shore was on a mission to prove that this season they are Brooklyn's best.
They didn't disappoint on Saturday as out of the gate the Vikings were controlling the paint, while also lighting it up from the outside as they did what Boys and Girls what was done to them last year, easily coasting to the borough title over the Kangaroos 72-52.
A talking point for the entire Vikings team from the end of last season to Saturday was about getting a chance to right the wrong in the Brooklyn Borough title game, and while South Shore head coach Shawn Mark knew that last year's team wasn't prepared for this situation a year ago, he knew his team was locked in and ready to go this time around
"It was my first year coaching this team last year and the first time they were ever in a situation like that with South Shore being in the borough championship, so it was just a great opportunity to be there to compete," Mark said. "This year guys like Sekou Sylla '18 were like it's our time, let's go out and get after it."
Believing they were the best team this year South Shore were out to prove a point, and from the outset the point was made.
Off the opening tip Kareem May '20 found a cutting Isaiah Richards '19 at the basket for a thunderous slam that seemed to set the tone for the rest of the opening half as South Shore did near whatever they wanted inside, and when Sylla and Kadary Richmond '19 started to find their range in the 2nd quarter the rout was on.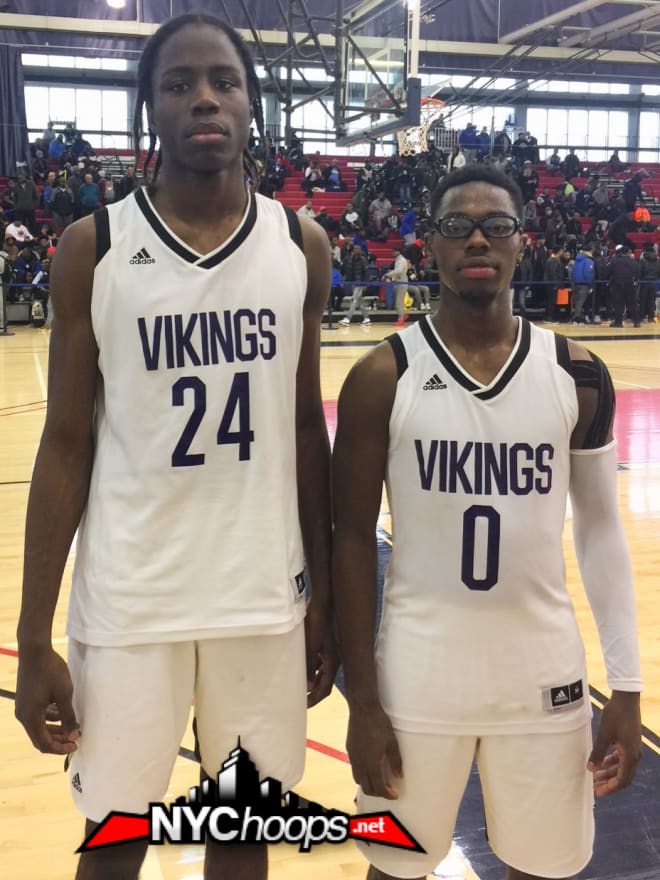 It was 17-4 in favor of South Shore after the first quarter, but with the shooters finding their range along with dominating the offensive glass, the lead for the Vikings continued to grow as they would take a commanding 41-17 lead going into halftime.
Complete domination from the Vikings continued into the 3rd quarter as May and Richmond kept the offensive rhythm going to push the lead up to 67-32 with South Shore making what was a huge statement to the rest of the PSAL that the city title will go through them.
The 4th quarter saw much of South Shore's bench get into the game which made the game a bit closer, but it was all Vikings from start to finish as led by the 17 points apiece from Richards and Dwight Davis Jr. '19 they were able to ease on home for a 72-52 victory and South Shore's first ever Brooklyn Borough title.
Jahmier Pugh '18 was the high scorer for Boys and Girls with 12 points but while they gave a valiant effort this day was all about South Shore.
It's the Vikings first ever borough title, and with tears in his eyes Mark after the win expressed how much this win means for not just him and his players, but the entire South Shore community who now have a championship to rally behind as they look to make even more noise going forward in the upcoming PSAL City Playoffs.
"I'm from the area and I'm choked up because no one knows what goes on in our community," Mark explained. "There is a lot of tragedy that has happened so for us to have this for the first time is big for the community and a very special feeling."