Portledge knocks out Bayshore, 46 - 40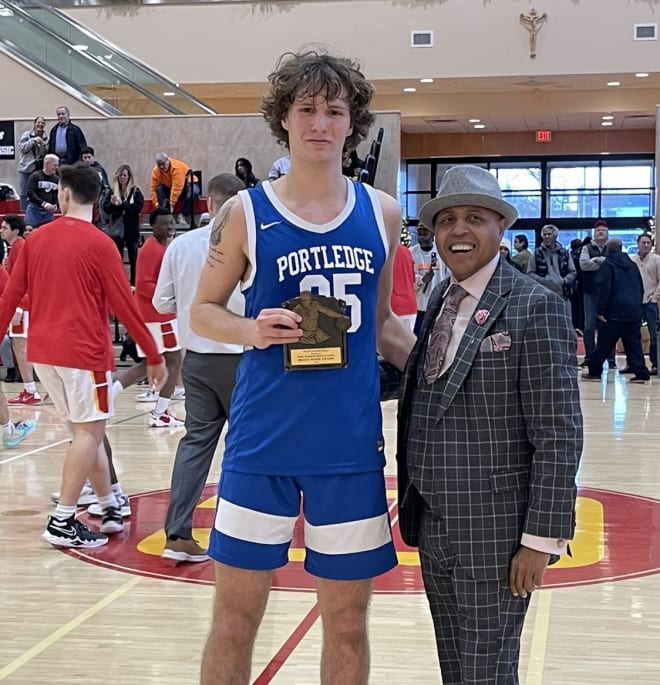 MINEOLA, NY - The opening game in the Gary Charles Hoop Classic held at Chaminade featured Portledge against #9 Bayshore. While the Panthers may not be in the top ten, they have a few exceptionally talented pieces and have had success early on this season. Let's recap this terrific non-league matchup.
The first quarter was tight from the start as both teams battled back and forth. Bayshore was able to connect on a three off good ball movement then 6'3" SG Aiden Swinson '23 added another three for the Marauders. Portledge got a nice inside basket, hit a free throw plus added an easy two from their leader 6'4" SG Anthony Follet '23. The Marauders had 6 players score in the quarter, they got a few inside baskets but were starting to get into some foul trouble. Follet converted a pair of free throws, found 6'5" G Brandon Torres '25 for three plus finished a layup.
Portledge had a 15-14 lead after 1 but Bayshore responded with a nice basket from 5'11" CG Michael Samuda '23 early on. Swinson scored, Portledge then hit two free throws and got baskets on back-to-back possessions. Samuda hit a free throw, Torres drilled a big three and Follet tacked on another two. Bayshore was struggling offensively unable to hit any threes and were shuffling some players around because of fouls.
Torres scored again giving him 10 in the first half as Portledge took a 29-22 lead after two quarters. Bayshore got an offensive put back, Follet scored a tough basket, but Swinson knocked down a three. Samuda scored, Portledge handed some empty possessions when Samuda hit a big three.
While the teams weren't lightning it up offensively, they were forcing each other to take tough shots after the first. Portledge, despite only scoring 6 points in the third really buckled down defensively in the last ten minutes of the game. Bayshore couldn't find anything easy and were still not shooting the three as well as they usually do.
Follet got by his defender for a basket, Torres hit a free throw while Samuda was able to convert a pair. Teams traded some fouls and empty possessions as the time was beginning to run out for Bayshore. The Marauders went 1/2 at the line, Follet had a clutch bucket and found Torres when Portledge needed to finish the game.
Swinson fouled out, Bayshore still couldn't find points as they ran out of gas in the fourth. Portledge won 46-40 in the early matchup of the Gary Charles Classic. Swinson had some nice plays finishing with 13 points and Samuda added 12. Follet, who was named MVP proved he's one of the top scorers on Long Island this season as he finished with a game high 22 points. Torres flashed as well adding 13 big points while grabbing a bunch of rebounds.
Expect Bayshore to fight back over the next few weeks as it looks Portledge is ready to make its case for a top ten selection.