NYC Snowball Classic Recaps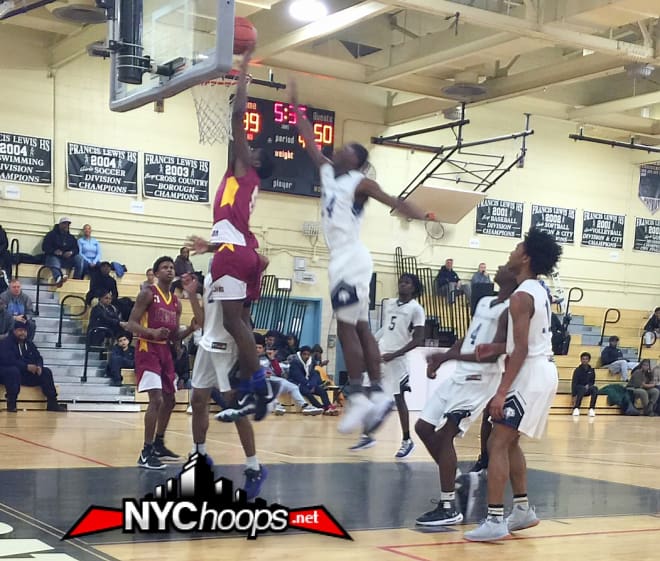 FRESH MEADOWS, NY- The NYC Snowball Classic on Saturday featured many of the top PSAL programs throughout the five boroughs, with a matchup between one of Brooklyn's best in Brooklyn Collegiate and Bronx power Eagle Academy highlighting the day's action.
From start to finish it was a great day of play as many teams showed themselves to be true City Championship contenders with excellent performances, and with NYCHoops.net on hand for a majority of the action here is a recap from some of the better games of the day from Queens.
Brooklyn Collegiate Devours Eagle Academy, 68 - 46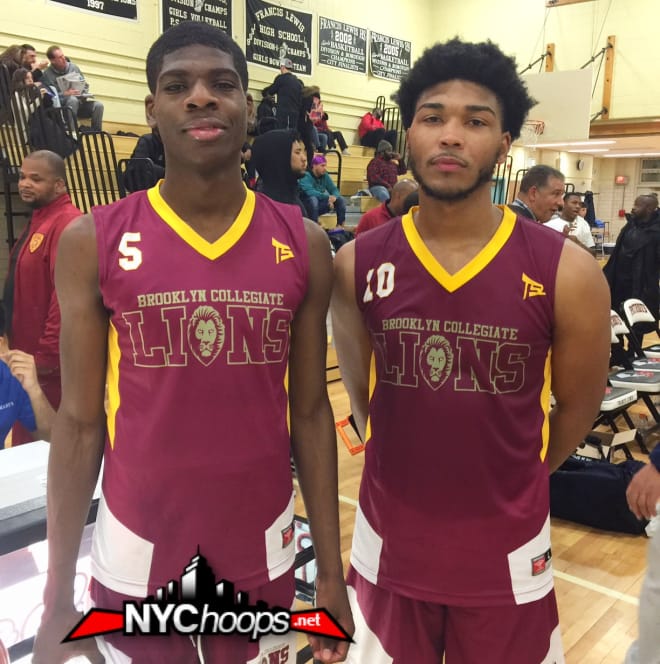 Coming off a massive road victory over Thomas Jefferson on Thursday the momentum was riding high for the Lions, but how would they could back 48 hours later against a tough Eagle team.
In the past, the knock on Brooklyn Collegiate was their consistency as they have had strong quality teams for the past couple of years now but putting together good efforts consistently has never been easy.
That's why Saturday's game was so important as Charles Brown '19 led the Lions with 20 points, while Amahrie Simpkins '20 added 17 in a game that saw Brooklyn Collegiate completely dominate the second half to roll to the impressive 68-46 victory over the Eagles.
It wasn't just those watching the game who were curious to see how Brooklyn Collegiate would back up their Jefferson win as Lions head coach Malcolm Connor knew his team was prepared for this one on Saturday, but at the same time he understood that his team has had let downs in the past.
What he felt made this team different was its leadership. He has seniors in Brown and lead guard Glen Anderson '19 and has a heady junior guard in Majesty Johnson '20 who plays older than his years, so while he wanted to see his team prove themselves, Connor was confident in what he believed would be another big performance by his team.
"In the past we have lost games we were supposed to win handily so in practice we have been going over adjustments and focus on what we had here," Connor said. "We have senior's and leaders this season and I think they all know how important games like this can be for seeing and for building confidence and we didn't want to lose that."
At the outset it was a close game as while Brown was getting off from behind the arc going 3-4 in the opening half, while also finding way to push Eagle Academy inside, the Eagles weren't backing away as DeMarco Watson '20 was able to finish in the lane with floaters and runners, while Michael Caldero '20 was able to find space for his own long distance looks to help keep Eagle Bronx in the game early.
After falling behind by as many as 12 in the early going, Eagle fought back and trailed by just a 31-26 score at the break, giving them a good amount of confidence, themselves heading into the locker room.
The start of the 3rd gave Eagle even more hope as after Watson hit his first three of the game, they were within 33-31, and had the ball on a pair of possessions to tie or take the lead. They didn't convert though and when opponents don't take care of their opportunities against the Lions, Brooklyn Collegiate pounce.
Back to back threes from the same left corner by Anderson and Johnson brought the Brooklyn Collegiate lead from 2 to 8 in the snap of a finger, and at that point the Lions began to pull away. They would take a 9-point lead into the 4th quarter and pushed the lead to double digits for the first time since early in the second after Brown finished inside off a nice feed from Johnson.
For as much talent as Eagle Academy has they seemed to fall into a slide late in the 3rd and never recovered as without the leadership necessary on the court to lead the way there was very little Eagles head coach Ryan Queen could do as his team didn't have the one go to player needed to help snap the funk that they had fallen into.
Simpkins was the key man late for the Lions as while it was Brown for most of the game doing the big work for Brooklyn Collegiate, the junior came up with a pair of and one finishes while getting fouled inside, using his length and strength to his advance to ultimately put Eagle Academy away for good.
It was a close and good game for three quarters, but good teams put teams away down the stretch and that's what Brooklyn Collegiate did here as they outscored Eagle in the 4th quarter 23-10 to pull away for a convincing 68-46 victory.
Brown and Simpkins led the way scoring wise for the Lions, with Anderson and Johnson each also getting into double figures with 12 and 11 points respectively in what were great all-around efforts by the talented backcourt duo.
For Eagle Academy, they got 12 points from Watson, who was the lone player to hit the double figure mark, as they struggled down the stretch in this one. They will need to recover quickly though with a huge league matchup with rivals Wings Academy coming up on the road on Tuesday.
This was truly all about Brooklyn Collegiate and them backing up their major win on Thursday and proving to be among the best in New York City. They have in the past showed the flashes but this time they look for real as Simpkins said nothing is going to stop this team, this season from going all the way.
"We want to show schools in the city we are confident this year and show we can go all the way," Simpkins stated. "Beating Jefferson and now Eagle, I think we showed that."
Cardozo Bangs James Monroe, 69 - 53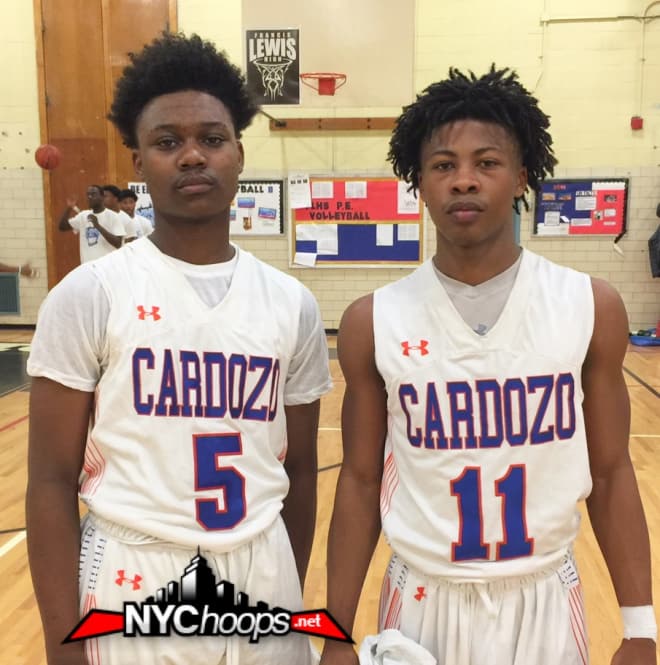 In what was the Judges first non-league game of the season they wanted to show they are among the best in New York City once again when they took on Monroe, and while it wasn't the prettiest or best overall effort, Cardozo was able to get a strong game from Donte Ager '19 as the senior shooter had 14 points to lead his team to the 16 point win.
Running out and grabbing a 9-0 lead in the opening three minutes only helped build up the confidence of the Judges as they got a couple quick long-range shots to fall from Jaylen Davis '19, while big man Jamal Watson '19 got to work inside as the Molloy transfer used his size and strength to control the paint early.
It wasn't until nearly halfway through the opening quarter that the Eagles got on the board for the first time when Sage Bourbon '19 was able to finish off a layup going down the left side, the first layup a Monroe player made in the game after missing on numerous good attempts in the opening minutes.
Cardozo wasn't playing great basketball either as they settled for long range shots a bit too often for the liking of head coach Ron Naclerio but they still maintained a 37-28 lead at halftime, not putting Monroe away when they looked out of it, but at the same time not letting control of the game slip away either.
Bourbon began to take over in the 3rd a bit with his quickness in the open floor, and ability to finish against the size inside of the Judges, with the lead going down to as little as 7 at 40-33, but when Cardozo needed a shot they didn't go to Davis or Ager, they went to an unlikely source in Chamarri Baskerville '20.
Up 52-41 in the waning seconds of the 3rd quarter Cardozo was able to take momentum going into the final stanza as Baskerville threw up a shot just inside of halfcourt that was nothing but net to get the crowd off their feet and put the Judges up by 14.
It seemed to be a momentum killer for Monroe as they came out flat in the 4th with Cardozo scoring the first 6 of the period to send the lead up to 20 and for all intents and purposes putting the game away for good. The benches for both teams entered in late and while they may have some things to still cleanup it was a solid win for Cardozo in taking down James Monroe, 69-53.
Along with Ager's 14 points the Judges got 11 points from Baskerville and 10 from Aaron Miller '20 who gave Cardozo solid minutes and play around the rim all game long.
Getting 20 points from Bourbon and 18 from Alberto Paulino '20, Monroe showed flashes of the dynamic offensive team that they can be but need to put it all together for longer stretches to truly show to be a team to reckon with as the season goes on.
At the end of the day it was a Cardozo win, and win number 799 in the illustrious career of Naclerio who will go for win #800 on Tuesday at Springfield Gardens. To get that win though he knows his group will need to play a lot better as the young talent that he has he believes still needs to come together to get to where they want to be in March.
"Maybe a loss would be good for this team I don't know," Naclerio said. "They don't understand how hard this really is."
Francis Lewis Tops St. Mary's, 69 - 61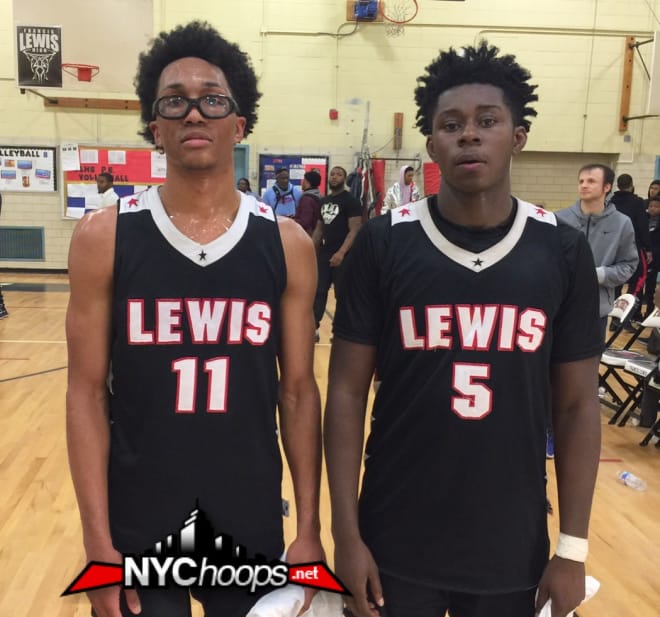 This was the one that almost got away for the host team as Francis Lewis had a 25-point lead early in the 3rd quarter. It nearly all went away as the Gaels never quit and kept on fighting their way back into this game. The deficit proved to be too much to overcome though as getting 18 points from Robert Bland '19 allowed the Patriots to still come away with the 8-point victory.
After a good start by both teams it was Francis Lewis who pulled away for a 17-point halftime lead, a lead that only continued to grow in the 3rd as Kadeem Jones '19 got into the scoring act with Bland to see the Patriots take what looked like an insurmountable lead.
The shooting touch as the game went on of Sal Saputo '20 meant that may not be the case though as the St. Mary's junior guard had 16 in the second half alone, and with Jovayne Walters '20 really beginning to clean up on the glass and score on a good amount of second chance opportunities, the lead that Francis Lewis had begun to dwindle away.
Getting the deficit all the way down to 6 with under two minutes to go, St. Mary's had chances to get it closer, but Francis Lewis were able to come up with enough stops late, and Moises Cordero '19 did a solid job closing out the game with a couple of midrange jumpers down the stretch to see the Patriots hold on for the 69-61 win.
Bland had an aforementioned 18 points while both Jones and Cordero added 12 points apiece for Francis Lewis.
In the defeat for St. Mary's they got a game high 21 points from Saputo, while Walters had 14 points and at least double digits rebounds in what was an impressive game for the Gaels big man down low.