NYC honors its greatest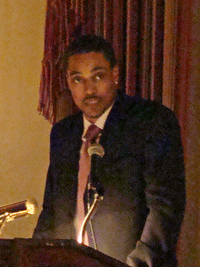 On Wednesday night, at the New York Athletic Club, the basketball community came out to honor the greatest players and contributors to the game.
The 19th New York City Basketball Hall of Fame inducted the best from the NYC Kenny Anderson, Louis Bender, Pete Gillen, Joe Goldstein, Bob McCullough, Sam Perkins, Rod Strickland, and Eddie Younger.
The master of ceremonies over seeing the event was Spencer Ross the voice for over 40 years of play-by-play for NY and Jersey sport franchises. The opening remarks were given by Robert A. Williams the President of NYC Basketball Hall of Fame.
The inductee coach this year was Pete Gillen former coach of Brooklyn Prep, Nazareth High School, University of Hawaii, Villanova, Xavier, Providence, and Cavaliers. He helped develop three lottery picks and nine NBA players including Tyrone Hill, Brian Grant, Austin Croshere, and most recently Sean Singletary in the 2008 draft. He was the assistant coach for the 1984 Dream Team II. Gillen also was head coach of US Olympic Festival's North Team in 1993. Today you can hear him CSTV Network and CBS Radio Broadcasting booths.
The next inductee was player Louis "Lulu" Bender at 98 years young a veteran to the game. Bender began his career at DeWitt Clinton High School and soared as a college player at Columbia University from 1930 to 1932. He led the Ivy league in scoring sophomore and junior years, 98 points in 1930, then in 1931 96 points. Later he earned the Ivy League crown in 1930 and 1931. At the pro level he played for the 1934 New York Celtics, the Union City Reds in 1936, the Boston Trojans, and the New York Whirlwinds in 1941. After his playing days ended he went on to become an Assistant US Attorney for Southern District of New York. Presently, "LuLu" just stopped playing tennis a year ago and spends time with his wife and grandchildren.
Inductee Eddie Younger began his playing career at Frederick Douglass 139 High School, and led his school to the Manhattan Junior High School Championship. In 1939 he played in the PSAL championship for Franklin winning the game for his team. Later in college he played for Long Island University where he was named captain in his sophomore year then named to the All Metropolitan team. In his professional career he played for the New York Renaissance next to Tarzan Cooper, Pop Gates, John Issacs, Benny Garrett, Charlie Isles, Hank DeZonie and Jim Usry.
The big man inductee player Sam "The Big Smooth" Perkins attended Tilden High School and later transfer to Shaker High School. He was recruited by North Carolina and went on to win the 1982 Championship with teammates Michael Jordan and Sam Worthy. He ended his college career with more than 2000 points and 1000 rebounds while earning a degree in communications. He was the 4th pick in the 1984 NBA draft for the Dallas Mavericks. Perkins played in the NBA playoffs 13 of his 17 years with Dallas, the Lakers, Seattle, and the Indiana Pacers.
The incredible Rod "Hot Rod" Strickland started making noise as a player at the tender age of 12 at Truman High School in the Bronx were he honed his skills. Strickland game has often been compared to the great Nate Archibald. In college he led DePaul's Blue Demons to four straight NCAA appearances and a pair of NCAA tournament Sweet 16's in 1986 and 1987. In his pro career he was a first round draft for the New York Knicks and won rookie of the year both in 1988. He also played for San Antonio, Portland Trailblazers, Washington Bullets/Wizards, Miami, Minnesota Timber wolves, Orlando Magic, Toronto Raptor, and the Houston Rockets. When he finished as the 25th player of all time in the NBA to score over 10,000 points and exceed 5,000 assists. Today he works at the University of Memphis as the Director of Student Development.
The king of Queens's basketball is inductee Kenny Anderson a protégée to the game of basketball at the early age of 10. Anderson played for legendary coach Jack Curran at Archbishop Molloy finishing his high school career with 2,621 points, a city and New York State record that once was held by Kareem Abdul-Jabbar. He led his school to the city championship, and was named to every national High School All-America team, and was a three time Parade Magazine All America. During his senior season he was named New York State Writers Association Player of the Year, Mr. Basketball, and was selected for McDonalds All American game in 1989.
The inductee that turns everything he touches into gold is trustee award winner Joe Goldstein, a fixture in the NYC basketball scene for the last 60 years. In 1944 he started out as a copy boy for the sports department for The New York Sun and later became a full time employee. When the Knicks launched in 1946 he reported most of their games later to join the publicity department of Madison Square Garden in 1950.He also worked for the Herald Tribune, and helped promote the All Star games, the Fresh Air Fund's East West College shootouts along with New York High School All-Star Classics. Later he opens an office in the City and became Joe Frazier's PR guy for the fight at MSG against Muhammad Ali. He later got involved in ESPN publicity and programming. Goldstein remains as a charter member of the NYC Basketball Hall of Fame veterans committee, his input and scholarly knowledge on sports is well- respected.
The inductee contributor award went to a man that calls Rucker playground home Bob McCullough one of the "Rucker Kids". McCullough was mentored by the late Rucker himself. After graduating from Benedict College he vowed to continue the Holcombe legacy of community development through Rucker Professional Summer Basketball League. He even furthered his education graduating with a Masters in Science from Lehman College. In college he finished with a career high of 2,135 points. Later in he played for the Eastern Basketball League and earned rookie of the year also all star team honors. Today he continues the Rucker Pro League; he founded the each One Teach One organization that helps develop young people.
---------------------------------------------------------------------------------------------------------------------------
Go to
NYC Hoops
for all the late breaking NYC basketball news and rankings plus access to
FREE BASKETBALL WEBCASTS.
Sign-up for our FREE eNewsletter to get the even more news right in your email box.
Talk about NYC Hoops on our Message Board.