NY Lightning Select takes on NEPA Elite @ Hoop Group
SPOOKY NOOK, PA - Last weekend we got a chance to get to Spooky Nook Pennsylvania for Hoop groups Jam Fest. NYCHoops.net followed the talented New York Lightning Select on Saturday for their two pool play games. The first game the Lightning Select took on NEPA Elite which featured players mostly from Pennsylvania.
The game started off a little sloppy with both teams committing too many turnovers and mistakes. NEPA Elite was trying to pressure them early with a 1-2-2 press but was handled with ease by the Lightning. One thing you notice immediately watching the Lightning is their incredible size especially "22 6"10 Peter Carey who anchors the defense. The Lightning were able to connect on three early threes to lead 14-8 before NEPA called their first time out at the 8 minute mark. NEPA responded with a nice 10-2 run with "21 6"8 Ethan Meuser finishing over and through Lightning defenders.
Lightning Select had seen their lead slip away but were ready to answer, especially Pierce Prendergast. The 6"6 rising senior wing was big down the stretch knocking down a corner three and even getting fouled on one where he would make all three Free throws. Prendergast had 8 points in the first and a nice block that lead to a quick three which ended the half at
28-24 Lightning.
When the second half started you could see the defense and pace begin to pick up. NEPA had a tremendous guard "22 Justice Shoats who really was unguardable in the second half. Justice finished through contact with either hand and was separating from his defensive matchup with ease. He got NEPA back on top 38-34 midway through the second half and it looked as if they weren't going to lose.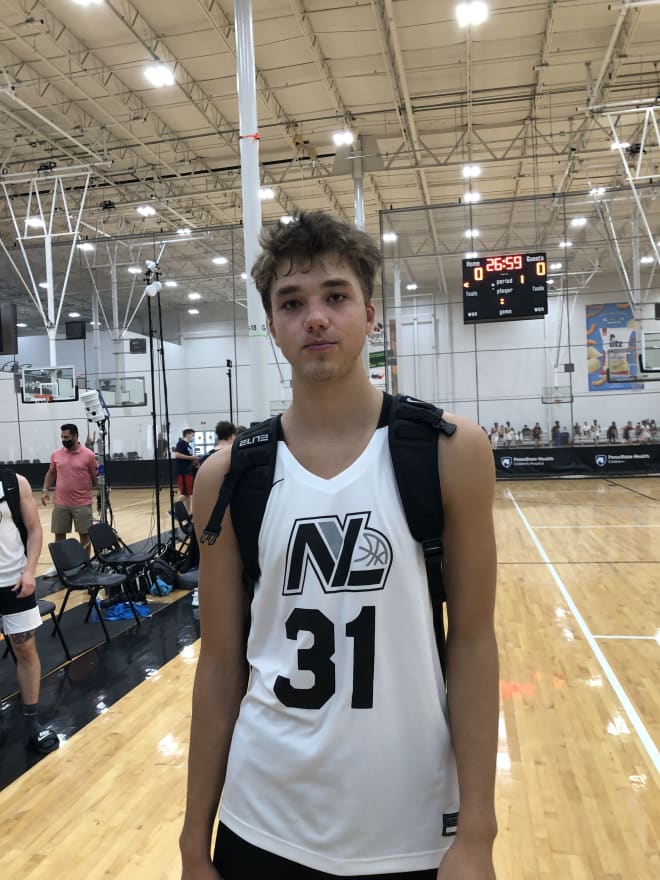 The New York Lightning made some substitutes and got lead "21 guard Sam Pohlman and "21 wing Brendan Mykalcio back into the game. Once both players got on the court the game began to change Mykalico immediately blocked a shot that lead to a Poehlman bucket. The momentum was back for the Lightning especially after Prendergast back to back buckets to take a 43-42 lead. NEPA Head Coach Brian Coyle screamed timeout to settle down his club and try and slow the Lightning down with 4 minutes remaining. New York Select and NEPA traded buckets back and forth until it was 48-48 with a minute in a half remaining.
This matchup was becoming an instant classic and looked to be headed to overtime. The Lightning had a slight advantage up 52-50 after a Mykalcio 3 but Shots answered back with a tough layup through traffic. Now the score is tied and the Lightning call a timeout with 9 seconds to try and win the game. NEPA did a great job disrupting their set and got the stop the need to head into overtime. Overtime rules are simple at Spooky Nook as they just add 2 minutes to the clock.
The Lightning wasted no time in extra time as they had a layup to go up 54-52. Shoats who had been sensational all game came up short on a floater and forced them to foul. New York ending up making the first and missing the second to now be up 3 with NEPA having the final shot. The Lightning get the stop they needed as NEPA can't convert and they take game 1 of pool play. Shoats and Meuser were great despite the loss finishing with 19 and 14 points.
New York had a nice balance of scoring with Mykalcio finishing with 19 points, Poehlman with 8 points but my MVP was Prendergast. I thought Pierce was big in the first half and made some quality plays to help his team come out on top. Prendergast finished the game with 16 points 8 rebounds and a couple of blocks. NYSL will look to keep rolling as they take on Team Red next.