Mt. Vernon suffers 1st loss @ HoopHall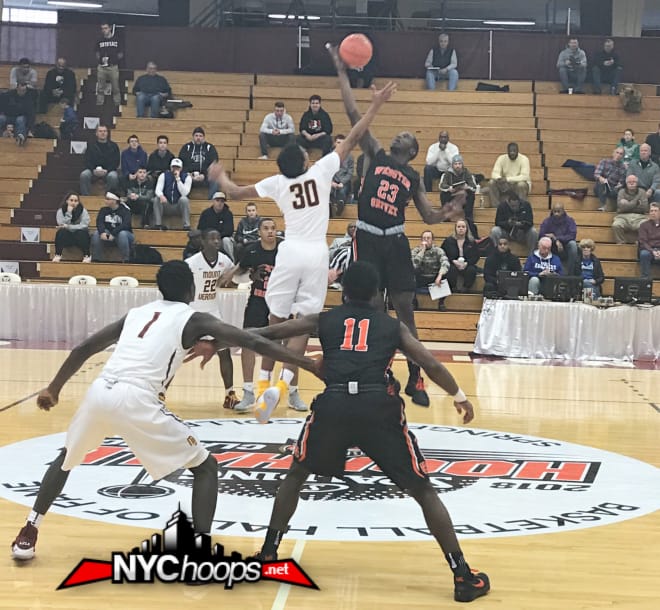 SPRINGFIELD, MA - The first game of the day on MLK holiday at Spalding HoopHall Classic, the Mount Vernon Knights (11-1) would face Webster Groves (MO). The New York team pushed to finesse their way through Webster Groves Statesmen towering defense, but the Knights lack of size made them fall short in this contest, 90 -75.
As the Knights warmed up, assistant coach Patrick Theodule spoke about the game, "We have to be very diligent about our fundamentals. Rebounding, boxing out, and taking care of the ball. Just playing very well, their very athletic, and long we have to play our A game."
By the third quarter the words of the Knights assistant coach would haunt them, with 3:25 remaining Demetreus Roberts (14 points, five assists, two steals) chip at Webster's lead making it an eight-point game, 48-40. With back-to-back threes from Knight's Charles Lovett (11 points, three assists, one steal) and George Mason-bound Jason Douglas-Stanley (32 points, eight three-pointers) it pushes the Knights closer to Webster's lead as the quarter closed, 64-52.
With six minutes remaining in the fourth the Knights were outsize in the paint, but push through with Lovett putting up two points in the final minute, 87-71. As the minutes waned down with no answers for the Statesmen defense the Knights would fall. Saint Louis-bound Carte'Are Gordon led for the Statesmen with 31 points, 11 rebounds, and seven blocks. Teammate Courtney Ramey finished with 26 points, nine rebounds, and seven assists.
The Mount Vernon Knights will return to action on Wednesday at 4:15pm when they face the White Plains Tigers at home.