LuHi Outhustles Hayes; Wins SNY Chip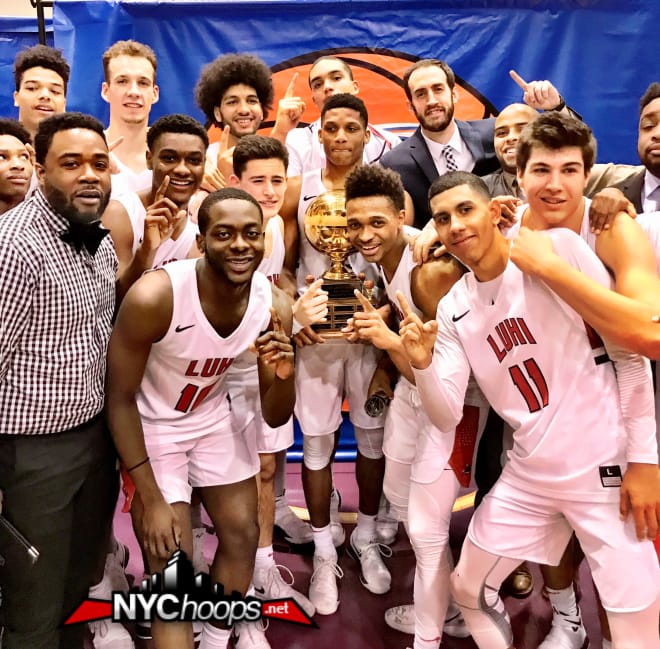 NEW YORK, NY – How high is up? When it comes to hustle, Cardinal Hayes is very high on the totem pole. Just ask Hudson Catholic (NJ) who got unexpectedly taken down by Hayes in the first round of the SNY Invitational and was demoted to competing in Saturday afternoon's opening consolation game.
The Long Island Lutheran Crusaders got to the championship round by outsmarting a loaded Archbishop Molloy squad but to win the chip over the Cardinals, a team that prides itself on winning the hustle points, they would have to outhustle the hustlers. LuHi decided to do just that and earned the 2018 SNY Invitational championship with an emphatic, 76 – 57, win over the never-say-die Cardinals.
"I just knew that they were really quick and would be a tough matchup for our stating line-up," said Crusader's head coach John Buck. "We had to match to [their intensity] and when we did that we were able to get the game in our favor."
Inside baskets from 6'9" Esam Mostafa '19 along with a trey from Frankie Policelli '18 put L.L. Lutheran out front by seven-points early but Hayes bounced back. Thirteen first quarter points from 5'11" Jontai Williams '20, including three 3-pointers catapulted Cardinals to an eight-point lead as the opening quarter ended.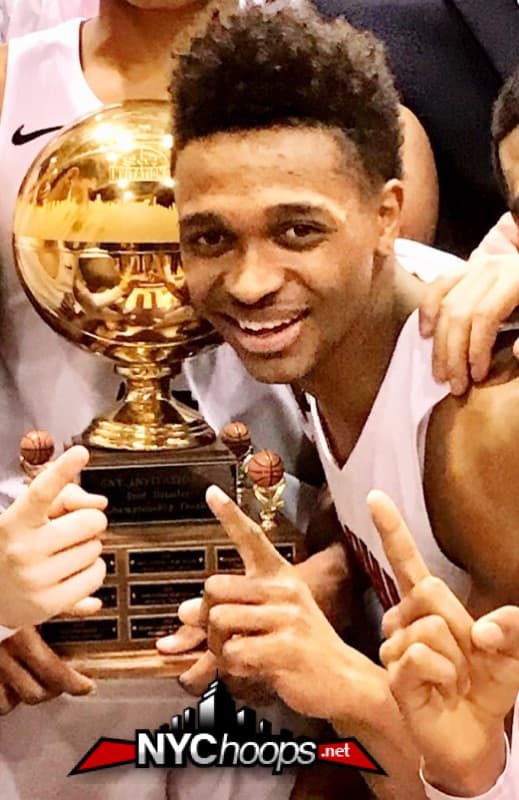 LuHi closed the gap by focusing Hayes's frontcourt defense which was pierced repeatedly by Donatas Kupsas '18 and Tyson Etienne '19 as the Crusaders put together a 10 – 0 run to regain the lead with 4:02 left in the first half. Tyrese Williams '18 soon tied the game for Hayes but Tykei Greene '18 along with Kupsas and Etienne sparked another L.I. Lutheran run that left the CHSAA defending champs down, 39 – 30, at the half.
That run late in the second quarter in hindsight was a death knell for Cardinal Hayes who never got within 10 points of L.I. Lutheran after that. While Hayes prided itself on outhustling teams, Etienne who earned MVP honors said, "We pride ourselves on that too and they're a great team and they played amazing. We just knew that we had go harder, dig in and we played together."
Hayes received some momentum in the second half from point guard Joe Toussaint '19 but LuHi's counterpart Andre' Curbelo '20 matched his intensity as her ran the point. The Cardinals were down by 12 points to start the fourth quarter but were clearly running out of steam.
The Crusaders were pulling ahead inch by inch as Hayes seemed to be in quick sand partly due to poor free-throw shooting. With about two minutes left in regulation, LuHi's lead had grown to eighteen points and with 1:30, Coach Buck subbed out his starters.
Kupsas and Greene were the high scorers for Long Island Lutheran with 22 points/12 rebounds and 21 points respectively but Etienne who notched 15 points still earned the tournament MVP honor as the team's heart and soul during the two games. "He's just so tough," said Buck. "He has the personality you want as a coach. Just a Pitbull who doesn't back down."
Jontai Williams was the high man for Cardinal Hayes with 21 points with Toussaint adding 14 points and 2 assists. Tyrese Williams, who netted 10 points to go with 6 rebounds, earned tournament Sportsmanship honors.
In other action: