Loughlin Clobbers Stepinac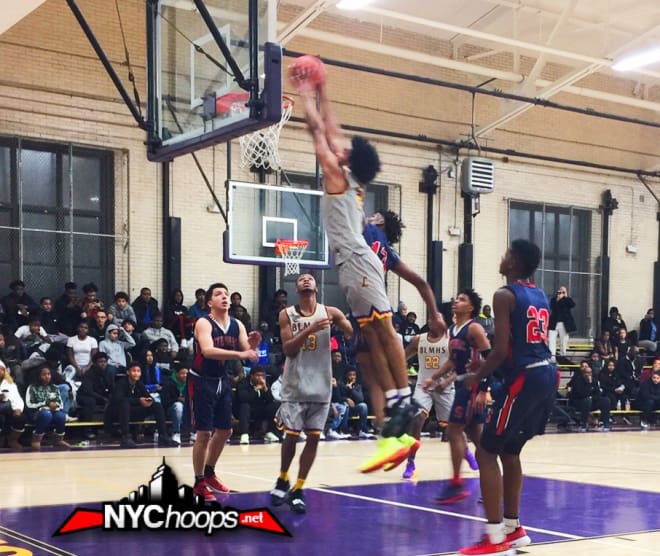 BROOKLYN, NY - Always a bridesmaid but never the bride has been a good phrase to describe Bishop Loughlin's basketball team in recent years. They have always been considered amongst the best in the CHSAA, but when playing against some of the better teams the league has to offer it hasn't always been easy times for the Lions.
Having gotten deep into the playoffs on a number of occasions, the Lions haven't won a CHSAA title since 1990, but all that may be changing this season as Bishop Loughlin look to be a force to reckon with as proven by their performance on Sunday evening against the defending champs from Stepinac, who were without their head coach Pat Massaroni for this one as he was sitting out the first game of a two game suspension for being ejected after receiving two technical fouls in their last game on Friday night against Msgr. Scanlan.
Led by the twin power of Justin Champagnie '19 and Julian Champagnie'19 though the Lions jumped out to an early double-digit lead and never looked back as Bishop Loughlin didn't trail in the game at any point, rolling past the Crusaders in impressive fashion 84-75.
As a group with a ton of varsity experience it's no shock that Bishop Loughlin head coach Ed Gonzalez has high expectations for what his Lions team is capable of this season, noting that nothing can beat having players who have been through the grind and understand what it takes to make it to the top.

"We are a veteran team and they have been through this storm before, so I have said let's just stay together because if we stay together, we will be very difficult to beat," Gonzalez explained.
Sticking together as a team and starting games quickly have been the areas that Gonzalez has harped on with his squad the most, and early on against Stepinac on Sunday they made sure to heed his words and make sure they left no doubt as to who the better team was on this day.
A corner three by Jaheim Young '19 opened things up for the Lions, while each of the Champagnie twins got into the act as well with some highlight reel finishes around the rim. Loughlin jumped out to a 16-5 lead with 4:14 to go in the opening quarter and limited a potent Stepinac team to their lowest scoring output in a quarter this season, holding them to just 7 points as the Lions steamrolled them early to go up 23-7 after one.
With as great of an offensive team Bishop Loughlin is, and scoring 23 points in a stanza is an impressive feat in itself, but for Justin Champagnie it was the defensive performance early on that he feels stood out above the rest.
"It shows we are good offensively yeah, but we are a good defensive team too and holding them to just 7 points in that first quarter was something that proved that," Champagnie stated.
Matt Brand '20 began to find a rhythm from behind the arc early in the second quarter as he and
R.J. Davis '20 combined to go 3-3 in the first 1:33 to of the period to get Stepinac back within single digits. They went 0-6 from behind the arc as a team in the first but the Crusaders proved why they are such a dangerous offensive team with their range and ability to knock down three balls in bunches.
Whenever Stepinac looked as if they might make a run though it was Bishop Loughlin coming back with one of their own as Justin Champagnie had a massive quarter to the tune of 12 points, and 16 overall in the opening half to help the Lions take a 44-35 lead at the break.
That's the veteran leadership that Gonzalez was talking about as when Stepinac made runs, each time Loughlin was there to come back and fend off the tide. It wasn't just the twins either for the Lions as Young and Tyshawn High '19 were both putting together solid efforts showing off the depth of the Brooklyn power this season.
Stepinac was able to get the deficit to its lowest point of the game with 5:15 left in the 3rd quarter when Davis drained his 4th three of the game to make it a 51-46 game, but that was followed up, but a 10-2 Loughlin run that saw High connect on a pair of put backs inside, showing off his toughness to finish around the rim.
Coming down the stretch in this one it was the Crusaders trying to get hot again from long range as both Brand and Eddie Sanchez '19 heated up, while the Davis show really took off as the junior guard was scoring from every conceivable angle possible, but Loughlin wouldn't cave. They were tough and aggressive and played as one true unit from start to finish as behind the 29 points of Justin Champagnie, and the 21 from his brother Julian, the Lions were able to lead from start to finish en route to the 84-75 victory.
Alongside of the brothers it was High adding 16 points, and Young chipping in with 11 in a game that showed off exactly what Gonzalez already knew, that this Loughlin team isn't just a two-player show, it's a true team.
"We have a team, and even the guys on the bench can play too they just have to wait for their opportunity to get in there, but they are on the team for a reason, so we have players who can play besides the guys you know," Gonzalez stated.
Leading Stepinac was Davis who had 29 points of his own as well, with Brand and Sanchez adding 15 and 14 points respectively in the defeat that sends the defending CHSAA and NYS Federation Tournament of Champions winners to 0-3 on the season with a meeting against Christ the King upcoming on Friday where they will try and snap their early season skid.
It was Bishop Loughlin's day though to really stamp themselves as a team to watch the rest of the way as while some in New York City still may see the Lions as just another team this season, Justin Champagnie sees way more for this group, saying he is excited about what the future holds for this extremely talented group.
"We are here to play basketball this year, not play around or joke around," Champagnie said. "We are a good team and are definitely a serious threat in the league this year."