Lions claw past Dozo to advance to PSAL semis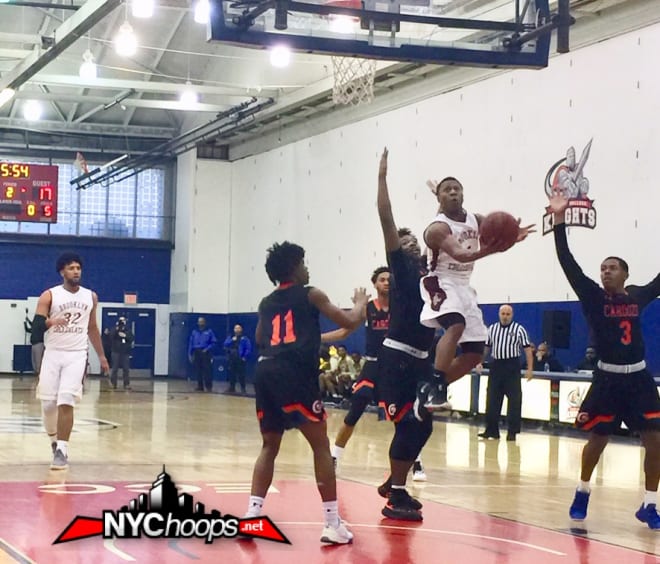 FLUSHING, NY- It's all about making history for this season's Brooklyn Collegiate team. A veteran squad that has fallen short in years past, this season's group has their eyes set squarely on bringing home the PSAL City Championship.
Tuesday at Queens College was the next step for the Lions as they took on Benjamin Cardozo in the quarterfinals and led by an outside shooting display that saw Brooklyn Collegiate knock down 9 three balls in the game, they were able to hold off a Judges second half run to advance to Saturday's semifinals with a 64-60 victory.
It's been since the 2013-2014 season since Brooklyn Collegiate has made it to the Class AA quarterfinals, making it all the way to the semifinals that season, but now 5 years later they are a team looking to do even more.
Lions head coach Malcolm Connor knows it won't be easy to navigate the field that his team will have to go through the rest of the way but he knows with his senior laden group confident of their abilities that anything is possible.
"This is a special team I have and I tell them all the time that this is their opportunity and that they have to seize it," Connor stated. "Everyone has bought into what we are doing and we are doing what we can to make big things happen."
Doing whatever it takes has been Brooklyn Collegiate's motto since the first day of practice at the beginning of November and Tuesday's game with Cardozo was just another hurdle to overcome to eventually achieve their ultimate title winning goal.
To the surprise of many of the Lions players Cardozo came out in a zone which Brooklyn Collegiate would take advantage of by going 6-9 from behind the three-point line in the opening half. It may have been a surprise to Lions guard Glen Anderson '19 but it was a pleasant surprise he knew his team would use to take early control.
"They had to know that we are a very good shooting team so I didn't expect to see them in a zone but once we saw it our eyes got wide and we took advantage," Anderson said.
Even while Anderson, Majesty Johnson '20, and Charles Brown '19 were able to connect early and often from deep the Judges stayed close as Errol White '20 did a great job around the rim, while Taj Anderson '19 proved to be a dangerous weapon off the dribble as Cardozo trailed at the break by just a 35-29 margin.
The Brooklyn Collegiate lead was pushed up to as much as 13 in the opening minutes of the third quarter as the three balls kept falling for the Lions, but once Cardozo eventually got out of the zone and went to a more traditional man defense things did start to turn around for them as the Judges would make their run.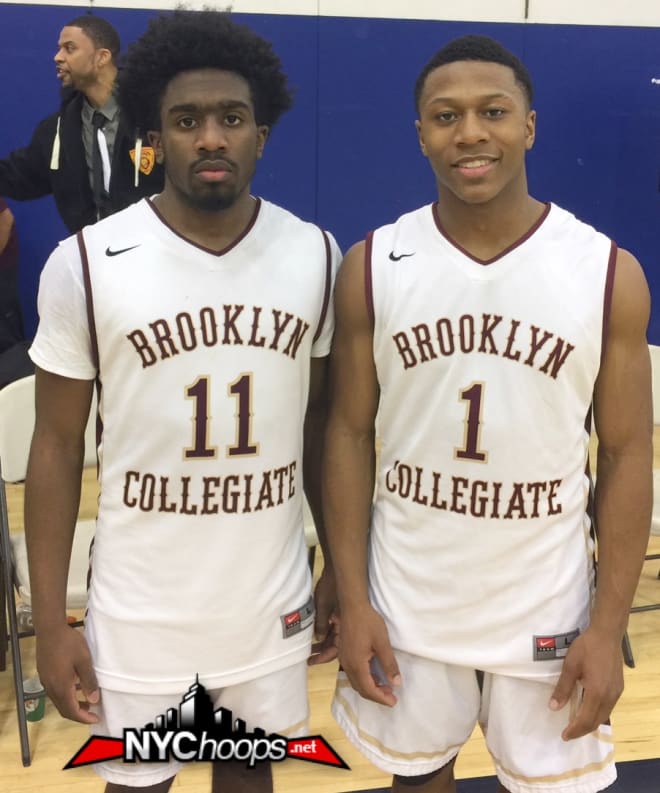 Finishing the third on an 11-1 run it was the Judges who drew back to within 47-44 going into the fourth stealing some of the momentum back to their side.
When the going gets tough though Brooklyn Collegiate gets going as Connor said he stressed to his team before the final stanza that they shouldn't stray from what has gotten them to this point and to keep the belief that this is truly their year to do big things the rest of the way.
"I just said to trust the plays, trust yourself, and most important don't doubt for a second that the outcome won't be what we are expecting it to be because we have put in a lot of hard work and I believed in my guys that we would be ok," Connor explained.
On a number of occasions, the Judges were able to cut the deficit to 2 as Jaylen Davis '19 was finding spaces to pull up off the dribble and connect, but each time it seemed as if Cardozo would tie things up or take the lead it was the Lions making a clutch play.
Amahrie Simpkins '20 was a versatile weapon who hurt Cardozo late from inside and outside, and with Anderson coming up huge going 6-6 in the final 90 seconds from the charity stripe the Lions were able to hold onto their lead late and put the Judges away once and for all late to keep their dreams alive with a 64-60 quarterfinal victory.
Leading the way with 20 points for Brooklyn Collegiate was Anderson as Simpkins added 15, with Johnson and Brown adding 13 and 11 points as well respectively in the win for the Lions.
Anderson had 16 points to pace the way in the loss for Cardozo with the junior in White chipping in with 15 for a Judges team who will surely reload and be back in a major way again come next season.
It's still the Lions time though as they are back into the semifinals for the second time in school history, and while they fell in their only other appearance in that game five years back, Anderson says this time regardless of who their opponent will be they are determined to make sure they leave their mark and make history for the school he and all his teammates so love.
"We are building this from the ground up and are trying to make history for our coaches, our program, and ourselves," Anderson said. "Getting to the semifinals is great but it's not enough, we want more and I want to go out with a ring as PSAL and State Champions."
That's the goal for Brooklyn Collegiate and they will continue their push to get their when they take on an opponent still to be determined on Saturday afternoon.