Lincoln Preys on Roman Catholic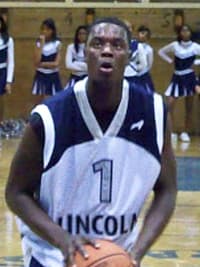 After losing to Wheeler (GA) on Sunday, the Lincoln Railsplitters were looking to rebound against a game Roman Catholic team on Monday. Leading for the entire game, Lincoln bested the Philly team, 81-67, in an effort to claim 5th place in the City of Palms Classic.
The Railsplitters, led by
Lance Stephenson
, came out with a purpose, leading at the end of the first quarter by 5 points. A resilient Roman Catholic team would, however, not let Lincoln pull away as Villanova-bound
Maalik Wayns
scored 16 first half points and would only trail the Brooklyn, NY school, 38-32 at the half.
Wayns, a tough urban styled player, was fouled hard by Stephenson on a drive to the hole, half way through the third, sending the point guard to the locker room for treatment. With Stephenson on the bench with his third foul,
Darwin "Buddha" Ellis
and
Anthony Allen
held up the slack, extending the Lincoln lead to 12 points by the end of the quarter.
Wayns reentered the game to start the final quarter and immediately went on the offensive but it would not be enough as Roman Catholic could never close the gap by more than 9 points, ultimately losing by 14 points.
Stephenson played a solid game, scoring 26 points (10-20) along with 12 rebounds and 6 assists followed by Allen with 13 points (6-10) and 2 steals and Ellis with 12 points (2-4) and 6 assists. Wayns led all scores with 27 points (7-19) in addition to 5 assists and 3 steals.
If Word of God (NC) defeats Westchester (CA) in a later game on Monday, it would set up a spectacular match-up between the Word of God team that features nationally ranked
John Wall
against Stephenson and his Railspitters on Tuesday. The winner would claim 5th place in a tournament with a competitive field of participants.
Go to
NYC Hoops
for all the late breaking NYC basketball news and rankings plus access to
FREE BASKETBALL WEBCASTS.
Sign-up for our FREE eNewsletter to get the even more news right in your email box.
Talk about NYC Hoops on our Message Board.