Jets fly high to be crowned MTG Invitational champs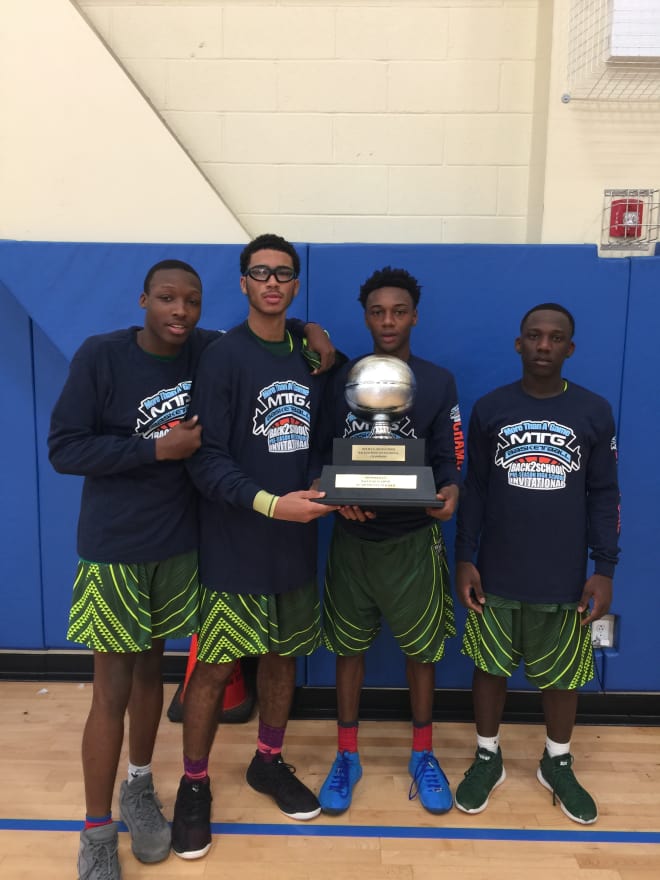 SOUTH RICHMOND HILL, NY- When you graduate a Division 1 guard, a Division 2 wing, and a Division 2 big man it's almost inevitable, especially as a PSAL Class A program, that you will take a step back. Expectations would be lowered and the chance for back to back PSAL titles would be in serious doubt.
Those points would all be the case for most other teams but clearly not Brooklyn Law and Tech as they have once again this fall knocked off a number of Class AA teams, and would culminate things on Sunday afternoon with a title as the Jets downed Brooklyn AA power Brooklyn Collegiate 73-70 in OT to take the More than a Game Back 2 School Preseason H.S. Invitational.
Having lost nearly 90% of their offensive production from last year to graduation it was an expected rebuild of sorts for Brooklyn Law and Tech, but if Sunday showed us anything it's that the Jets are far from in a rebuild situation, they are thriving against the very best from around New York City, and winning championships in the process.
While losing a lot the Jets did return a pair of productive players from last season's team in Davonta Cook '19 and Joseph Pena '19, a quick guard who has proven to be able to bear near anyone off the dribble in Cook and a lefty shooting wing who has the chance to be among the A Division's top scorers this season in Pena.
Not many felt that would be enough to take down a Brooklyn Collegiate team that is loaded with future Division 1 players and is expected to be among the contender for a PSAL Class AA title, but at the end of the day that's why they play the games as the Jets came back from a 12 point second half deficit to claim the championship trophy.
Both teams found a solid offensive rhythm early as Brooklyn Collegiate used the length and athleticism of Amahrie Simpkins '20 to score both inside and out and see the Lions grab the lead.
Pena was able to come around screens and get free for three triples from the outside in the first half to see Law and Tech stay close, but Leo McCausland '20 was able to finish on a pair of drives down the right side late in the half to see Brooklyn Collegiate go up 26-20 at the break.
Each team had tough semifinal matchups just before this one on Sunday so both teams had to overcome a bit of exhaustion, but as Law and Tech began to settle from the outside it allowed Brooklyn Collegiate to push more early in the second half as Glen Anderson '19 used his speed to break out and score in transition, while big man Erlyn Ramirez '19 shocked the Jets defense by stretching out and knocking down a pair of three balls to see the Lions go up 43-31 with 10:22 to go in the game.
At that point it would've been easy for Brooklyn Law and Tech to just be glad they even made the title game, but instead of rolling over they dug in even more and refused to go down without a fight.
Cook became near impossible to stay in front of for any Lions defender as he was able to work his way through just about the entire 5 on the floor of Brooklyn Collegiate to score on numerous occasions, and with Calvin Jenkins '20 proving to be a strong third offensive option for Law and Tech, they would go on a 20-4 run in just over 6 minutes to go from a 12 point deficit to a 51-47 lead.
The lead was short lived as McCausland would hit on a three from the left wing to tie the game up and Brooklyn Collegiate would once again grab a lead with under a minute to go and were looking to be in good shape, but missed FT's would come back to bite the Lions as Brooklyn Law and Tech would tie it on a Shahid Burke '19 FT with 9.8 seconds to go.
Brooklyn Collegiate didn't get a good look at a winning shot in the closing seconds as it was an Anderson contested three that missed badly that the Lions got off, sending the MTG Back 2 School Invitational title game into OT tied at 61.
Again it seemed like the quick momentum was grabbed by the Lions as McCausland went to the rim and scored while getting fouled, converting on the 3 point play to put Brooklyn Collegiate up 68-65. Cook would go right to the rim and get fouled, calmly knocking down his two FT's, and then off a steal it was Anthony Desmae '19 knocking down a pair of FT's of his own, his first points of the game to put Law and Tech up 69-68 with 34.7 to go in OT.
Charles Brown '19 would go 1 of 2 at the line for Brooklyn Collegiate to tie the game up, and then after going scoreless for the entire game until his free throws just before it was Desmae scoring off an inbounds play to put the Jets back up by a pair.
With 8.9 seconds left Anderson was fouled on a drive attempt that left the Law and Tech bench unhappy, but he would only go 1 of 2 keeping the Jets in front 71-70. A bad inbounds pass though meant a turnover and the ball was back in the hand of Brooklyn Collegiate with a chance to take the lead or win it in the closing seconds.
Brown had a chance to make a pass to the corner after getting doubled inside but he stepped on the end line which gave Law and Tech the ball back up by 1 with 3.5 seconds to play.
A quick foul by the Lions sent Cook to the FT line where he sank both, coming up huge in the clutch to make it a 73-70 game, and even though Brooklyn Collegiate got off a heave from just past halfcourt the shot by Anderson was well wide as Brooklyn Law and Tech showed that even though you may not have the big names, playing together and as a team pays off as they took down the Lions to be crowned MTG Back 2 School Invitational champions, 73-70.
Both Cook and Pena came up with big outing as the Jets star duo had 26 and 20 points respectively in the championship game victory, while Jenkins added 13 points, with Burke chipping in with 10 of his own in a strong all around effort from a gritty and tough Brooklyn Law and Tech team.
In the loss it was Anderson who had 18 points to lead Brooklyn Collegiate, with McCausland adding 16 as well for the Lions in defeat.
Graduating as much as they did no one when the tournament began gave Brooklyn Law and Tech a chance to come out on top, but when you have a team as dedicated and hard working as this Jets group is anything is possible, something they all backed up with their play on Sunday as they left the gym together as champions.