iS8/Nike Sunday (4/7/19)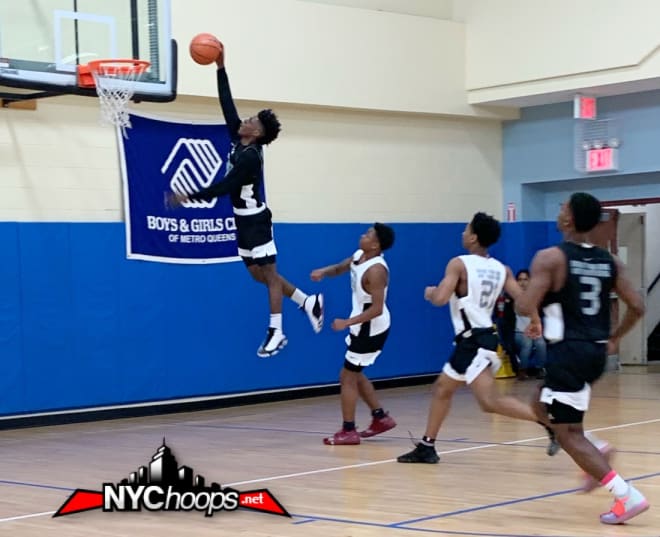 SOUTH RICHMOND HILL, NY - The iS8/Nike Spring Classic got underway this past weekend. NYCHoops.net checked put some of the action on Sunday as unofficial start if the AAU season commenced.
LPAC Tops Almighty Force, 70 – 64
Iowa-bound point guard and #1 ranked senior in our poll, Joe Toussaint almost singlehandedly Led LPAC (1 -1) in torching Almighty Force (0 – 1), scoring a game high 29 points. Isaiah Murphy and Luis Risquez poured in on in the second half with 16 points apiece for LPAC but it was too little too late. Toussaint paced LPAC with 29 points
Above & Beyond Trounces Brooklyn Ballers, 95 – 48
Sparse scoring by the D-I committed Brooklyn Ballers in first half allowed for Above & Beyond to fill buckets. Down 29 -23, Above & Beyond rose up in a to take back the lead with an effort from Chris Inje and Javon Gordon and turned the tide.
Mt. Vernon Rec'd by Roads to Riches, 71 – 65
With only Charles Lovett and Troy Humpstead doing the majority of scoring, Mt. Vernon Rec was in charge during the opening quarter but Jaylen Murray and Shemani Fuller countered that. Above & Beyond was up at the half, 32 – 27. Murry and Dylan Wusu closed out strong for Above & Beyond to hold on for the win. Murray was high man with 16 points
Elmont Downs Uplife, 66 – 61
The two teams fought neck and neck during the first half as Isaiah Barnes and Qai Kellerman knocked down perimeter shots for Elmont. Kellerman was also a force in the second half as he counters Uplife shots from Raymond Gato. Kellerman and Jaytoro Younge finished with 15 points apiece.
Roads to Riches Depletes Above & Beyond, 66 – 67
Coming from PA Above & Beyond had an extra incentive to win the games they traveled miles to play. In the first half they led 43 – 24 powered by the play of Chris Inge and Brandon Stone. Road to Riches clapped back in the second half as Khalil Brantley and Shemani Fuller went off. The lead sway back and forth until a clutch 3-ball by Harry Eghan with 8.8 left to playing sealed the deal. Brantley led Road to Riches with 27 points with Inge as the high man for Above and Beyond with 20 points.