Iona Prep Serves Early Notice @ SMARTball
HARLEM, NY – It may be five months before the regular high school basketball season gets underway but on Tuesday, there were shots fired as the Iona Prep served notice. Coming back from a double-digit deficit, the Gaels not only clawed their way back into the game but eventually knocked out Thomas Jefferson from the highly competitive SMARTball Classic single-elimination tournament held at Lincoln Park.
The impressive, 65 - 57 win by the CHSAA school versus a PSAL power showed that the team already has resiliency baked in at this early stage. During the first half however, Iona Prep was taking it on the chin.
Solid play by David Amata '22, Kevin Tabb '20 and Shamell Ponds '21, younger brother to former Jefferson and St. John's star and current NBA player Shamorie Ponds, gave the Orange Wave a ten point advantage before the second quarter got underway. Offensive push back by 6'2" Keeshawn Jones '20 and domination in the paint by both Jones and 5'10" Marquis Dukes '20 made inroads into the Gaels deficit but they still trailed 39 – 30 at the half mostly as a result of an early press initiated by the Orange Wave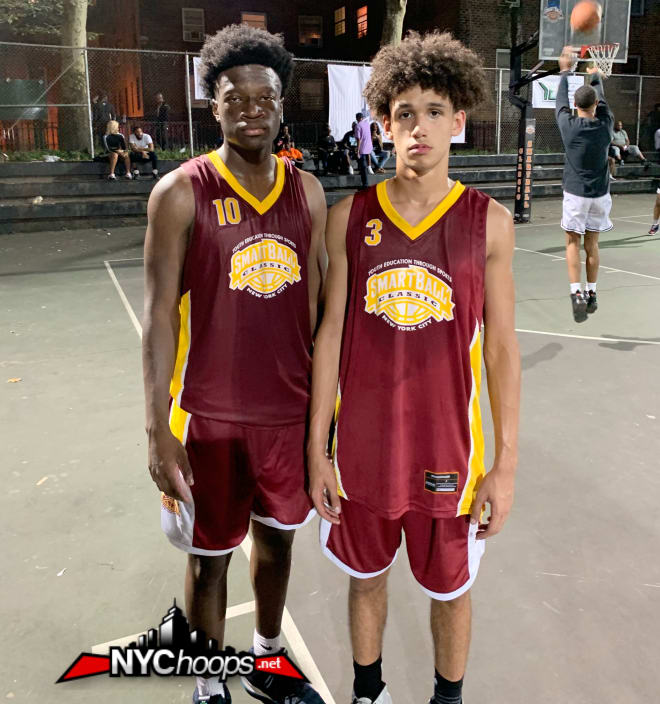 Iona Prep made significant strides in the third quarter with 6'5" Aidan Hilderbrand '20 and 6'4" R.J. Greene '22 making an impact on the boards. Tabb tried to stop the leak for Jefferson but a strong move by Jones closed the gap to 3 points as the final stanza got underway.
While the Jefferson press yielded results in the first half, the long and wide Lincoln Park court took its toll on the Orange Wave players in the second half. That and a balance scoring attack led by 6'1" Issac Gonzalez '22 gave Iona Prep its first lead with 3:50 left in regulation with Dukes scoring in transition..
Totally gassed, Jefferson tried to swim upstream versus Iona Prep but the Orange Wave had nothing left in the tank to conquer their Gael force winds.
Jones was the high scorer Iona Prep with 22 points and 6 rebounds with Gonzalez adding 14 points. Thomas Jefferson was led by Tabb with 14 points, 4 rebounds and 4 assists.
IN OTHER ACTION:
W.H.E.E.L.S. Advances past Brooklyn Law & Tech, 68 – 67
The Wolves have never made it past the first round in the SMARTball Classic and since the tournament is a single-elimination also means that W.H.E.E.L.S. has never played more that one game in the do-or-die event. All that changes as PSAL Class AA team eeked out a one-point victory versus Brooklyn Law & Tech, defeating the CHSAA Class AA slayer and perhaps hanging its own Beware of Dog sign,.
With the Jets missing a series of clutch bunnies and the Wolves unrelenting pressure paced by rising junior Randy Crosby's 19 point and, 6 rebounds, W.H.E.E.L.S. will finally see the second round.