Inexperienced Iona Prep Powers Through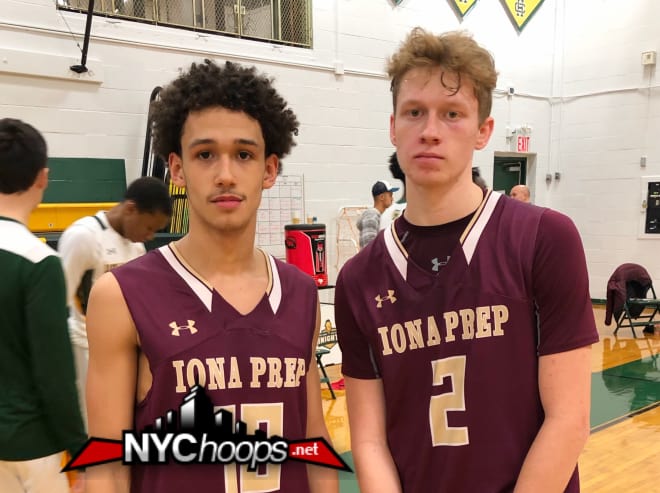 FLUSHING, NY – The new look Iona Prep Gaels started their season visiting a tough Holy Cross squad. "It's a completely new team," said Gaels head Coach Steve Alvarado. "No returning experience whatsoever."
Through it all, a determined Iona Prep banded together and held off a seasoned Knights team that also hoped to get its season started with a win. Paced by key baskets from 6'3" Will Rubin '19, the Gaels started its regular season with r a 56 – 53 win.
Powered by interior scoring from 6'6" Sean Flynn '19 and perimeter work from 6'2" Elijah Perry '19 and 6'2" Shemar Franklin '19, the Knights led by five points after the first quarter. Rubin stepped up offensively and on the boards in the second quarter, erasing Holy Cross's advantage with 5:10 left in the half. A putback by senior lifted the Gaels to a 23 – 21 halftime lead.
Coach Alvarado noted that Rubin didn't get a chance to show his wears last season due to a foot injury but is coming into his senior year with a vengeance. "[Last season] we could've used his perimeter shooting but he had a tremendous summer and fall and [it shows]."
Alvarado's strategy for Iona Prep was to shadow the Knights main shooters and play the passing angles. "To close out, under control and always be in help on the weak side."
With 6'1" freshman Issac Gonzalez '22 as the primary point guard, the Gaels kicked it up a notch in the third quarter as Rubin got hot from the perimeter draining four trey bombs. 6'0" Tyler Chapman '20 spearheaded a third quarter Knights surge but with counter offensive help from Gonzalez and 6'8" Jack Shannon '19, Iona Prep was able increase its point spread to 8 points as the final quarter got underway.
To its credit, Holy Cross stepped up defensive in the final quarter holding the Gaels to 10 points. Perry who dropped one three-pointer per quarter netted a timely bucket. Steals and buckets by Franklin along with a Chapman drive abruptly reduced Iona Prep lead to 3 points with 29.9 seconds on the clock but as with many high school games, freebee misses from the charity stripe stifled the Knights chances of a classic comeback victory and secure a win for the New Rochelle based team.
Coach Alvarado was pleased that his inexperienced squad began the season with win as opposed to a loss. "What you wanna do is build game confidence and continue to build on confidence and if can go up against a double A team, first game of the season, tough road game against a quality group and we can scratch out a win we can build on that confidence throughout the year."
Rubin led all scorers with a game high 22 points with Gonzalez contributing 12 points. Chapman paced Holy Cross with 14 points with Perry adding 12 points.
Currently preseason ranked #7 in Westchester/Upstate by NYCHoops.net, Iona Prep's record improves to 1 – 0 while unranked Holy Cross falls to 1 – 1.