Girls: Yamila Emanuel has Untapped Upside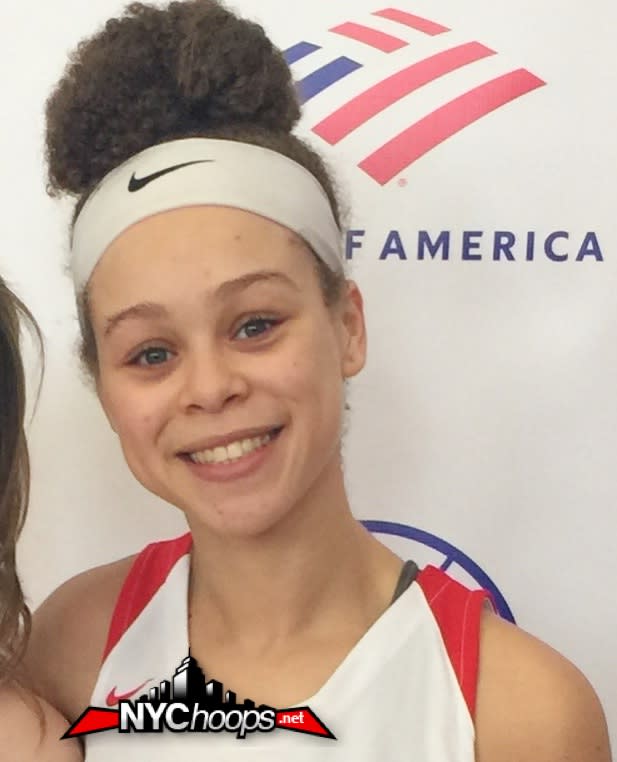 In terms of players who have untapped upside in New York City right now, one of those truly flying under the radar is 6'2" forward Yamila Emanuel (St. John's Prep '19).
Bursting onto the scene last season after a transfer from PSAL Class B program School of the Future to St. John's Prep, Emanuel began to open some eyes a year ago but with her versatile and wide-ranging skill set really on display now, it's a surprise to most around her that her recruitment remains where it's at.
There is a bit of a caveat right now with Emanuel's recruitment as she herself admitted that she is currently committed to Division 3 program William Peace University in North Carolina, but when asked if she was firmly committed Emanuel said that she was still up in the air.
One thing that is true is that she one day wants to become a doctor so going to Medical School had always been in the plans for Emanuel, but with her basketball game really taking off during this her senior season plans at least for the short term may be changing.
Coming off a big weekend at the Say Yes to Success Prep Nationals where she had an impressive 16-point, 12 rebound performance against Archbishop Molloy, a Class AA program, St. John's Prep head coach Mike LoCascio says other options are starting to present themselves for Emanuel as her game on the court begins to finally get the notice, he says it has always deserved.
"Absolutely, I have gotten a lot of inquiries from Division 2 schools and even a couple low Division 1 schools from this weekend here and when we went down to Maryland in December," LoCascio explained. "It's calls and interest but if she ends up coming to me and telling me she is happy with her plans now then I'm happy because I won't force anything on anyone."
What ultimately happens is still unseen but LoCascio says he is extremely confident that as a 6'2" wing with the ability to take defenders off the dribble and attack the basket, while also being able to post up and finish down low, that Emanuel has all the tools to play on a very high basketball level.
A lot of what has gotten her to that point in hard work in the gym as LoCascio says from the moment she transferred into St. John's Prep before her junior year Emanuel has been one of the hardest workers in the gym five days a week, truly having bought into his workout regime.
The future looks impressively bright for Emanuel wherever she ends up for the next four years, and with a desire to want to be the best on and off the court, LoCascio says he knows that she will be a major asset for any basketball program, and college overall.
"She still has serious upside on the basketball court because she has such great moves and she works so hard, but she is also so smart and dedicated to her work," LoCascio said. "That's what's so great about her and what really makes her so special."