Girls: Pitt leads St. Joseph to comeback win over McClancy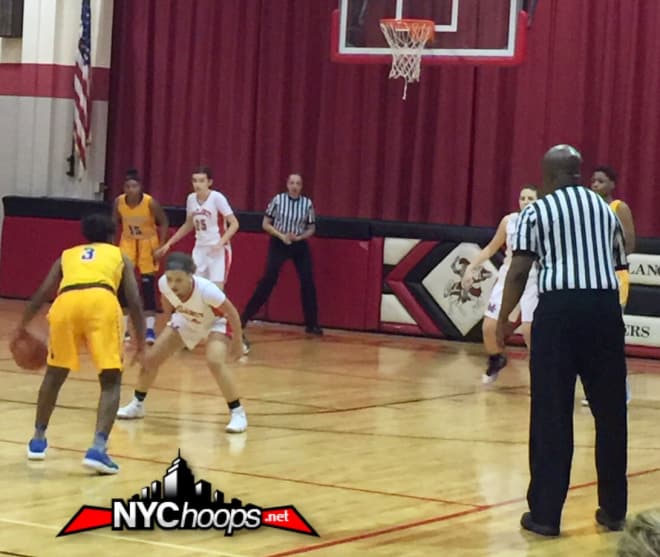 EAST ELMHURST, NY- Since making her commitment to Wagner in the fall it's been a struggle for St. Joseph star guard Raven Pitt '18 to play well in front of her future head coach Heather Jacobs.
That changed though on Monday afternoon in Queens as the Cougars took on a shorthanded Msgr. McClancy team who were without the services of Rhona McCaughey '18 who was sidelined after suffered a concussion on Saturday.
With her St. Joseph team trailing at the half 23-16, Pitt would take matters into her own hands in the second half by scoring 14 points and rallying the Cougars to a key 46-38 CHSAA league win that puts them right back in the race for a Brooklyn/Queens league title.
Before the game started St. Joseph head coach Mike Toro said went up to Pitt and gave her a heads up about the fact that Jacobs would be in the building watching her. He noted that many times when she has seen Jacobs in the crowd Pitt has frozen, so he said he gave her the best advice possible to let her know she can play her best in front of her future head coach.
"I said to her no matter what you have to remember you can play bad every game the rest of the season and you are still going to Wagner," Toro explained.
He did that to take the pressure off Pitt knowing that while she can be anxious to play in front of her she needs to understand that they know how good she is and to just go out and play ball.
Early on though no one had it going for St. Joseph as the Lady Crusaders were dominating the offensive glass allowing Msgr. McClancy opportunities to get multiple possessions on their end of the floor which often let to good looks from long range against the Cougars zone.
Kristina Krslovic '18 would drain a wide open three from the corner just before the end of the first quarter, and then Faith Hernandez '18 was able to knock down a pair of treys in the second as after a slow start from behind the arc, the Lady Crusaders picked it up late to help see them take a 23-16 lead into halftime.
It was anything but the half of basketball that Toro wanted from his team. Even with the referees and Msgr. McClancy on the court ready to start the second half of play, St. Joseph weren't there because Toro said he needed to take every second possible to explain to his young group of Cougars what they needed to do to get back into this one.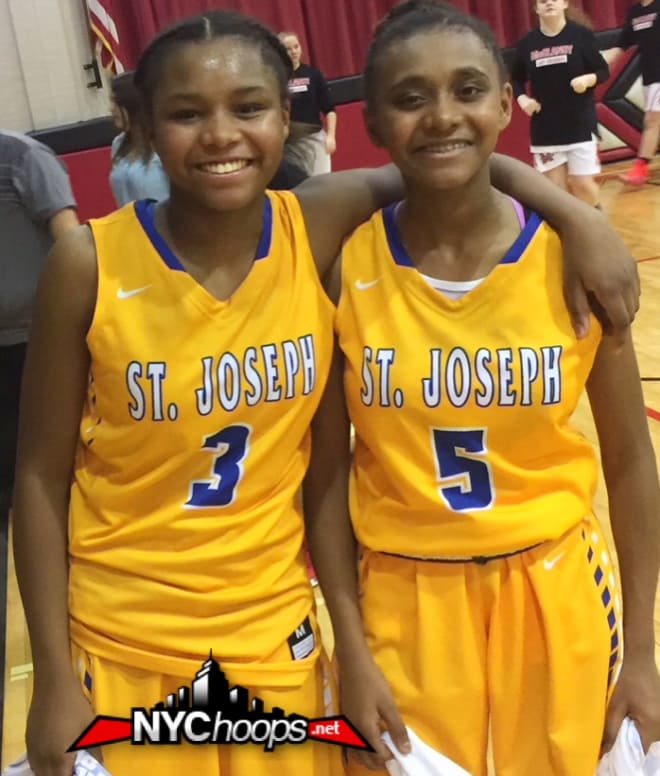 "I just explained to them that we turned the ball over way too much in the first half and then the rebounding," Toro said. "By us not rebounding we allowed them to get second and third chances which most of the time led to them hitting an open three, we had to rebound the ball better."
Toro said he felt that by limiting the Lady Crusaders offensive rebounds it would mean better defensive positioning and not allow McClancy to get so many good looks from long range.
As a senior, Pitt took Toro's message to heart knowing that a loss on Monday would for all intensive purposes eliminate the Cougars from a chance at first place in B/Q Class A Division, so even with Jacobs watching she was ready to put all her past performances behind her and step up.
Coming out with fire and aggression, St. Joseph immediately did a much better job in keeping McClancy off the glass as Damia Jordan '18 and Tanzania Bodden-Wilson '21 each did a great job of boxing out and keeping the Lady Crusaders interior players at bay, and with the 2-3 zone applied by the Cougars doing a better job in their movement, the good looks that McClancy were getting went away.
In transition St. Joseph was able to get out quickly with Farrah Pitt '21 doing a great job of finding her older sister Raven for drives into the lane, and when Raven knocked down a big pair of three's herself, the Cougars had their first lead of the game late in the 3rd, a lead they would never relinquish.
It was tough for McClancy without McCaughey, the Lady Crusaders leading scorer, as they never found the one go to scorer when they needed one down the stretch, but credit for St. Joseph and Pitt for rising up to the challenge when the chips were down as Pitt had 14 of her game high 18 points in the second half to push the Cougars to the 46-38 victory.
Both Pitt sisters stepped up in a major way as it wasn't just Raven's 18 points as Farrah added 11 points as well, while the interior players for the Cougars stepped up and did a fantastic job controlling the glass in the second half to now put St. Joseph in a great position in the final weeks of the season to make a run at a league title.
Leading Msgr. McClancy with 11 points was Hernandez, but their head coach Dewey Hopkins noted after the game that with this being McCaughey's second concussion in just over a year it looks as if the Concordia bound senior's season may be done so he will need the likes of Hernandez, Krslovic, and Catherine Finnerty '20 to step up and bring more of an offensive load to the table if the Lady Crusaders want to make another deep playoff run.
Overcoming her nerves and a first half deficit, Pitt was able to prove just how dynamic a talent she is in leading St. Joseph back and doing it in front of Jacobs made it that much more special.
The team though is Pitt's first focus and while she knows how important a win this was, she did caution about getting too excited knowing that there is still a lot more ahead for her and her team going forward the rest of the season.
"It's definitely a confidence booster but we know we have a long way to go," Pitt admitted. "This was just a good win."