Girls: CHSAA Class A & Class B Championship
BRONX, NY- Saturday was the day that champions were crowned in the GCHSAA with the Class A and Class B State Championships decided, as the winners will go on to represent the CHSAA in two weeks' time at the New York State Federation Tournament of Champions.
It was two excellent matchups that took place, and with NYCHoops.net on hand to take in all the action here is a recap of the play from Fordham University and the legendary Rose Hill Gymnasium in the Bronx.
Cardinal Spellman Over St. John the Baptist, 58 - 47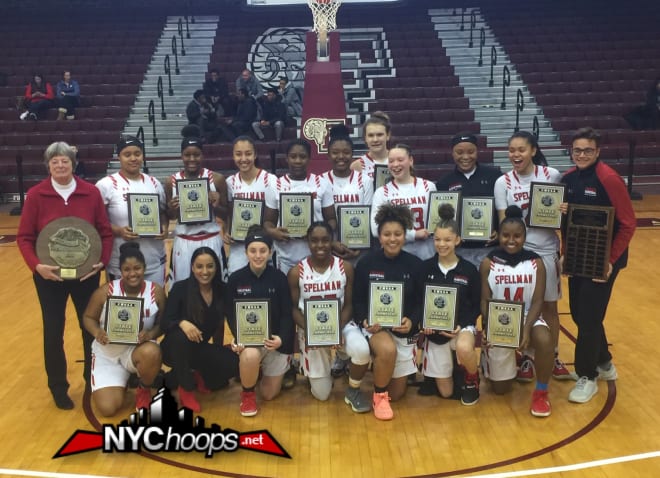 While it wasn't anywhere near the start that Cardinal Spellman were looking for, the Pilots closed out the first half strong to take a lead into the half and were able to push away at the start fourth to come away with their GCHSAA Class A State Championship since 1999 and a 58-47 victory.
It was a tale of two quarters in the opening half as St. John the Baptist got off to a great start with Cara McCormack '20 pushing the tempo and getting the Cougars in good positions to score early on. When McCormack wasn't doing the scoring, herself she was finding Kathleen Maguire '20 and Alessandra Ponzio '19 to help Baptist to a 19-11 lead.
Trouble came for the Cougars though with 6:40 left in the opening half when McCormack picked up her third foul sending her to the bench and leaving St. John the Baptist without their leading scorer and playmaker on the floor.
That's when Spellman took advantage and control with Jada Rogers '19 and Shanice Sinclair '20 continually attacking and getting to the basket, while Scarlet Vargas '19 proved to be a big perimeter weapon off the bench, hitting a pair of triples, including a three just before the halftime buzzer to give the Pilots their first lead of the game at 28-26 heading into the locker room.
It was a momentum shifter of the highest degree with Spellman head coach Jane Morris understanding how big it was for the Pilots to take a lead into halftime.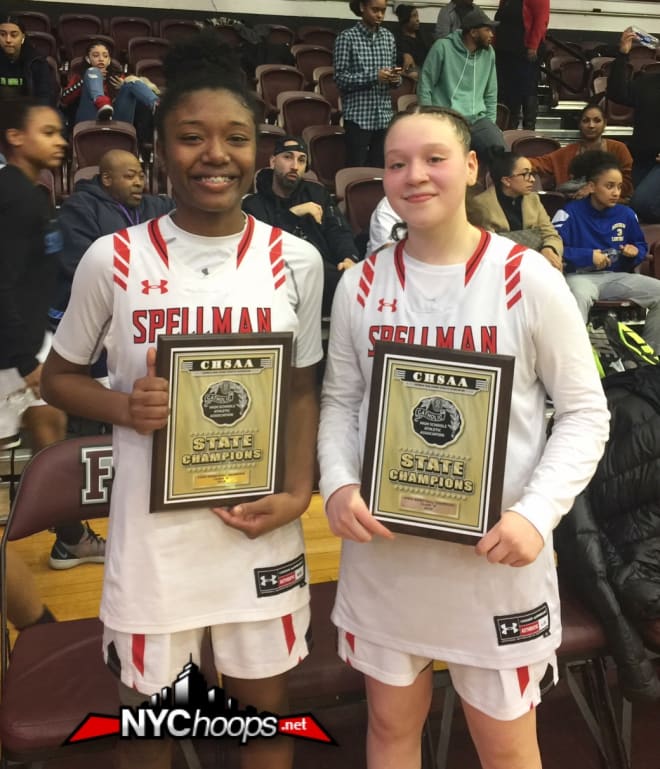 "Absolutely it was huge for us," Morris said. "That's been Scarlet's role for us all season though. Most of the time she comes in and hits big shots, that's her job to come in and be the outside shooter and play good defense and she definitely gave us a big lift there with that shot to end the half."
Going into the half was important but carrying that momentum into the third was equally as important for Spellman, and while McCormack's return did a good amount to bolster the Cougars offense it was still both Sinclair and Rogers getting to the rim on a consistent basis where they either finished or got themselves to the FT line.
Leading by 2 going into the fourth, Spellman finally began to pull away with a 10-0 run led by back to back three's from Vargas and Sinclair which put the Pilots in control for good.
For the first time in the game Spellman took a double digit lead with 4:22 to go in the game and the Pilots never did look back as with Sinclair scoring 18 points and Rogers adding 14 points and 13 rebounds it's Cardinal Spellman back atop the CHSAA as after a slow start they downed St. John the Baptist, 58-47.
McCormack finished her junior year with a 14-point outing for the Cougars but on this day, it was just too much pressure from the Pilots that did her and her Cougars team in.
Cardinal Spellman will next head up to Glens Falls to play in the NYS Federation Tournament of Champions in Class A in a couple of weeks after a 20-year absence, with Morris excited about the possibilities of the Pilots finishing out their season with yet another title.
"It's going to be fun because these kids have never really been on a trip so this is going to be a big deal for them and hopefully, we can play well and win another championship," Morris stated.
Holy Trinity Beats Aquinas, 60 - 49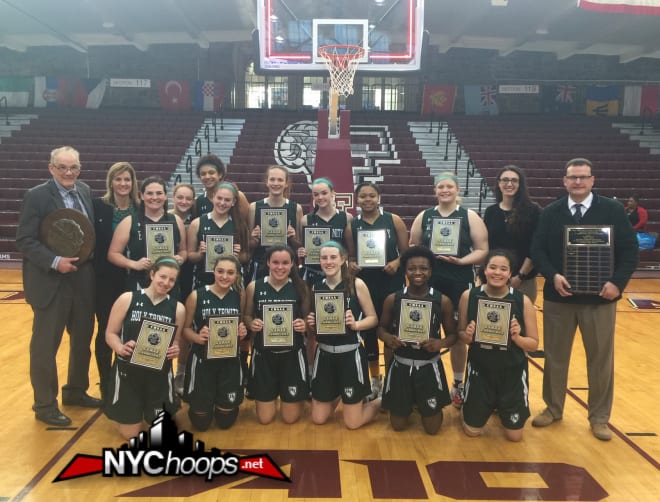 It's been many years of being near the bottom of the NSCHSAA for the Holy Trinity girls basketball program. First year head coach Roger Gaeckler though has made it his mission to change that and led by senior Natalie Stark '19 and five freshmen it's been a rejuvenated Titans team this year.
They had a solid regular season that culminated in a NSCHSAA Class B title, it's first championship of any kind in 15 years, but that wasn't all they wanted as Holy Trinity set their sights on a CHSAA State Championship.
Many didn't think that would be possible for such a young team, and going up against the two time defending state champs in Aquinas would make Saturday's challenge even that much more difficult, but with 16 points from Destini Gaeckler '22, and 13 from Stark it was the Titans achieving a special moment in their school's history with a 60-49 title game win over the Lady Bears.
Getting off to a good start and leading 21-18 at the half it was Stark who carried Holy Trinity for much of the opening half, but if they wanted to close the game out strong it would be imperative that others step up if they wanted to close the deal and take the Class B title from Aquinas.
Kira Villegas '19 after a first half where she scored 17 points added the first four of the third quarter to give Aquinas their first lead of the game at 22-21, but from that point on it seemed like a light was switched on for the Titans as Madison Misser '22 couldn't miss from the perimeter, and Gaeckler was proving to be a major force on the inside.
Trailing by 1 just over a minute into the second half it was Holy Trinity who exploded to go on a 17-0 run to push the lead for the Titans to over double digits for the first time in the game.
The Trinity run was finally broken up with 2:08 left in the third after a Villegas drive off a 2 on 1 but the damage was done as the momentum was shifted and the Titans were firmly in control.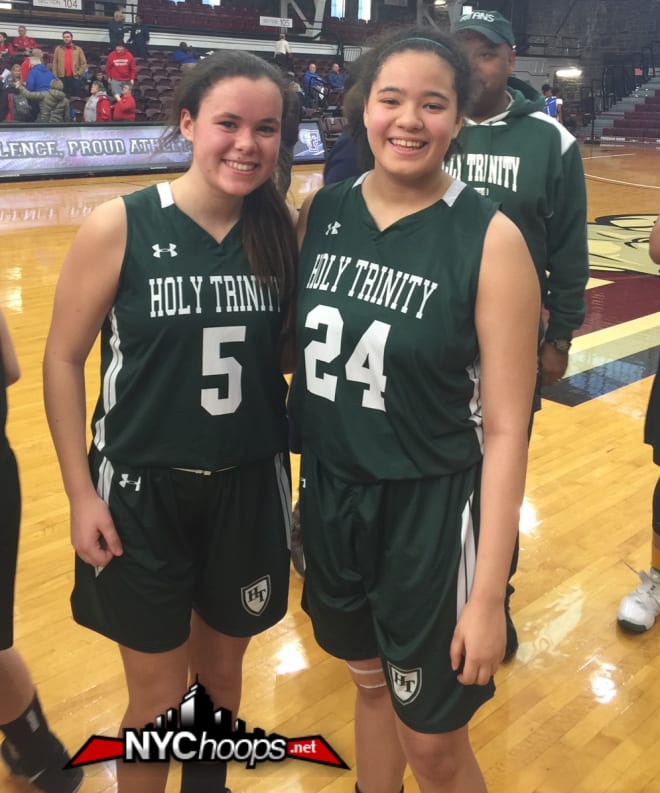 Even though it was a great stretch for Holy Trinity to take a 44-31 lead going into the fourth, Stark knew that while the lead was solid, they needed to close out the game strong if they wanted to take the title away from the Lady Bears.
"I remember at one point we got a steal and they turned the ball over and I was like let's use this to our advantage, let's keep pushing and not let up," Stark said. "Let's keep doing what we do best."
Opening up the fourth with a finish in the paint by Katherine Sinclair '22 was a great momentum boost, and then another Misser three really put Holy Trinity in the driver's seat going forward the rest of the way.
They did get a scare late as Aquinas did get the once 19-point deficit down to 8 with under a minute to go, but the Titans finished the game strong from the FT line to ultimately hold on and take a 60-49 victory.
Closing out her high school career in fantastic fashion was Villegas who scored a game high 30 points for Aquinas but with Stark and the freshmen cast beside her it was all about Holy Trinity who now move on to play for a NYS Federation Tournament of Champions title in two weeks with Stark saying they have nothing to lose and will head to Glens Falls and give it their all, and possibly surprise more people on the way.
"I'm so proud of everyone," Stark said. "Things have been rough at times here over the years but we pushed ourselves to get to this point and now we will keep on pushing and see what happens."