Girls: Christ the King dethrones Msgr. Scanlan
BRONX, NY- Always looking for more, and always looking for his team to be better, it's never easy to get Christ the King head coach Bob Mackey to be that happy with a performance out of his team, but on Saturday he just couldn't help it as the Royals kept clicking on all cylinders in dominating a very good Msgr. Scanlan team on the road to take the 86-51 victory.
Knowing his team would probably have an advantage inside, Mackey knew that they key to Saturday's game going in was going to be to deny the Crusaders shooters of Kateri Poole '20 and Daja Wentz '19. Denying them good perimeter looks would be critical to what he wanted from his team defensively to set them up for a quick offensive tempo, which is exactly what happened.
"I thought our zone moved really well with the shooters and shut them down," Mackey explained. "I thought we did a real good job closing out on them and not letting them get any good looks."
The quickness of the 2-3 zone for Christ the King meant that anytime the Scanlan guards got off looks they were contested, and once a shot did go up the Royals made sure they were in position to get the rebound, controlling the glass and then making sure to make the quick outlet to get the offense going.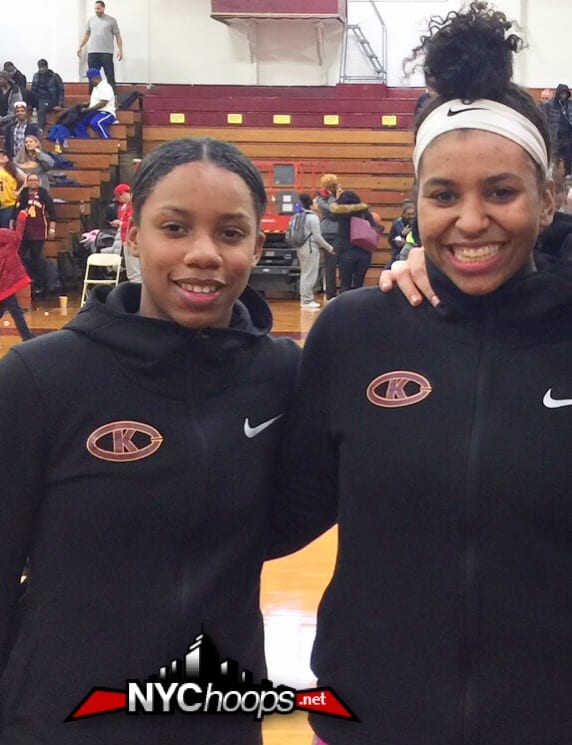 Natalija Marshall '20 scored the first 5 points of the game for Christ the King, and then when Kaelynn Satterfield '19starting to get going up and down the floor the Royals advantage became that much bigger. It was a 21-13 lead after one for Christ the King, but when Nina Rickards '19 scored the first 4 of the second quarter it was a double-digit lead that would never disappear.
Rickards herself in the second quarter had 14 points, Msgr. Scanlan as a team had just 14 showing the potent ability of the Royals and how when one player gets things going it can be a rough day for the opposition.
Satterfield and Rickards would combine for 33 opening half points with the only question being how many points would the Royals score in the first half. It ended up being an astounding 51 points as they were in cruise control in taking a 51-27 halftime lead.
This wasn't just any team that Christ the King was doing this to either, it was a Msgr. Scanlan team that are the defending GCHSAA Class AA champions, and a team many think will be right there again in line for a CHSAA Class AA State Championship.
Christ the King was just too good on this night though as even going to the bench and subbing out all their starters before the end of the 3rd quarter, the Royals still managed to expand the lead with the likes of Alliyah Brown '20 and Julianna Lignowski '18 doing a great job in finishing offensively and shutting down the opposition defensively.
As complete a performance as you will see, Christ the King controlled the game from start to finish to spoil the Msgr. Scanlan senior night on Saturday, proving why they are clearly the best of the best in New York this season with a thoroughly dominant 86-51 victory.
Rickards led the Royals with 20 points in the win, while Satterfield added 19 and Marshall chipped in with 11.
In the loss it was Kaylen Banwareesingh '19 who paced the way for Msgr. Scanlan as she had 14 points.
Improving their record to 21-0, what Christ the King are now doing is as impressive as anything you will see. They are not just playing well, but they are playing well as a unit which is what makes Mackey even happier than just if they were winning games. He knows that to keep this up the strong cohesiveness will have to continue, but right now he is happy with where things are at and is hoping that the strong togetherness this group of Royals will only grow stronger.
"They are playing really, really well together and that's the biggest battle in coaching this sport," Mackey explained. "If you can get 5, 6, 7, 8, and 9 to play together it's really going to be successful and that's what we have been able to do."