Girls: Baldwin stuns Christ the King for Class AA title
GLENS FALLS, NY -It all started in the 3rd grade for this Baldwin group as that's when Lady Bruins head coach Tom Catapano first met many of his senior class, coaching the likes of Aziah Hudson '18 and Jenna Annecchiarico '18 in a PAL league. It was at that moment that Catapano began a bond that would last a lifetime.
This group of young women have grown up with Catapano as their coach. For 9 years now he has been the solidifying force behind many of these Baldwin girls, and in what could only be considered a storybook ending, the Lady Bruins defeated Ossining to win their second straight NYSPHSAA Class AA title last week, and then closed out their high school careers in style by beating Long Island Lutheran and Christ the King on back to back nights to take it all as they knocked off the Royals, the #1 team in the country, on Saturday to win the Class AA Federation Championship 58-49.
Celebrating the Long Island Class AA Championship game 2 weeks ago now Catapano told his team once the game ended 4 more games. It didn't make sense to Annecchiarico at first, but then she ultimately realized that his goal for this team was to take it all.
"After the Commack game coach was like 4 more games, and we were so confused but then we realized he meant Federation," Annecchiarico said.
That may have been the goal but the seniors on Baldwin said they knew that to get the job done they needed to take it one step at a time. Bishop Kearney and Ossining were both double digit wins to take the NYSPHSAA crown, but Long Island Lutheran and Christ the King was a different type of breed and were two games that had some people doubting.
Proving to be the superior team on Friday, the Lady Bruins took down LuHi 64-47 in the semifinal, but a bigger test awaited on Saturday in the #1 team in the nation by USA Today in Christ the King.
Catapano knew certain of one thing coming in, that his team can take the title if they played to their advantage and managed to get the get close late in the game.
"They are a great team, the #1 team in the country, but we felt that if we could get it into the 4th quarter our pace and conditioning would be an advantage," Catapano explained.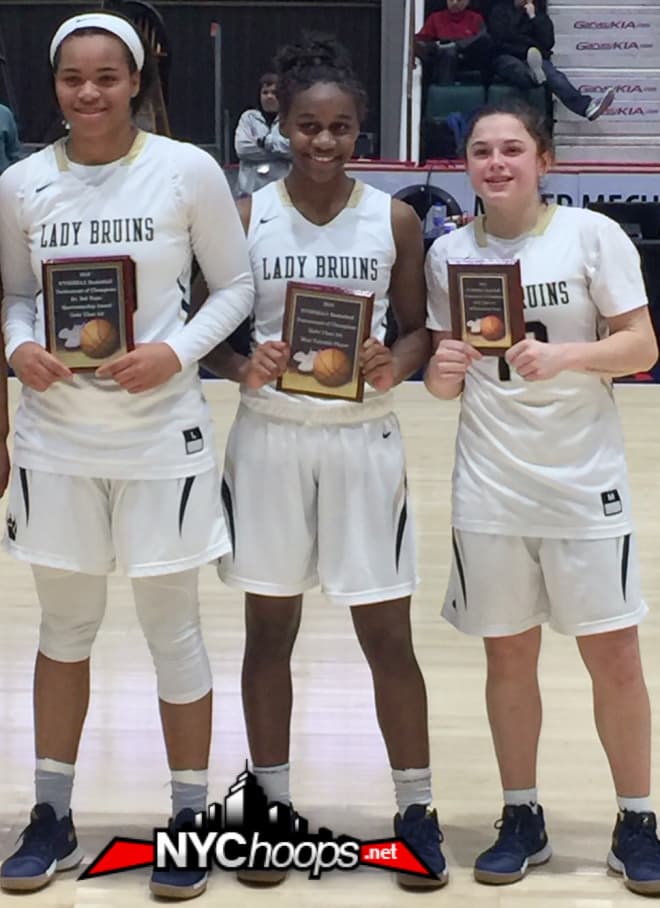 Down at the half 29-25 Catapano wasn't concerned as he was right where he wanted his team to be. They weren't winning, but they were within striking distance, and Christ the King head coach Bob Mackey said he knew a major Baldwin run was coming having scouted them well leading in.
"We knew the 3rd quarter was going to be tough because that's their quarter," Mackey said.
Mackey's worry proved to be right as it was Kaia Harrison '19, the lone junior in the rotation for the Lady Bruins who rose to the challenge. She was fearless in attacking the rim, consistently getting in driving lanes and finishing against contact, heeding the advance of Catapano who implored Harrison to help get the job done for this group of deserving seniors.
Scoring 8 points in the 3rd quarter a 4-point halftime deficit turned into a 7-point lead for Baldwin going into the final quarter, with Harrison saying that the run late helped build the Lady Bruins confidence to believe they could finish the Royals off.
Christ the King wasn't going down without a fight as Nina Rickards '19 connected on a pair of runners in the lane to get the deficit down to 46-45 with 4:12 left in the game, but an Annecchiarico runner put Baldwin up 3, and then a drive and finish while getting fouled by Harrison seemed to seal the deal for Baldwin as they went back up 52-45 with 2:29 to go.
It was the final body blow to Christ the King who fought and scrapped back to stay close late but on this day Baldwin proved to be a deserving champion as they did a solid job against the Royals size inside, getting to run on the court in jubilation as time expired as the Lady Bruins won their first ever Federation Championship by defeating Christ the King, 58-49.
A total team effort from Baldwin saw Harrison named Tournament MVP with 15 points, while the seniors who have played together and been best friends since the age of 9 in Hudson and Annecchiarico each finished with 14 points apiece in the title game win.
Kaelynn Satterfield '19 paced Christ the King in the loss with 15 points and while it was a disappointing defeat for the Royals after going undefeated during the season until Saturday, Mackey gave all the credit to Baldwin and what they were able to do after the game.
"They made big shots and made big plays, so all the credit goes to them," Mackey said exuding class in defeat.
Having grown and become a family over the past 9 years the fairytale ending is officially finished as the book is closed with Baldwin now crowned champions as best in New York State.
Annecchiarico called it an ending only seen in movies, while Catapano with tears in his eyes said he couldn't have imagined a better way for this group to finish out. They have been together for so long, and to get to say goodbye with a title he admitted will be a memory that lasts with him forever.
"I couldn't be more happy and proud to be their coach," Catapano said. "This is a tribute to all the hard work that these kids did since 3rd grade, and to see it all come to fruition tonight, it's magical."
Jamesville-DeWitt Edges James Madison, 42 - 41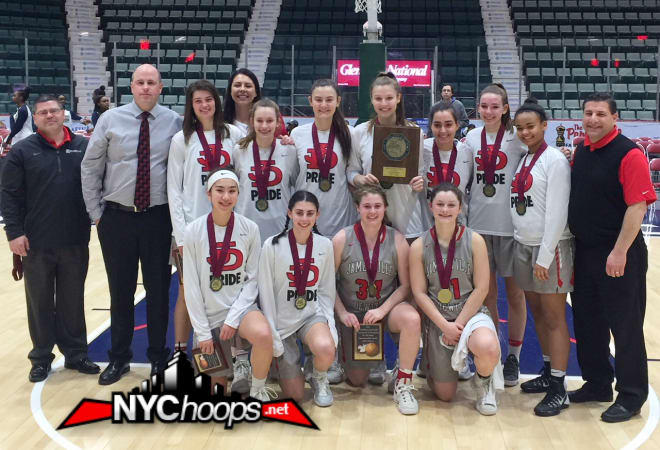 It wasn't always pretty as Jamesville-DeWitt led for less than two minutes over the entire span of the game but when the game was in the balance late a freshman rose to the challenge with Momo LaClair '21 connecting on a runner in the lane with 6.8 seconds left to help propel the Red Rams to the Class A Federation Tournament of Champions title by defeating James Madison in a thriller, 42-41.
Just about everything went wrong for J-D throughout this championship game as they shot just 23% from the floor in the game and went behind by as much as 8 in the 3rd quarter, but Meg Hair '18 would keep the Red Rams close going to the 4th giving the NYSPHSAA champs a chance.
They still struggled to connect late but it was LaClair who began to carry Jamesville-DeWitt down the stretch with no one else stepping in. Sure, it's not easy or expected to have a freshman make the big plays late but LaClair connected on a pair of baseline jumpers in the closing 2 minutes of the game to help keep the Red Rams close.
James Madison still held a 41-40 lead and had the ball in the closing seconds when Kasey Vaughan '18 took a charge to give the ball back to Jamesville-DeWitt with 25 seconds to go. They had a shot, it was just a matter of would they take advantage.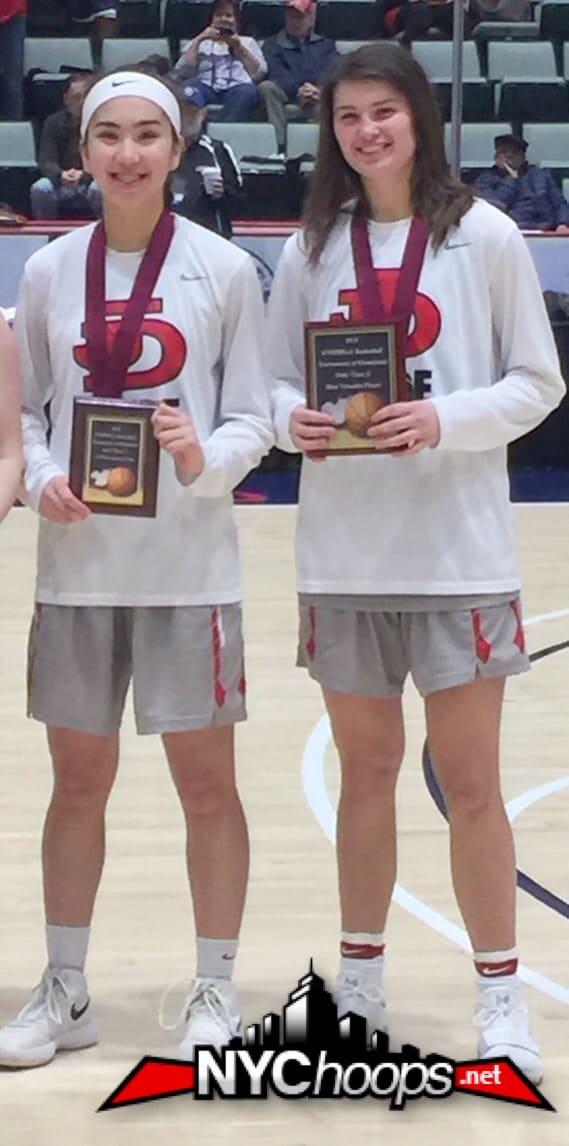 With the clock winding down and still down 41-40 it was a matter of who was going to take the shot to win. Hair was being double teamed, and even though she admitted being a little tentative, it was LaClair who would go for it.
"I knew we had to score there and anyone on the court could've scored for us but when I saw the defense shift a bit I went in and took it," LaClair stated.
She found a crease down the middle of the lane and with a charging defender coming at her she put up the floater that was nothing but net to put J-D up 42-41. James Madison called a timeout to set up a final play but a last second heave after a bad pass to the corner was off and after years of trying this Red Rams group finally got over the hump to claim the Class A Federation Championship by knocking off a game Golden Knights team 42-41.
Hair would be named Tournament MVP with a game high 15 points for Jamesville-DeWitt, while LaClair added 9 points to prove that she is the next in the line of Red Rams stars.
Calling this game, a passing of the torch from the senior Hair to the freshman LaClair wasn't exactly what Jamesville-DeWitt head coach Rob Siechen would call it, but he said he could absolutely see that analogy being made.
"We can call it what you want," Siechen said "Momo really the stepped up but I look at it as more of a continuing the torch."
In the heartbreaking defeat James Madison was paced by the 10 points of Sarah James '19, and with the Golden Knights bringing back four starters from this year's team returning you can expect to see them back up in Glens Falls playing for another Federation Championship next season.
For now, the title belongs to Jamesville-DeWitt and having fallen short over the past couple years Siechen said with a huge smile on his face that this is the perfect way for Hair and the rest of his seniors to finish out their high school careers.
"It's great for everybody but for our seniors to finally get this Federation title is a huge accomplishment. It's tremendous and I'm so proud and happy for them."