GCHSAA Class AA State Semifinals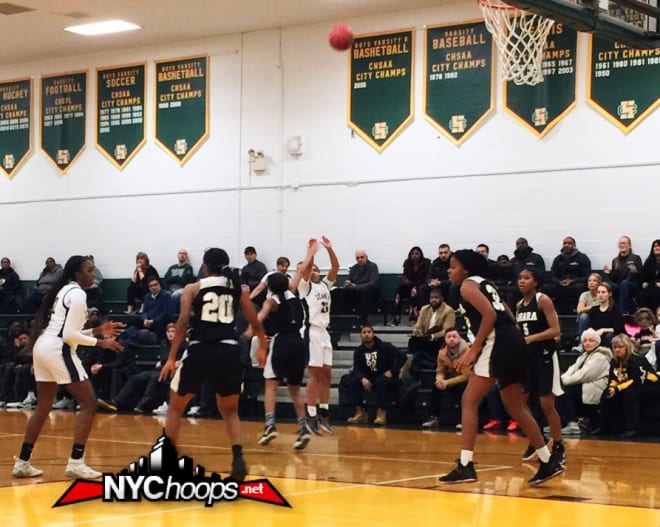 FLUSHING, NY- After meeting on Wednesday evening in the CHSAA Class AA City Championship Game it seemed as if Msgr. Scanlan and Christ the King were on a collision course to play 72 hours later in Saturday's CHSAA Class AA State Championship Game.
To get there though on Friday Msgr. Scanlan needed to get past the champions out of Buffalo in Cardinal O'Hara, while Christ the King had St. Anthony's in their path. Both teams were considered favorites to get to Fordham University on Saturday though and play in the biggest game of the season to date.
It may have been tougher for both for stretches but both accomplished their goal of getting to the title game as it will be an All-New York City showdown to the championship. How they both got there though is what we will go over now as we recap both games from Holy Cross H.S. in Queens.
Msgr. Scanlan Eliminates Cardinal O'Hara, 58 - 48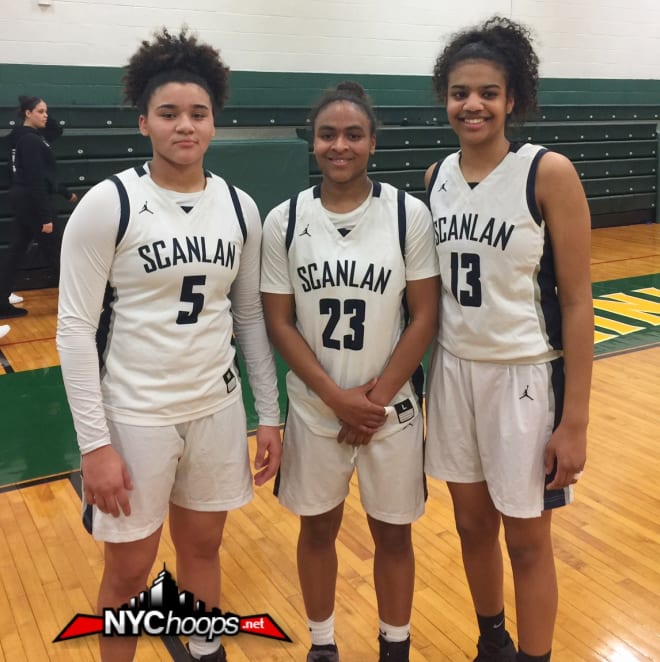 A huge key to the success of the Crusaders this season has been Kaylen Banwareesingh '19. She hasn't been on the court at all times this year though because of an ankle injury that lingered, but her ability to change how the game is played has been a critical part of what Scanlan can do according to their head coach Tom Catalanotto.
They were a different team without her in Catalanotto's eyes, and now that she is back it's been a more complete and ready team to compete with the best of the best.
For a while on Friday it looked as if the Crusaders would again have to play without Banwareesingh as midway through the second quarter she went out with a hip injury, but she returned in the third and made big shot after big shot to help Scanlan put away a pesky Cardinal O'Hara team, 58-48.
It was the outside shooting of the Crusaders that had them take an early lead as Banwareesingh, Kateri Poole '20, and Daja Wentz '19 each connected from behind the arc early on, surprising Lady Hawks head coach Nick O'Neil as he said he stayed in a zone as he felt from watching Msgr. Scanlan on tape that they weren't the greatest of all outside shooting teams.
That wasn't proven to be a mistake as it was the outside play that helped Scanlan take the early lead, with O'Hara doing most of their damage on drives by Angel Parker '19, with the Siena bound guard able to slip passes inside to Amelia Strong '21 for buckets to keep the Lady Hawks close.
When Banwareesingh got hurt though with just over 2:30 to go in the opening half it looked as if the game would change with the UMass-Lowell commit saying she was immediately in a good amount of pain from what she said was a shove.
"I turned and she pushed me so I guess it was a hyper extension of my hip or my hamstring or something," Banwareesingh said about the injury.
The pain caused her to miss the rest of the first half, with her absence allowing O'Hara to tie the game late at 24 before Poole stepped up to drain a three just before the halftime buzzer to give Scanlan a 27-24 lead at the break.
Propelling the Crusaders back into the lead, Poole felt as if that made triple just before the half really was a game changer as it allowed Scanlan to take more confidence into the locker room after what was a shaky end to the second quarter.
Still on the bench at the beginning of the third was Banwareesingh who said that she was trying to test herself off to the side before asking back in, which she did a with about 4 minutes to go in the period.
Once Banwareesingh came in she immediately drained a fade away jumper, and then putback a miss to help steady the tide. It wasn't that she wasn't feeling pain anymore, but Banwareesingh said adrenaline, and the fact that a win would more than likely give them Christ the King again for a title drove her to do all she could in this one.
"Oh no it was hurting but I wanted to push through the pain because I really, really wanted to play King tomorrow," Banwareesingh explained. "I had to do what I had to do no matter the pain."
As the fourth quarter came it was Scanlan finally pulling away for good as even with Parker having a solid game for the Lady Hawks, and Strong proving to be a strong weapon around the rim, Poole's shooting touch, and the ability to drive and finish off the dribble by Wentz finally did in O'Hara.
The Crusaders took a double-digit lead for the first time in the game with just under 2 minutes to play, and with Poole leading the way with 15 points it was Msgr. Scanlan advancing to Saturday's championship with a 58-48 victory.
Along with Poole's team high 15 points it was Banwareesingh and Wentz who each added 13 points for the Crusaders to lead the way to the win.
For the Lady Hawks in the defeat it was Parker and Strong who each had 16 points to lead all scorers, but with Cardinal O'Hara starting 3 sophomores the future surely looks bright from the Lady Hawks to get back to the Class AA state tournament for years to come.
Advancing to Fordham University and the Class AA State Championship Game for the second time in three years, Msgr. Scanlan is looking to get over the hump this time as they will get Christ the King for the third time this season. The Crusaders so far this year are 0-2 in their tries against the Royals, though Banwareesingh is hopeful that this time it will be third time is a charm.
"I'm really looking forward to it," Banwareesingh said after the game. "I just wanted another crack at them and now we got it."
Christ the King Knocks Off St. Anthony's, 55 - 40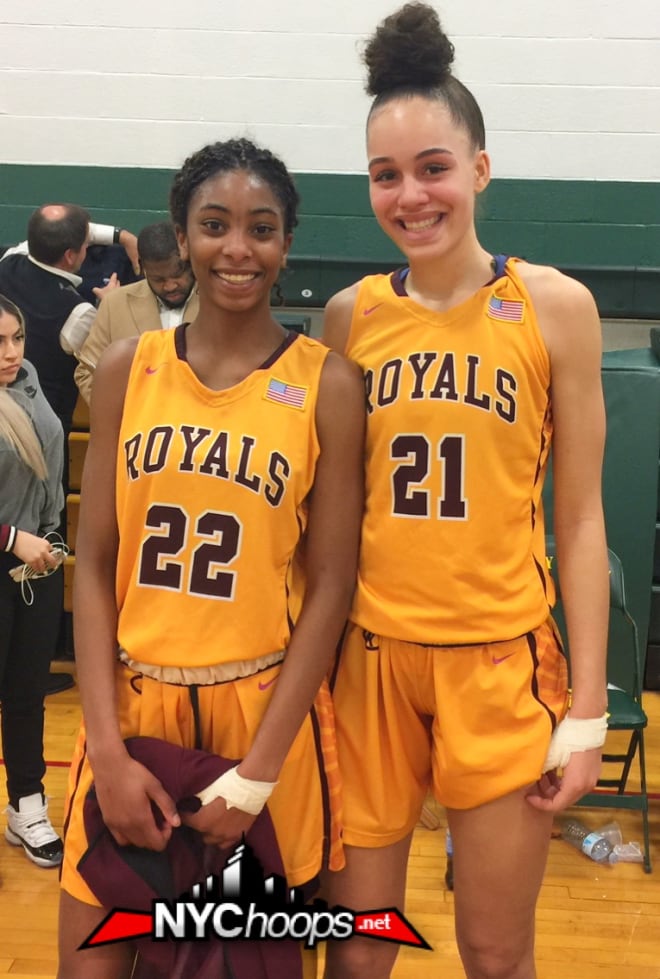 Three years ago, the Royals were in the same spot as they took on St. Anthony's in the Class AA State Semifinals after a fantastic regular season that saw them mow down just about anyone in their paths.
That year though they fell to the Friars in that game, and Christ the King head coach Bob Mackey said that was a big talking point with this year's group leading up to the game to make sure that kind of result did not happen again.
"Oh yeah, I said we aren't going to relive that nightmare," Mackey said. "We aren't redoing that because that was just horrible and it still is, it's still horrible."
Even though they were warned of that result it seemed as if the Royals came out sluggish, and even while they contained Friars star guard Sydney Taylor '19 it was still just a 27-20 lead for Christ the King at the break.
Still anyone's game going into the second half, Natalija Marshall '20 said that she took a good amount of the responsibility for the not so great play from the Royals early on. On a team that was playing without Kaelynn Satterfield '19 still because of an ankle injury, and Klarke Sconiers '19 who sat out most of this game because of an illness, Marshall felt it was upon her to pick up the slack and even with 11 points at the break she wasn't happy with how she performed.
"I think in the first half I was settling for jump shots too much and I was fading away from the basket and I wasn't using my length to my advantage and I really felt like that hurt our team," Marshall stated.
Making a more cognizant effort to get herself more in the paint, Marshall was able to post up and finish around the rim with both hands time and time again to eventually help Christ the King build up a 20-point lead with 2:12 to go in the third quarter.
Along with Marshall it was young freshman Saniyah Glenn '22 who was able to connect from the midrange and show that she is going to be a major problem for years to come for opponents as her length next to Marshall proved to be an imposing force on both ends for the Royals.
Leading 48-28 going into the fourth, Christ the King put the game on cruise control, and while St. Anthony's had their moments with Taylor and Toni Kinard '19 draining shots from the outside it was too little too late as Marshall led all scorers with 23 points, while Glenn added 15 in what would be a 55-40 victory for the Royals to see them once again move on to play for the State Championship.
For the Friars it was Taylor in her final high school game scoring 17 points to lead St. Anthony's in what was yet another strong season from the NSCHSAA power.
It's going to be Christ the King taking on Msgr. Scanlan though on Saturday for the title and the right to move onto the NYS Federation Tournament of Champions in a couple weeks' time. Mackey says that Satterfield could return for Saturday's big championship game matchup, but with or without her Marshall says she is excited to be getting the chance to play Scanlan once again, this time for the CHSAA crown.
"I think we are super ready," Marshall said. "We know what they are good at and we know what they are not good at, but at the same time they know what we are good at and not good at so we are excited for tomorrow, and excited to hopefully make it to Federation."