Elite 24 Teams Updated Rosters Announced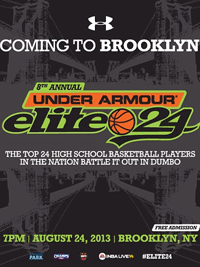 The rosters include six of the top 10 players in the Rivals.com Top 100, and the top two ranked players in the 2015 Top 100.
The 2013 Under Armour Elite 24 will be held at a newly constructed custom outdoor basketball court at the Tobacco Warehouse on Friday, August 23 and Saturday, August 24. The game airs live on ESPNU at 7 p.m. ET Saturday, Aug. 24, while the Slam Dunk Contest and Skills Competition will air Friday, Aug. 23 at 7 p.m. on ESPNU.
Adding to the next-generation theme of the Under Armour Elite 24 event, EA SPORTS will launch NBA LIVE 14, the latest edition of the historic video game franchise, later this fall on the next-generation of video game consoles, Xbox One® and PlayStation® 4.
*Injured