Dozo prevails as borough titans clash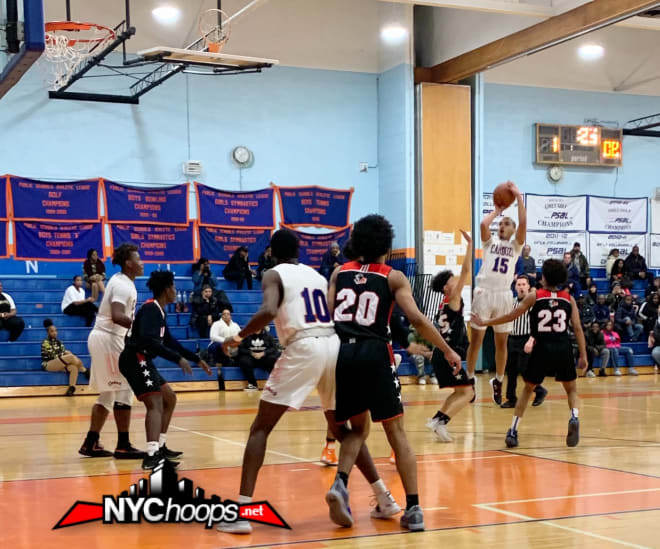 OAKLAND GARDENS, NY - In the Queens PSAL Class "AA", two teams shared 12 – 1 records and a tie for first place. On Tuesday, those two top dogs went at each other. For the Francis Lewis Patriots, a win would improve the possibility of clinching first place in the borough but because Cardozo had previously beaten Francis Lewis during the regular season, their 83 – 77 victory further guaranteed that the Judges will get top spot.
Both wins against the Patriots were similar said Cardozo head coach Ron Naclerio. "When we were over there, we were down 32 – 16 in the second quarter. Cut it to 32 – 27. Down 2 after three and we managed to win by eight."
This time, Naclerio expected his team to do better playing at home. "It's our house. We're gonna do better and we did do better." That is until Francis Lewis shaved a 20-point fourth quarter deficit down to a mere six-points, causing the Cardozo head coach to admit, "I'm getting scared when we get the lead cuz we don't know how to handle it."
Cardozo has been holding its own in league play during the past few games without the services of sharpshooter Jaylen Davis '19 who was ill but the senior' returned on Tuesday and was hot like fire early, scoring 13 first half points, shooting 5 of 6 from the perimeter. "It was just the adrenaline," said Davis. "Being out, that's the worse feeling in the world and when I'm on the court it seems like everything goes away."
Francis Lewis kept it competitive with Moises Cordero '19 dominating down low. Buckets by Tyriek Primus '19 added fuel to the Patriot's fire while matching Davis's output. Francis Lewis and Cardozo found themselves tied at the end of the first quarter. The Judges barely maintained homecourt advantage in the second quarter and went into the locker room only up, 31 – 29.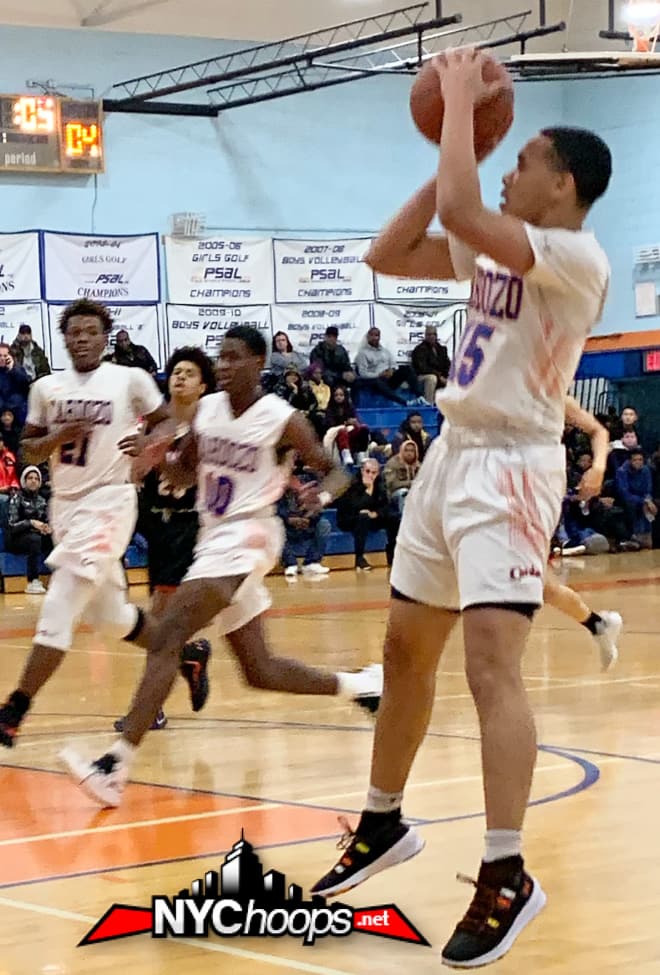 While Davis cooled off a bit in the second half, other Dozo players stepped up. Big man Jamal Watson, Jr. along with '19, Donte Ager '19 and Errol White '20 helped extend the Judges lead to 16 points at the end of three quarters. Early in the fourth quarter, the Judges were soon up by twenty-points and game appeared to be a wrap.
As Naclerio prognosticated, Cardozo suffered a minor meltdown while Francis Lewis embraced the momentum shift. Big-time long balls by Ryan Lou '19 and Jazan Johnson '21 with Cordero and Primus attacking the paint, sliced the Judges lead in half with 2:30 left in regulation. Baskets by Robert Bland '19 helped the Patriots made further inroads with under a minute. The Patriots cut their deficit to 81 – 75 with 27.6 seconds on the clock but time or lack there of became Dozo's friend in the end.
Davis was the high scorer for Cardozo with 25 points with Walton contributing 18 points. Francis was paced by Cordero with 24 points.
"This was a huge win," said Davis. "Now we know we're in first place and we're ready for the [PSAL City Championship]"
Coach Naclerio was a bit more practical, acknowledging that his players stepped up to get the win. "Tomorrow the kids are gonna enjoy it but tomorrow we gotta prepare for the one team that beat us in the league, [John] Bowne. We're hoping to have Taj Anderson '19 back that will make us [even] stronger."