Conrad McRae Youth League Action (Sunday)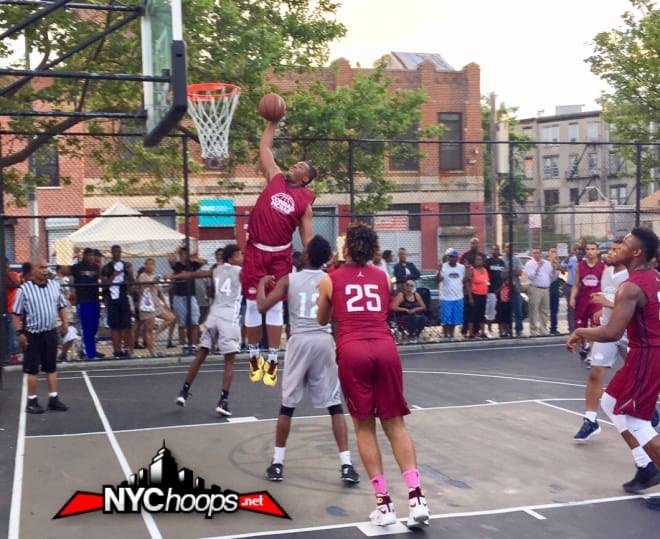 Premium Story: Top Performers
BROOKLYN, NY- The final day of the Conrad McRae Youth League until August was on tap on Sunday and the stars came out to see a great day of action that was headlined by a marquee showdown between two of NYC's perennial powers as Christ the King took on Abraham Lincoln.
It wasn't just that one game though that stood out as there were a few others as well that showed off the promise of some up and coming high school teams from throughout the five boroughs.
An excellent day from start to finish, NYCHoops.net was on hand to take in the action in Brooklyn and here now is a recap of some of the better, and more intriguing games from Sunday's play.
Christ the King takes down Abraham Lincoln, 68-53
This was the game that the people came up see as the spectators were lined up four deep against the outside of the Dean Street Playground fence to catch a glimpse of the big time CHSAA vs. PSAL showdown.
Lincoln was coming off a win earlier in the day over The Patrick School out of New Jersey to boost their confidence heading into this one as even though the Celtics were without a number of their top stars, the Railsplitters got 32 points from guard John Wilson '20 to lead them back from an 8-point halftime deficit and ultimately take a 57-52 win.
Christ the King were missing two of their bigger stars in big man Kofi Cockburn '19 and guard Tyson Walker '18, and that meant if they wanted to stop Lincoln from going 2-0 on the day, it would have to be a youth movement that propelled them there.
It was a good start by both teams as Jasiah Lewis '18 had the Railsplitters feeling good early on as he was able to get in isolation situations and beat his man off the dribble for buckets getting to the rim, but the depth of the Christ the King squad took over late in the opening half.
Ryan Myers '20 was able to connect on a pair of pull-up jumpers off the dribble to give the Royals a 4-point lead, but it was more about the ball movement of Christ the King that allowed them to begin to take control. Myers and Jaylen Davis '19 were doing an excellent job of running the offense at a manageable tempo, and when Jared Harrison-Hunte '19 threw down a major slam, the Royals were able to take a 33-26 lead into halftime.
The Christ the King lead was built up to as big as 11 early in the second half, but Lewis was almost singlehandedly willing his Lincoln team back into the game as the Railsplitters would grab defensive rebounds and outlet it to him as he was able to consistently get himself into situations where he could score at the rim.
With the Christ, the King lead trimmed all the way down to 41-38 a big play was needed and that is when Myers would step back and drill a three ball from the wing, a shot that would push the Royals on a 17-2 run to put the game away for good.
Wilson, who was so dominant against The Patrick School, struggled to get past the aggressive defense of Christ the King, and while everyone was coming up big for the Royals and making strong plays on both ends of the floor, it was Philips Joseph '19 who used his strength to body his way down low and finish, putting the game away for good.
It was never a single digit game again as Christ the King imposed their depth and will on the game en route to what was a 68-53 victory showing that the Royals will without a doubt be at the very top of teams to watch for come December.
Myers had 21 points to lead Christ the King in the win, while Davis and Joseph had 16 and 11 points respectively as well for the winner.
In the loss, it was Lewis who paced the Railsplitters with 20 points in what ended up a 1-1 day for the Coney Island powers.
Eagle Academy finally edges Wings Academy, 42-41
It was the Battle of the Bronx with the Wings and Eagle facing off for the first time since the PSAL Bronx Borough Championship Game in March, a game that saw Wings come from double digits down in the 4th quarter to take down their foes from Eagle once again.
You can't call this one revenge, but for the first time ever Eagle head coach Ryan Queen was able to see his team take down Wings Academy as this time it was them who rallied back off a late three ball to take home the 1 point win.
Eagle looked to be in firm control of this one as Floyd Samuels '18 was having a half to remember early on as he poured in 13 opening half points to push his team to a 30-24 lead at the half.
After such a strong offensive output as a team early on though, Eagle went cold in the second half. They were forcing three's, driving into traffic, and dribbling into double teams which led to turnovers. Brian Mitchell '18 and Mohammed Fofana '18 each were able to get it going from the midrange as well which would ultimately allow Wings to take a 41-39 lead with under a minute to play in the game.
As if things couldn't get worse, off a timeout with 41.7 seconds left, Eagle was called for having 6 players on the court leading to a technical foul. Mitchell would miss both FT's though, and then off a turnover, Eagle did have a chance to tie or win.
They set up a beautiful play that would see Samuels come around a screen and catch a pass at the top of the key, he put up the three that was nothing but net giving Eagle the 42-41 lead. There was still 13 seconds left to play though giving Wings plenty of time to come back on the other end and take the lead and the win.
A driving layup was missed, and the size inside of Wings allowed them to get two putback looks but Fofana's second attempt was no good as time ran out allowing Eagle to take down Wings 42-41 in a game that could be reminiscent of what we see out of these two teams come the PSAL season.
Samuels had 16 points to lead the way for Eagle, while a talented youngster in Vernon Simmons '20 added 9 points and a strong number of rebounds to help them in the win.
Fofana would finish with 12 points for Wings, with Mitchell adding 10 in the defeat.
George Westinghouse Tops Curtis, 63-62 in OT
Another incredibly entertaining game between two teams who there should be a lot of noise from this season, Curtis was playing without the services of Malik Martin '18 on Sunday, but their young studs had them in a strong position to come away with the victory.
Up 54-48 with 1:14 to go in regulation, it looked as if Curtis was going to go back to Staten Island with a strong victory over a solid Westinghouse squad, but Nyrie Hicks '18 would score on a runner in the lane to make it a 4 point game, then off a trap Westinghouse was able to get a steal and Gabriel Blenman '19 was able to finish, and then one last time saw Yarayah Evans '18 pick off a pass and then he would finish on his own second chance to tie the game at 54 with 14.6 to go.
Curtis did have a point-blank look to win it at the regulation buzzer, but Darnell Askew '19 missed on a putback right at the bucket, sending this game to overtime tied at 54.
Adeleye Oyekanmi '19 was able to score down low while getting fouled to open the OT scoring, converting on the FT and giving Curtis a 57-54 lead. Westinghouse, not backing down, would follow that up by going on a 9-2 run to take a 63-59 lead with just 23.6 seconds left in the extra session.
Evans and Blenman were doing it all for Westinghouse, but on the other end Oyekanmi was not letting Curtis roll over without a fight as he connected on a three that hit off every inch of the rim to make it once again a 1 point game.
With time for one last chance, Quincy Barnes '18 went to the lane for Curtis hoping to give his team the win but coming over from the weak side was Evans who swatted away the driving look as time expired giving George Westinghouse a hard fought 63-62 overtime win.
It was a game high 26 points for Evans in the victory for Westinghouse, but without Blenman who had 7 of his 11 points in the OT session this could've been a very different result for the team from Brooklyn.
A strong game from Oyekanmi allowed him to pour in 22 points in the loss, while Jolani Clark '19 added 11 points from his backcourt spot for Curtis.
Thomas Jefferson closes down Dean Street Foundation, 51-45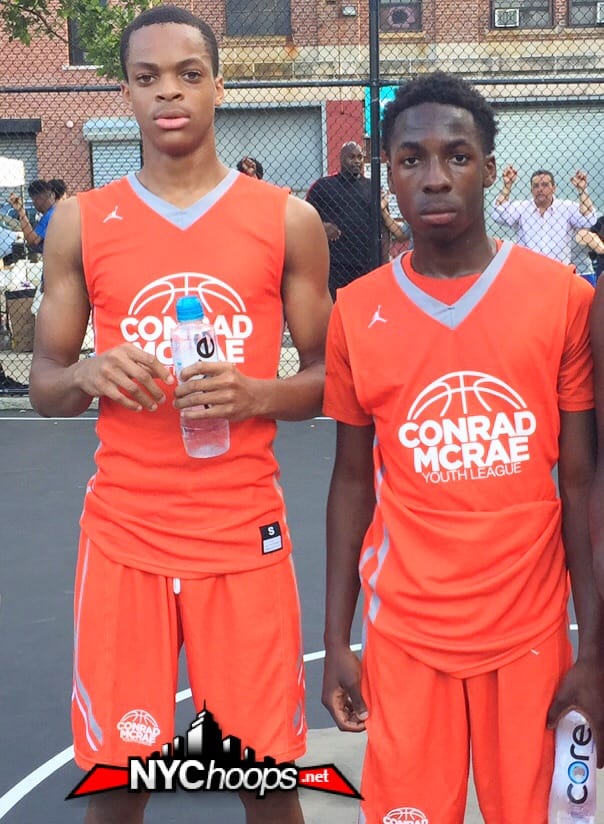 Playing against a Dean Street Foundation team that had such stars as Majur Majak (Roselle Catholic, NJ '18) and Deondre Bourne (Leman Prep '17), the young Orange Wave from Thomas Jefferson rose to the challenge as their youngsters would not be denied in what ended up being an impressive 6-point win.
It was rising sophomores and juniors who did it all for Jefferson as Marcus Burnett '20, Kevin Tabb '20, and Kareem Welch '19 proved that the future for the Orange Wave is bright as they didn't back down for the older, more experiences team, and really took it to the Dean Street team in the second half.
Burnett would finish with 20 points, while Tabb and Welch each added 10 as Jefferson's stars of tomorrow became stars of today on Sunday in solid 51-45 victory.
Bourne did all he could for Dean Street in the loss as the undecided senior would finish with 19 points.