CHSAA Class "A" and "B" Championships
BRONX, NY- It was all on the line at Fordham University on Saturday with the Class "A" and Class "B" CHSAA State Championships. Win this one and you were considered the best Catholic team in New York State this season in your classification, the goal of every team coming into the season.
Both the "A" game between Chaminade and Msgr. Farrell, and the "B" game between LaSalle Academy and St. Mary's (Buffalo) were expected to be solid, competitive games that could go either way, and both proved worthy of the hype coming in.
With so much at stake, both teams gave it their all from start to finish, and with NYCHoops.net in attendance here is our recap from the action took place from the two games on Saturday afternoon.
Redemption for Msgr. Farrell beating Chaminade, 55-47
Having felt the heartbreak of coming so close last year, Msgr. Farrell had the drive and desire all year long to get back to the CHSAA Class "A" State Championship Game in hopes to righting the wrong they felt that they endured last season.
After falling behind by as many as 8 in the 3rd quarter, the Lions were able to rally back behind the shooting of both Eric Klayman '17 and Thomas Granello '17 as well as the strong defense that head coach Mike Dunn loves to get the first State Championship for a Staten Island team by downing Chaminade, 55-47.
When the Lions last March lost in the "A" State Championship to Canisius up in Buffalo by a score of 44-41, it stuck in the minds of every Farrell player according to Klayman, with the senior guard adding that he felt the game was taken from them and that it was a mission to not let that happen again this time around.
You never want to lose, but Dunn actually felt that losing last season and getting so close to glory was a big growing period for his team, understanding after that what it would take to get over the hump and make sure they achieved the success they wanted.
It would be much tougher without the services of one of the best to put on a Msgr. Farrell uniform in Nick Corbett who graduated after last year, but Dunn says that the lessons the now Molloy College guard taught his team would be a major benefit them.
"I think Nicky showed all of these guys the intensity that it takes to perform on this level," Dunn stated. "Yeah he scored a lot of points for us but he was a tougher defender than he was an offensive player and every day in practice he made these guys understand that, and they carried that over this season."
They would need every bit of that intensity on both ends of the court to take down Chaminade, who themselves came out strong and took it to the Lions at the start.
Bobby Connors '18 proved to be a big weapon wherever he was perched on the court as be it scoring from the outside, or taking on his defender one on one he proved to be difficult to contain in the early going. Farrell hung close, but with Kellen Paradine '17 able to post up and score down low late in the half, the Flyers were able to jump ahead at the break 31-25.
Not the position that the Lions wanted to be in, no one was panicking because of the fact that they had trailed in a good number of their games this season. It's become a part of who they are in a sense, with Klayman saying that regardless of the halftime score, everyone on the team still believed.
"We have gotten behind so many times that it was just about keeping pushing, keeping playing our game, and honestly just don't let them win," Klayman said.
It was 7 straight points from the senior in the 3rd quarter that allowed Msgr. Farrell to slowly chip away and get back into it, as with her from his backcourt mate in Nicholas Igneri '17 who also was able to get going against Chaminade zone, they were able to tie the game up at 40 in the opening seconds of the 4th quarter.
Moments later off a missed runner by Kyle Murphy '17 for the Flyers, it would be Jake Dunn '18 who would send home a three from the left side to give Farrell their first lead since early in the 2nd quarter, a lead they would not relinquish.
Granello would find his range as well as the perimeter shooting began to wear down Chaminade in their attempt at coming back in the final minutes, allowing Msgr. Farrell to get revenge on their title game loss from last year and do something no Staten Island team has ever done before, win a CHSAA State Championship, taking the "A" title over the Flyers, 55-47.
It was an overall team effort from a group that Dunn called the ultimate team with Klayman leading the Lions with 14 points and 9 rebounds, while both Granello and Igneri each poured in 10 points to help lead the way for Farrell.
Having been outscored in the second half 30-16, Chaminade found it difficult to score as the Lions defense clamped down on their opportunities late. Connors had 14 points to lead Chaminade in the defeat, with Paradine chipping in with 11 points and 7 rebounds as well in the tough luck loss.
For the first time, ever, Msgr. Farrell will now head to the New York State Federation Tournament where they will take on the PSAL Class "A" winner in the semifinals on March 24th, and while that is something they are all looking forward to, just accomplishing this Klayman says means the world to him, and his entire team.
"It means everything, we are the first team from Staten Island to win states so it really feels great," Klayman admitted. "Nothing can beat it."
LaSalle Academy Mashes St. Mary's, 80-52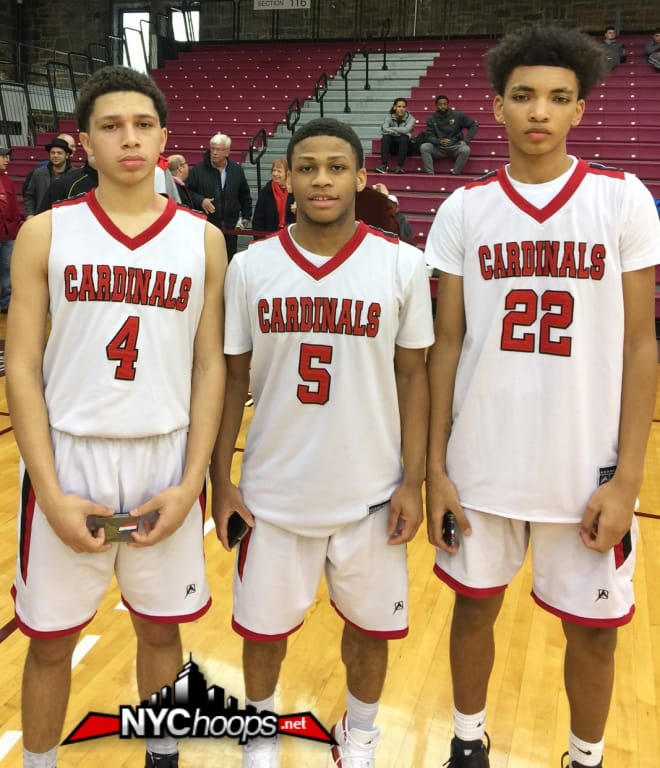 It's been since 2004 that the former CHSAA powers in LaSalle have achieved championship success, but having built the Cardinals into a program to be reckoned with once again, head coach Jerome Pannell was able to lead his team past the Lancers from Buffalo in the Class "B" Championship Game by 28.
For a long time the thought has been that LaSalle was far from the program it once was. Back in its heyday they were led by the likes of Ron Artest, but for several years they fell back and lost what made them so special, something that Pannell says has recently started to change.
"It's never been a lack of hard work because we were always working hard during the quote unquote lean years, but we are starting to recreate the culture and have been working in the right direction for the past 2 for 3 years now," Pannell said.
That had fallen short though of their goal of a Class "B" State Championship, falling just short in the City Playoffs, but this year they got over the city hump and wanted more, proving to all they were truly back as a basketball program with as much history as anyone in New York City.
At the start of Saturday's title game against St. Mary's they struggled to contain the Lancers big man Christian Szablewski '18 who was a force on the glass against the smaller Cardinals, but they also weren't defending the outside the way they usually do.
It was frustrating to Pannell to see with the coach imploring his team to get back to the basics of what made them a 21-2 team coming into this game.
"We are a defense first team and we got away from that so we just talked about getting back to our identity," Pannell said.
That worked as the Cardinals began closing out more, and doing a better job on the glass which led to run out opportunities for senior guard Bryce Council '17, while James Bouknight '18 was able to nail back to back long balls, putting LaSalle up by double digits for the first time midway through the 3rd quarter, and they were off from there.
An overall great second half of basketball put LaSalle in a comfortable position as they were able to contain Szablewski, while star shooting Matt Ciezki '18 also struggled to find any room to operate on the outside, with the Cardinals putting in a superb close to the game to take down St. Mary's and win their first CHSAA title since 2004 in the 80-52 victory.
Josiah Chandler '19 was the Cardinals leading scorer in the win with 20 points, while Council added 14 points, and Bouknight chipped in with 13 points in a game that Council said afterward meant the world to him.
"This is what it's all about, this is how I wanted to go out," Council stated. "Two years in a row I didn't get the job done so this year it was important for me to do what I had to do, and I did."
In the loss, it was Szablewski who had 20 points and 14 rebounds to pace St. Mary's who are a junior laden team with a bright future going forward.
It's LaSalle Academy though who will be advancing now to the New York State Class "B" Federation Tournament Semifinals 2 weeks from Saturday in Glens Falls, NY, and while this was a major goal for Pannell this season, he says that now they will look to those games upstate and looks to close out the season strong with 2 more wins.
"We want to keep the momentum going, we don't want to start losing so we are definitely going up there to win."