Cardinal Hayes knocks off Stepinac
BRONX, NY- With game one of the season at home and playing in front of a packed gym against the defending CHSAA and Federation Tournament of Champions winners in Archbishop Stepinac you can bet Friday night's game for Cardinal Hayes meant a lot to everyone on the Cardinals roster.
It was there chance to make an early season statement and set the tone that they are going to be a team to reckon with the rest of the way and led by the 29 points of Joe Toussaint '19 the Cardinals were able to make that happen as they pulled away late for an 86-76 victory.
Some may have said that the luster of the early season matchup was lost with the fact that Stepinac was without starters A.J. Griffin '21, R.J. Davis '20, Alpha Bangura '20, and Ed Minaya '19, but for Toussaint he said it didn't matter who was on the floor opposing them, it was about sending a message from the start.
"Game one is always a statement," Toussaint said. "To be honest to me it doesn't matter who plays I'm going to play my game even if they got zero guys over there, it's about showing that we are ready."
Cardinal Hayes was ready and came out hot, but if they thought that the absences of some of the Crusaders stars was going to mean an easy night, they quickly found out they had another thing coming.
An early three-point barrage showed that even though it may not have been the Stepinac stars on the floor, their guys who may not be as known are pretty darn good too as Matt Brand '20, Justin Morety '20, and most specifically Samuel Gibbs '22 showed they also have the chance to be special talents.
Combining for 5 threes' in the opening quarter between the trio the Crusaders got out to a fast start, holding their own with an experienced group of Cardinals. Cardinal Hayes was knocking down shots from the outside as well though as Julien Soumaoro '20 and Jalen Smith '20 helped them to a 26-23 lead after one in what was quickly turning into a run and gun style of game.
The pace did slow down just a bit in the second quarter as both teams looked to attack the basket more, and while Malcolm Chimezie '21 was doing a great job for Stepinac in the paint, Toussaint was proving to be too much to contain as the senior Iowa bound star had 13 in the first half of play to help Cardinal Hayes to a 41-38 lead.
For stretches in the early going it was the Toussaint show with Cardinal Hayes head coach Joe Lods saying everyone on hand on Friday night saw why he believes he is the best player in the CHSAA this year.
"In my opinion Joe is the best player in the CHSAA because he can get wherever he wants whenever he wants, he has worked so much on his jump shot this summer, and he is strong, tough and a real handful," Lods explained.
Those characteristics helped push Cardinal Hayes to the lead, but to stay in front Toussaint would need help, help he would ultimately get from his backcourt mate in Jaylen Murray '20.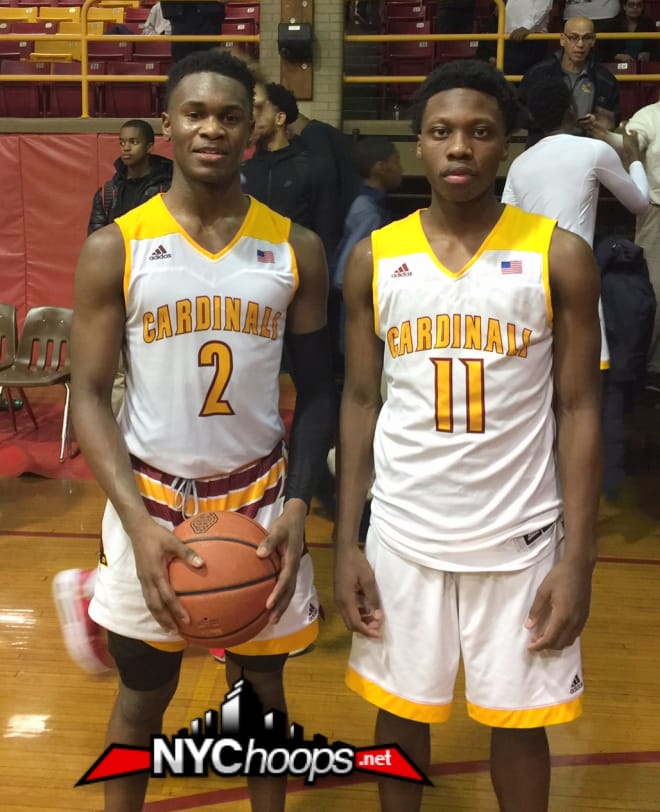 Murray was able to free himself for good looks early in the third to push the Cardinals lead to 7 with 5:10 to go in the quarter, but each time it looked like Cardinal Hayes might pull away it was Gibbs or Eddie Sanchez '19 coming up with the big shot off the dribble. Sanchez you could expect it from as he's a veteran of these types of games as a senior, but Gibbs proved he is going to be a major weapon to watch moving forward.
Having just learned he was going to start in his first game as a freshman less than 24 hours ago, Gibbs was able to confident drain three balls off the bounce, while also showing he can take defenders like Murray and Toussaint off the dribble, something Stepinac head coach Pat Massaroni said made him extremely proud.
"We put guys in roles that they haven't experience before, including Sam, and they all made me very proud," Massaroni stated.
Of the Crusaders five starters only, Sanchez had played major varsity minutes before, but each one played vital roles in the fact that after a Gibbs runner down the wing whole bring fouled, it was Stepinac in front 67-66 with 5:29 to play in the game.
Playing free and without fear it looked as if Stepinac might find a way without four major pieces to pull the game out, but when Toussaint is on your side you always have to bet on him as he once again came alive down the stretch finding Soumaoro for an open three in the corner, and then scoring 6 straight of his own to push the Cardinals from a 1 point deficit to a 7 point lead with just under two minutes to go.
After struggling to get stops when they needed for a good chunk of the game, the Cardinal Hayes defense stepped up when they needed to as well as they were able to close out the game from the FT line as it may not have been easy or pretty but the Cardinals found a way to get the job done, pulling away from the defending champions late to knock off Stepinac in both teams CHSAA openers, 86-76.
Leading all scorers in the game was Toussaint with his 29 points, while Murray added 14 of his 21 in the second half to help Cardinal Hayes come away with the victory.
Stepinac got 19 points from Sanchez, and 16 points from the two youngsters, the freshman Gibbs and the sophomore Chimezie showing that the future is certainly bright for the White Plains power.
Massaroni admitted that he saw his team grow up before his eyes on Friday, and that even in the loss it's a definite positive that he can take from this one, knowing that all his stars who sat for this one will be back sooner than later.
On the other end it was a hard fought victory for Cardinal Hayes who wanted to make a statement, and though it may not have been the best game they ever played, Toussaint feels they as a team they showed the rest of the CHSAA the type of team they are this season, noting that everyone in their way should be wary of what the Cardinals have to offer.
"We are coming for war every game," Toussaint said. "Everyone we play better be ready."