Cardinal Hayes Defeats Undefeated Loughlin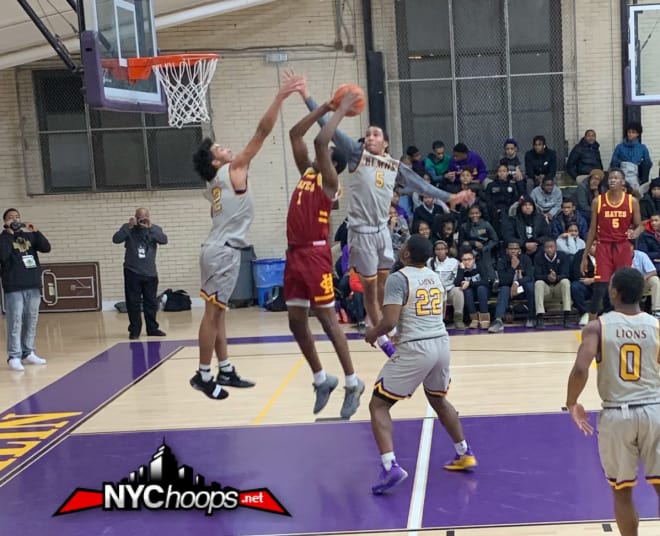 BROOKLYN, NY – Rarely has a CHSAA team gone undefeated for an entire season. The last team to accomplish that feat in one of the country's toughest leagues was Power Memorial back in 1963-64. Before that, Archbishop Molloy did it in 1956-57. On Friday, Cardinal Hayes took Bishop Loughlin out of the running for the third illusive undefeated regular season in the Catholic league with an well-scripted 61 – 56 win over the Lions.
Hayes had just come off a disappointing loss to Mount St. Michael and was itching for revenge but winning against a 15 – 0 team on its home turf wasn't going to be easy. Cardinal Head Coach Joe Lods told NYCHoops.net that his assistant coach Tim Philps had a plan. "The game plan was to play a little bit of a different zone to disorient them and switch defenses. We played a little bit of 2 -3, switch up to man, some 1-3-1 and make them guard on defense," Lods said.
Additionally, Lods said a major key to victory was controlling the pace. "We wanted the score to be in the 60's and 50's. We didn't want it to be 90's and 80's." This maneuver was partly due to Hayes recent propensity to turn the ball over. "We wanted fewer possessions, more shots."
Loughlin jumped out front 6 – zip early as Julian Champagnie '19 and Tyshawn High '19 drained three pointers but Hayes came storming back with Iowa-bound PG Joe Toussaint '19 running the show as he, Jaylen Murray '20 and Bryan Adams '20 scored from the perimeter and mid-range. A bucket inside by 6'9" Adam Cisse '19 gave the Cardinals a four-point lead at the end of the warm-up quarter.
The Lions did manage to score some transition buckets as Justin Champagnie '19 and High got out front, but Hayes stuck to its strategy of milking the clock for all it's worth and receiving balanced scoring from its starters to hold on to a 24 – 22 half time advantage.
Justin Champagnie strung together multiple baskets in the third quarter but Hayes more than doubled his output and extended its lead to 11 points at the end of three quarters. Loughlin's frustration with the pace was evident as minor squabbles were seen breaking out amongst teammates.
The Cardinals seized on the Bishop Loughlin's discontent and went on a 9 – 1 run which left the Lions in a 51 – 32 hole with 4:01 left in regulation. With numerous D-I college coaches in the crowd eyeing the Champagnie Twins, to their credit, the duo raised their game and showed their wears and starting a improbable comeback by singlehandedly slicing their team's deficit to 5 points. Unfortunately for the Lions, there was only 26.5 seconds left to play. Hayes continued to mile the clock like a cow on every possession until time ran out.
Toussaint said that everybody played hard and rebounded by committee. "Our big man [Adam Cisse] had around twelve rebounds and I had about 6 and our other guard Jaylen Murray had about 6.
Toussaint led Hayes with 16 points and 8 assists with Murray adding 17 points. Justin Champagnie paced Bishop Loughlin scoring his 1002nd point albeit in a loss with a game high 21-point performance. His twin brother Julian netted 16 points.
Hayes improves to 10 – 3 in league play and 13 – 3 overall while Loughlin's record drops to 8 – 1 in league competition and 15 – 1 overall.