Against the odds, Christ the King rises to win CHSAA City Chip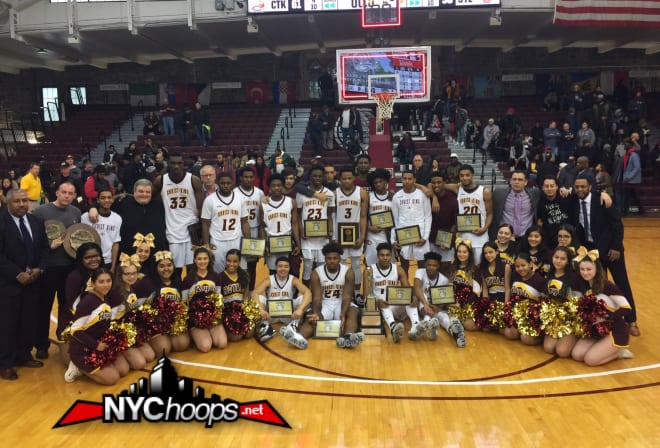 BRONX, NY- With big man Moussa Cisse '21 having missed most of this season with a foot injury and guard Quaran McPherson '20 getting hurt late in the season with a knee injury it seemed as if this just wasn't meant to be the year for Christ the King.
Nearly every road block possible was put in their way to make them an afterthought going into this season's CHSAA Intersectional Playoffs. Losing in the CHSAA Brooklyn/Queens Diocesan semifinals to Xaverian only meant that things would be even harder and more difficult for the Royals to take the ultimate crown.
While many may not have believed in Christ the King's chances, those around the Royals program never did lose the faith. Cisse came back for the playoff drive and while not completely healthy, things started to click for Christ the King. They got production from just about everyone up and down the roster and got wins over Msgr. Scanlan, St. Raymond, and Bishop Loughlin in the city playoffs to make their way into Sunday's championship game against the defending champs in Archbishop Stepinac.
Just getting to the game had to be considered a tremendous success, and after falling behind by 15 in the third quarter to the Crusaders many in the stands were again writing off this Christ the King team as the runners-up.
The Royals though had other ideas as they clamped down defensively and held Stepinac to an astounding 0-17 from the floor in the fourth quarter with the defense carrying the way for Christ the King as they outscored the Crusaders 16-4 in the final stanza to rally and win yet another CHSAA Intersectional Championship for the schools already packed trophy case, defeating Stepinac in thrilling fashion, 61-56.
If you go back to January 17th, it was a Thursday afternoon in the Bronx with Christ the King going to take on St. Raymond. It went as bad as bad could for the Royals as they lost one of their worst games in years to the Ravens 87-58 and at that point head coach Joe Arbitello said he just didn't know where to turn.
"We got smoked that day against St. Raymond and I said that I just don't know what I'm going to do," Arbitello admitted. "I don't know how we are going to win another game, I was just so low after that loss and I've never been that low coaching."
That was just about two months ago now and 24 hours after that loss the Royals went up to Massachusetts to play in the HoopHall Classic where they would beat Vashon out of Missouri, a nationally ranked power, and while it was a surprising win it was a win that Arbitello said made him realize this group of Royals were special.
From that moment on no matter the trials and tribulations that they went through Arbitello believed anything was possible with this group, and with his players all believing in the process as well they were well on their way.
Getting Cisse back in time for the playoffs was huge as well which Arbitello admits, but there was a bond that just wasn't going to be broken from this group which made Sunday's appearance in the title game something that while maybe a surprise to some outside the program, was an expectation according to guard Ryan Myers '20 throughout the season.
Just getting to Fordham though wasn't enough as Myers and his team to a man all said it was all about the win and making sure the championship trophy came back to Middle Village, Queens at the end of Sunday, though at the start against Stepinac it looked as if that hope and belief would be not coming true.
It was a first half all about R.J. Davis '20 for Stepinac as the junior guard was able to go off for 20 points, scoring at will against anyone that the Royals threw on him decisively. Add in that A.J. Griffin '21 was once again scoring from beyond the NBA three-point line on contested shots and it was the Crusaders going into halftime with a 39-31 lead.
No one from Christ the King was standing out offensively as it was Nathaniel Curry '19 who was doing the bulk of the job down low with 10 points and 8 rebounds in the opening half, including a bucket just before the buzzer to make it a single digit deficit once again but Arbitello said if they wanted a chance to win they had to do a better job with Davis.
Instead of just going straight man on him, Arbitello said that the change to be made in the second half was that they were going to double him each time he touched the ball sending Sterling Jones '21 over to help Myers and make Davis get the ball out of his hands.
That game plan and design may have singlehandedly changed the game as Davis wasn't allowed a good look at the basket in the final 16 minutes of the game with him having to consistently defer off and get the ball to open guards in Luke Fizulich '20 and Matt Brand '20 who struggled with their touch from behind the arc.
Slowly but surely too Myers was finding his own offensive groove as he was able to drive down the left-wing time and time again and connect on runners and floaters driving inside. A once 15-point deficit for Christ the King was being chipped away at with Cisse imposing his will in the paint as well as a defensive stopper, and a finisher on second and third chances.
It was a 7-point lead for Stepinac going to the fourth quarter still but with the Royals defense as aggressive and determined as ever they held the Crusaders to an 0-17 shooting performance from the field in the final stanza, a stat line that nearly left Arbitello speechless.
"I didn't know that wow," Arbitello said. "I thought our bigs did a great job of getting out on the shooters for Stepinac so that they weren't going to get any easy buckets"
A complete effort in the fourth quarter in nearly every way, Christ the King limited the Crusaders to just four made FT's in the final 8 minutes, and finally with 1:02 to go in the game off a Cisse finish from a Jones pass the Royals had the lead. The crowd erupted and there was no looking back from there.
Christ the King was able to finish the game off at the charity stripe and after struggling for most of the regular season and having everyone question if a moment like this was possible it was the Royals celebrating at center court as the clock hit zeros with Christ the King winning the CHSAA Intersectional Championship by rallying back to defeat Archbishop Stepinac, 61-56.
A remarkably balanced offensive effort for Christ the King, Myers was named Tournament MVP and was the high man for the Royals in this one with 19 points, but with Curry adding 14 points and 14 rebounds, and Cisse and Jones each in scoring 12 points as well it was a team effort for a team that bought into being a team all season long.
Missing both Ed Minaya '19 and Eddie Sanchez '19 due to injuries proved to really hurt Stepinac in the defeat as with Minaya out due to a back injury and Sanchez missing with a high ankle sprain it left the Crusaders lacking guys who could knock down shots from the outside after Christ the King did a very good job as the game wore on in denying the stars in Davis and Griffin.
Davis did have 22 points in the loss, though all but 2 came in the opening half, with Griffin adding 15 as well in what it without question a heartbreaking defeat for the Crusaders.
What this win for Christ the King really showed was that if you believe in the team anything is possible. Missing players due to injuries and fighting tough times can be tough, but when you are mentally strong enough and want something bad enough, anything is possible which the Royals proved on Sunday.
Having been 4-5 through their first nine games of the year to now being crowned CHSAA Champions, Christ the King are now atop the basketball world in New York City. Arbitello would say after the win that this is the most rewarding and gratifying championship of the six that he has now won with the Royals after overcoming all they did as a group.
For the MVP in Myers it is sweet success as well as after losing in this game last year and fighting through a challenging regular season, going home with all the hardware is something he says he will remember forever.
"Losing from last year and coming back and doing this today, it's the most amazing feeling and I couldn't be happier. I will remember this forever," Myers said in closing with a smile.