SMARTBall Monday: When High Schools Collide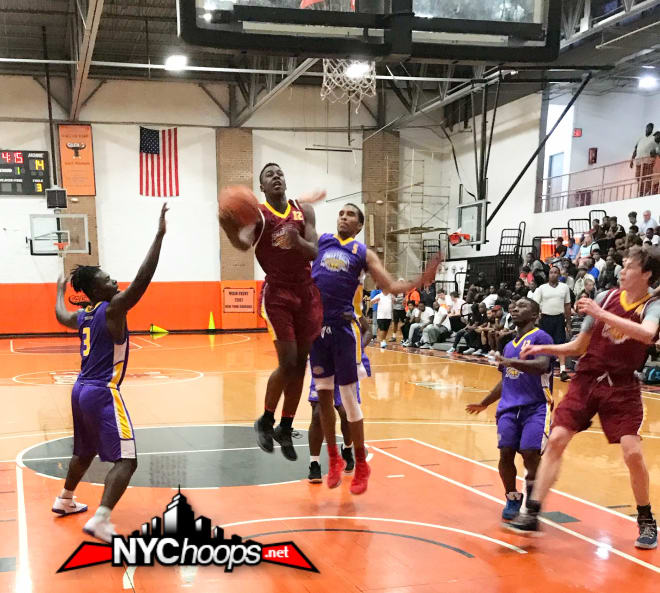 BRONX, NY – The famous Gauchos Gym was abuzz as the rain location for the SMARTBall Classic, which is usually held at Abraham Lincoln Park in Harlem, commenced at the legendary venue. Four teams faced off on Monday in the competitive single-game elimination tourney, giving us a glimpse into what fireworks might be expected in the upcoming New York high school season.
Cardinal Hayes Beat Back Curtis, 58 – 50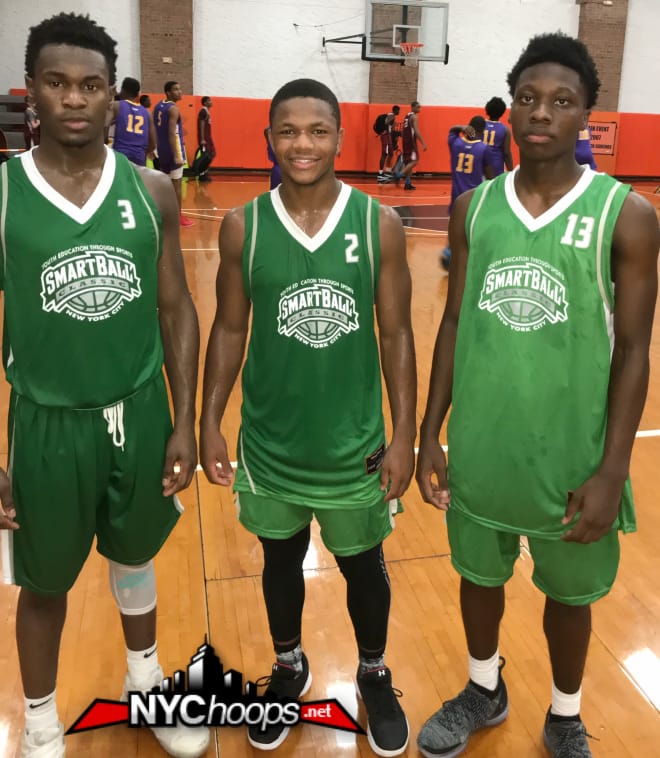 It was the consummate battle of tough guy teams as Hayes, of the CHSAA took on Curtis in the opening game. The Cardinals struck first as Jalen Smith '19 and Joe Toussaint '19 spearheaded an 8 – 0 run that left their Staten Island opponent reeling.
Curtis was quick to recuperate from the proverbial punch to the gut as Adeleye Oyekanmi '19 gave the team an offensive second wind while Darnell Askew '19 provided rebounding prowess along with back-to-back momentum building thunder-dunks. Cardinal Hayes fell lose its lead at the end of the opening quarter due to techs related to bookkeeping and extended its lead to 29 – 21 at the half as Oyekanmi scorched Hayes zone from the perimeter.
In the second half, Hayes scrapped the zone and went to man-to-man which quickly paid dividends. With Smith running the point and keeping the pace furious, Jaylen Murray '20 found daylight from the arc and Smith proceeded to knot the score at 32, 37 and 39 apiece with 2:10 remaining in the third quarter.
Cardinal Hayes held a 4-point advantage going into the final stanza, but the package of Smith, Toussaint and Murray proved to be lethal as they extended their lead to 12 points with 1:27 left to play. Curtis made a mad dash that sliced the lead in half with 26.8 tick left on the clock, but Julien Soumaofo drain clutch free-throws that sealed the deal for the Bronx Catholic school.
Toussaint led Hayes with 19 points & 4 assists with Smith and Murray contributing 11 points and 8 points respectively. Oyekanmi was high man for Curtis with a game high 20 points.
Bishop Loughlin Survives Iona Prep, 63 – 61
The final contest of the evening appeared to have the makings of scorched earth for Iona Prep as the Loughlin Lions pillaged its CHSAA opponent from Westchester. After an 18 – 0 run by the Brooklyn catholic school all signed pointed to things going from bad to worse. Even without the services of its star player Justin Champagnie '20 who was out with a tear to his patella, the Lions were still up by 17 as the second quarter got underway.
Jaheim Young '19 carried Loughlin with help from Tyshawn High '19 and Julian Champagnie '20 and its lead grew to 23 points with all signs still pointing to a route. Fortunately for Iona Prep they had trouble reading signs and stuck to their plan to run the floor.
A scoring surge initiated by Ronald Greene '22 in transition made slight inroads and Iona Prep's deficit which was still 39 – 21 at the half but that changed dramatically in the third quarter. With Greene still trailblazer, the Gaels received additional firepower from Jack Shannon '19 and Will Rubin '19 along with defensive pressure from Will Harrington. A 15 – 4 run by Iona Prep shaved Loughlin's lead down to a mere 6 points with 2:41 left to play in the quarter and suddenly Loughlin seemed to be get-able.
Ahead by only seven-points as the fourth quarter began, Loughlin could feel the wind of the Gaels on its neck. Baskets by Greene and Rubin further diminished Loughlin's lead and with 2:55 their lead was only 56 – 55. As the hourglass emptied, the Lions managed to keep separation as Young and Will Lee hit critical shots down the stretch that secured victory.
Young paced Loughlin with 16 points, 6 rebounds and 4 assists with High adding 8 points, 6 rebounds and 4 assists. Greene notched a game high 24 points for Iona Prep.