Girls: Jane McCauley has star potential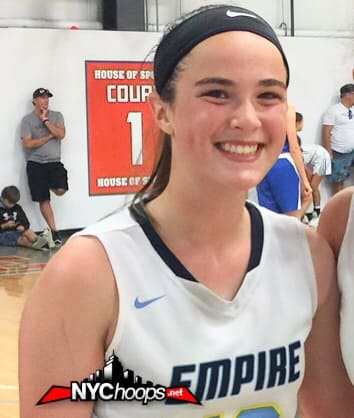 As her sophomore season at The Ursuline School went on 5'9" guard Jane McCauley '19 began to take on a bigger offensive role in leading the Koalas to one of their best seasons in recent memory.
The AAU season she had playing on the 15u level with Empire State Basketball Club just confirmed the fact that she has star potential as she has continued to grow out her skill sets, and is now primed for a future Division 1 career.
There are many things that Empire State head coach Nick Volchok likes to praise about McCauley, but the first thing that he always mentions when talked about her is the fact that there is no one who will outwork her.
A complete and total gym rat, McCauley does everything necessary in Volchok's eyes to make sure she is getting better each and every day.
"Jane wants that next level bad so she makes 3 or 4 practices a week, she does private training on her own with myself and a couple of other trainers, and is relentless is how she approaches the game," Volchok stated.
On the court McCauley has become one of the best shooters in New York as she has a smooth left-handed stroke with a quick release that she can bury from anywhere on the floor.
Off the court she is a strong academic student who uses her smarts on the hardwood as well as Volchok says that she is among the smartest and most heady players he has been around, with great court IQ.
If there is one aspect of McCauley's game that Volchok feels can take her to the next level it is her ability to do more off the dribble. She has already gotten considerably better with that, but once she can combine that on a regular basis with her lights out shooting touch Volchok knows that the opposition will really be in trouble.
"The next faze for Jane is showing that she has the ability to put the ball on the floor because from the perimeter she is as good as it gets at this level," Volchok explained. "I am confident she is going to show off those abilities though and make a name for herself as one of the best players in the section."
With a big summer behind her McCauley is now waiting for her first Division 1 offer that will surely come sooner than later. She has a few unofficial visits lined up, has been to Elite Camps so far, this month at Rider and Bryant, and Volchok also added that several schools in the MAAC, NEC, and Ivy League are also interested in McCauley, a player that he knows has unlimited potential for the future.
"Right now, we are just taking it one day at a time but the sky is truly the limit for that kid."
Go to NYGHoops.com for more girls articles.