Coach Artie Cox gets 1st varsity win
FLUSHING, NY- For a short period of time in October 2014 there was concern about the long-term prognosis of veteran Christ the King assistant coach Artie Cox. He was hospitalized and put into the ICU due to a severe case of pancreatitis, and many were worried if he would be able to pull through.
Of course, with much more left to give both on and off the basketball court, Cox was able to make a full recovery, coming back to the bench at Christ the King last season and slowly taking on more and more responsibility as he felt better and better, but Friday was maybe the biggest highlight for the basketball lifer.
That's because Royals head coach Joe Arbitello was under their weather with a bad case of the flu and unable to coach Christ the King during their lead meeting with Holy Cross on Friday, so in stepped Cox as varsity head man for the first time in his illustrious career.
He would more than fill Arbitello's shoes as well as with Cox at the helm the Royals put together a strong performance to remain in a share of first place in the CHSAA Brooklyn/Queens Division with a 68-55 victory over the Knights.
Having never been a varsity head coach before during his 30+ years of coaching at both Christ the King and Msgr. McClancy, Cox found out that he would possibly have the chance when Arbitello called him Thursday night, though Cox said it wasn't official that he would be the man in charge until just about 3 hours before tip time on Friday.
"Joe told me last night, he said maybe," Cox stated. "This morning he called me and said I don't think I'm going to make it, and then on my way here this afternoon driving the bus he said are you ok with this and I said yeah I'm fine, I'm ready."
Cox didn't have a ton of time to dwell on the fact that he was going to be head coaching his first varsity game on the high school level because he still had a job to do. That's because Cox is also the head coach of the freshmen team for Christ the King. They were able to pull out a victory for him to start the day, though the bigger game was still ahead.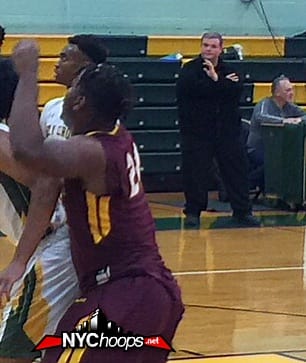 Admitting to some nerves as the day wore on, Cox looked like a veteran of 1,000 varsity coached games as he broke the huddle to start the game, giving his Royals encouragement as the game was about to tip.
Early on it looked as if Christ the King would run away with things as big man Moussa Cisse '21 was an unstoppable force as he was blocking anything that came near him while also finishing with thunderous dunks inside.
With the twin towers of Cisse and Kofi Cockburn '19 dominating the early play, Christ the King ran out to a quick 18-point lead, but that's when Holy Cross began to chip away as Tyler Chapman '20 was able to get going in transition and get the Knights easy buckets to get the deficit to just 40-30 at the half.
It wasn't the way Cox wanted to see the half close for the Royals, though he was quick to give Holy Cross credit for what they didn't to get back in the game towards the end of the second quarter.
"We took a few bad shots and ill-advised shots and made some bad decisions," Cox explained. "We lost our focus for a minute or two and Holy Cross didn't quit, and they were right back on top of us."
Quaran McPherson '20 added that he felt the Royals took their foot off the gas a bit, which in turn allowed the Knights to gain some momentum heading into the second half.
The 3rd quarter saw a more aggressive Christ the King defensively as they were pressuring up more on the Holy Cross guards, which in turn led to more breakout opportunities for Tyson Walker '18 who rose to the challenge in the second half. To their credit the Knights didn't wilt and were able to stay within single digits for much of the final 16 minutes of play, but with Cisse being a menace inside, and McPherson and Ryan Myers '20 coming up with big shots when needed, the Royals were just too much to overcome.
It was a balanced team effort for Christ the King who made the big plays when they needed them down the stretch to ultimately pull out a hard fought 68-55 victory.
Christ the King's balanced offensive attack was highlighted by the fact they had 5 players in double digits led by the 14 points apiece for Cockburn and Walker, with McPherson adding 13, Cisse chipping in with 12 points, and Myers finishing with 10.
Holy Cross couldn't match the offensive firepower of the Royals though they did get a game high 15 points from Chapman who put in a strong effort from start to finish.
Friday was all about Cox though who finally got to experience being the head coach for the first time. It was an experience that he admitted was fun, but he also said it was a different feeling being in the main chair for the varsity game as well.
Coming and fighting back from all he dealt with physically over 3 years ago makes it even more rewarding for Cox, one of New York City's legendary basketball coaches, who can now say he has a win as a varsity head man. It's truly been a long time coming for Cox who says he is just happy to be back doing what he loves.
"It was great but I'm just happy to be back and coaching and being my crazy old self again."