CHSAA Intersectional Quarterfinals (Part 2)
BRONX, NY — The race for the CHSAA Class AA Intersectional championship took its latest turn on Sunday as the quarter finals were held in Rose Hill Gymnasium on Fordham University campus. The cream of the crop in the catholic league were centerstage for the quadruple header and the action did not disappoint.
In the opening first two games, top Brooklyn/Queens seed Christ the King and No. 2 New York seed Cardinals Hayes each took care of business to set up a date in the semifinals next Wednesday. A similar result was in store on the other side of the bracket.
Here's how the last 2 games of the CHSAA Class AA Intersectional Quarter finals went down:
Five-stars Carry Molloy Past Iona Prep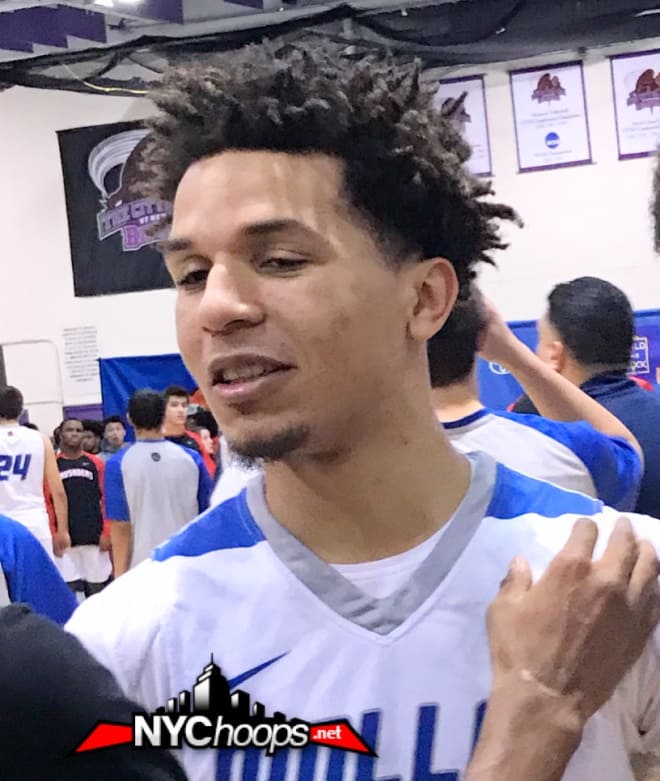 The high-end talent on the Archbishop Molloy team is second-to-none in New York basketball, however that alone hasn't necessarily produced wins for the Queens powerhouse. The combination of star junior point guard Cole Anthony and 7-foot Moses Brown hasn't yet produced any championship, but it looks like they're knocking on the door with their most convincing case yet.
The highly touted duo guided Molloy to a 68-61 win over Iona Prep to return AA semifinals just one year after a narrow loss in the championship game. Returning to the same court as that agonizing defeat, Anthony was in full control as he dictated the flow of the game, picked his spots wisely, and consistently applied pressure to a veteran Iona group. He finished with 21 points and 8 rebounds before fouling out with just under 3 minutes left.
As Anthony fouled out, Molloy carried a 7-point lead and the victory was far from a given with the best player on the court relegated to the bench as Iona added free throws to make it a 56-51 game. It seemed like a collapse from Molloy was underway as a turnover immediately led to an easy layup for Iona and it quickly became a one-possession game.
After the game, Anthony said those closing minutes felt like he was sitting for an hour. With the pressure mounting for the Stanners to hold off the rallying Gaels, Georgia Tech signee Khalid Moore was able to break through for a layup, just his third make of the game, to stop the momentum before a huge play occurred.
Trying to advance the ball, Molloy sophomore Elijah Blackman, one of two underclassmen to recently one up from junior varsity, made a crucial mistake turning the ball over but fortunately Iona did keep possession and the ball landed right back to Blackman, who made a heady charge to the lane and added 2 more points to go ahead 60-53 in the closing minute and ultimately seal the victory.
Blackman and fellow sophomore have been key weapons for Anthony to count on and the young players filled their roles well, complementing the team with a combined 15 points (5/9) and 5 steals. UCLA-bound Brown had 14 points and 3 blocks.
The biggest bright spot for Iona Prep, which loses seniors Bryce Wills (13 points, 6 rebounds) and Souleymane Koureissi (10 points, 5 rebounds) was fellow senior Romar Reid, who scored a team-high 19 points (4 3-pointers) and added a scholarship from Dominican College.
Stepinac Cruises With Griffin, Davis Past St. Ray's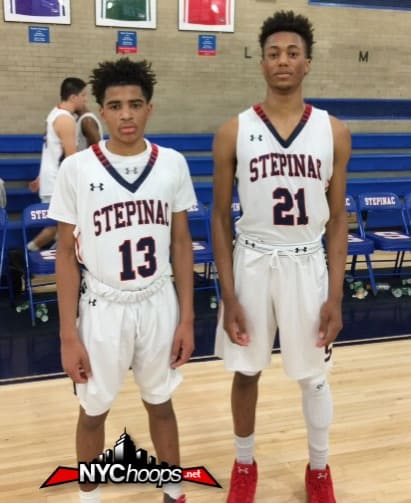 While the Stepinac roster isn't filled with sure-fire high major prospects, they're unmistakably a cut above most teams you'll see night in and night out around the city. One of the best one-two punches in the league, Alan Griffin and R.J. Davis authored a convincing 83-68 win over St. Ray's to advance to Wednesday's round of games at St. John's.
Just days removed from announcing his college decision, Griffin, an Illinois commit after choosing the Illini over St. John's, among others that showed interest, was dominant in his performance on both ends of the floor, totaling 22 points, 6 assists and 4 steals with Illinois assistant coach Orlando Antigua in the crowd watching.
On a solo performance ranking, he was arguably outdone by Santa Clara commit Omar Silverio of St. Rays, who ended his high school career guns blazing, dropping a game-high 29 points (6/10 3 FG) with 18 coming in the first half.
Silverio carried his team early as they fell behind 17-9 in the opening quarter and looked to be on the ropes of taking a double-digit deficit into the second period. A pair of 3-pointers bookending a run-out layup gave the senior gunner 8 points in the final minute of the first quarter to knot things at 17 after 8 minutes of play. He kept things rolling into the next quarter, adding 2 more 3's to snatch a 27-23 lead but a strong drive before the half-time buzzer by Griffin gave Stepinac the 33-31 advantage at the break.
While the two teams spent much of the third quarter exchanging baskets, it was Stepinac that was able to mount a run to create some separation, taking a 54-46 lead into the closing minute of the third, the decisive period in which they outscored St. Ray's 23-16 then added 27 more points in the final period to seal the win.
In addition to Griffin, who continues a stellar senior campaign, his co-star Davis scored 21 points — including the sophomore's 1,000th career point. The Crusaders received pivotal contributions from A.J. Griffin Jr. (14 points, 2 blocks, 2 steals) and Joel Soriano (14 points (7/10) 16 rebounds).