SFP Terriers Loaded & Ready to Repeat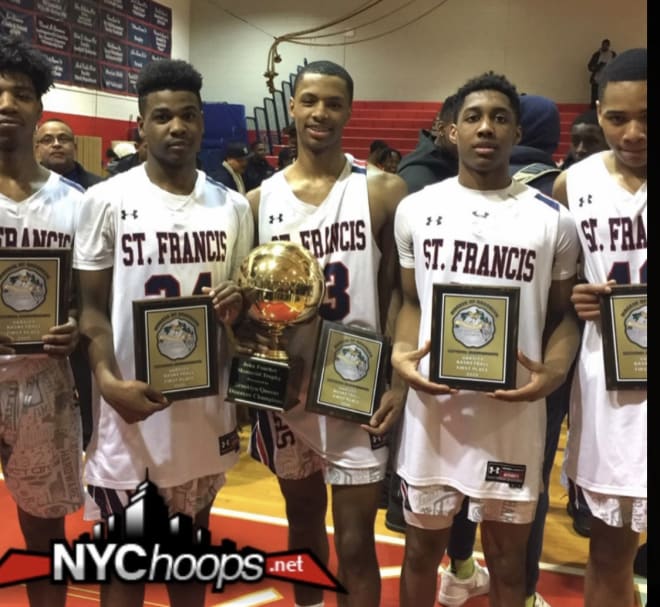 St. Francis Prep had an amazing season last year capturing the B/Q AA championship under coach of the year Jimmy Lynch. They had low expectations from people outside the program and were one of the youngest rosters in the league. Despite all the challenges the Terriers faced they were able to take home the championship and without losing much of their rotation could win again. This article will break down the depth of St. Francis Preps program and how the future is bright.
Recently wrote an article featuring Captain and Senior lead guard Todd Rochelle's recruitment and scouting report. Rochelle is a terrific player, but this Terrier team is one of the deepest in the city. Another star on the roster is 6"2 Junior guard Latiek Briscoe who seemed to make an impact in every game and was named All CHSAA AA Third team. Briscoe knocks down threes, is aggressive to the basket and an athletic finisher in traffic. He brings a ton of energy, is vocal and plays passing lanes extremely well. Marist is the latest school to reach out to Latiek who averaged 14 points and 6 rebounds a game as a sophomore.
Briscoe and Rochelle were named to all-league team but there's another Terrier who could be the best of the bunch. That Terrier is 5"11 combo guard Chance Morrish who seemed to be Preps x factor throughout the year. Morrish was impressive all season having some huge performances and stepping up when Prep needed it. He's a big time shot maker and always exudes confidence. His recruitment hasn't taken off but should this season and we've have heard New Hampshire has been in contact with Morrish.
The three lefties have all been mentioned so far but when speaking of the Terriers you can't forget 6"4 wing Jon Medley. Medley is an athletic playmaker who can stretch the floor, run the break and knock down threes. He's another All league potential candidate for the Terriers and has had New Hampshire and LeMoyne express interest.
Two rotation players who the coaching staff have high hopes for this season are 6"5 junior Jaden Daughtry and junior big man Key'Sean Maynard. Daughtry had the coaching staff excited before a big injury derailed his freshmen season. His ceiling could be the highest of the group and he's already received major interest from Marist. Maynard is a Brentwood transfer who has begun to fill out, improve his body and develop his game. Safe to say this is one of the deepest rosters in NYC and could be considered the favorite to win back to back titles.