Positive Direction Clips Starrett City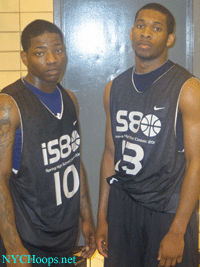 The Positive Direction Wildcats (2-0) have earned a reputation for being a scrappy never-say-die team and on Friday at the iS8/Nike was no different.
Led by the efforts of Norfolk State bound
Reynaldo Walters
and Harvard commit
Ernest Rouse
, the Wildcats came from behind to defeat Starrett City (2-1), 66-63.
Starrett City pulled out in front early and went into the second quarter up 17-14. Wadleigh's Tyrie Orasco's dominance on offense, extended SC's lead to 21-17 with four minutes left to play in the half.
Roland Brown
began to counter inside for Positive Direction but Starrett City kept the pressure on as Lincoln's
Ray Oloughlin
drew fouls and put up point from the charity stripe.
The tandem of Walters and Rouse began to make head way and a 6-0 run cut Starrett's lead to 27-25 with 1:35 left in the half. Orasco's aggressiveness driving to the hole along with matched intensity by teammate Karim Rowson would hold off the Wildcats, giving Starrett a 31-27 lead going into the locker room at the midway point in the game.
Walters would once cut the lead to two points but once again, Starrett would manage to pad the cushion and push the lead back up.
Even though Rouse began to heat up, dropping back-to-back jumpers and Walters continuing to penetrate to score, Positive Direction was still down 48-46 going into the fourth quarter as Boys & Girls Antoine Slaughter seemed to score at will.
Slaughter continued where he left off in the third quarter, taking defenders off the dribble or draining buckets from the right and left of the key. It appeared that Starrett City was going to maintain the lead that they had for the entire game as their lead increase to 9 points with 3:25 left in regulation.
The Positive Direction Wildcats, however, seem to rise to the occasion, especially when their back are against the wall. A Rouse three-ball and two buckets by Josh Williams and Starrett City's lead as only 57-56. Orasco would draw a foul but would miss the free-throw and another clutch trey by Rouse would give the Wildcats their first lead. Brown would extend the Wildcat's lead to 61-57 with a solid post up move that fouled out Oloughlin.
Slaughter would end Starrett's drought, scoring with 1:25 left in the game but the Wildcat's had the momentum and would hold on for the comeback win.
Rouse led all scorers with 19 points while Walters added 17 points. Orasco and Rowson paced Starrett City with 17 apiece.
Go to
NYC Hoops
for all the late breaking NYC basketball news and rankings.
Sign-up for our FREE eNewsletter to get the even more news right in your email box.
For On-Demand Webcasts of the Jordan Brand Classic Regional & International game go to:.