NYCHoops.net Two-Boro World Tour
NEW YORK, NY – On Sunday, we checked out two exciting holiday weekend games as part of our two-borough high school basketball world tour. The first game was in Brooklyn between PSAL schools during the Martin Luther King, Jr. Classic at South Shore H.S. The other was at St. Raymond H.S. where two ranked Bronx CHSAA teams faced off.
Askew drops 50 on Cardozo; Curtis wins by 25
After an emphatic dunk as the game got started, it was clear that Darnell Askew '19 was going to have a good night. Unfortunately for the Cardozo Judges, they had no idea how good a game he was about to have. When it was over, the senior would net a jaw dropping 50 points to go with 10 rebounds and 2 assists for Curtis H.S. The Staten Island squad went on to win convincingly over the Judges, 82 – 57.
"Unbelievable," said Curtis Warriors head coach Dwayne Archbold of Askew's game. "That was some performance. For the last month or so he's been on a tear."
Askew was a one-man wrecking crew in the opening quarter scoring 11 of the Warriors 14 points. Cardozo manage to stay in front by four due to offense from Jamal Watson '19 and Cobe Farrington '19. Other Curtis players supplemented Askew in the second quarter as Anthony Ingleton '20 and Adeleye Oyekanmi '19 step up their games which set the Judges back 31 – 30 at the half.
Taking a slight breather in the second quarter, Askew proceeded to unleashing 20 points on Dozo in the third quarter. The Judges were flailing as Askew seemed to score at will. Up 14 points entering the fourth quarter, Askew dumped an additional 13 points on Cardozo for good measure.
With a couple a minutes remaining, Coach Archbold subbed out Askew with 50 points already in the books but what we thought was an act of mercy was for something completely different. "He needed 51 points for 1000," said Archbold. "We have a home game on Friday so he's gonna do it on Friday."
Askew clearly led the way for Curtis but Oyekanmi contributed 12 points. Farrington was high man for Cardozo with 12 points.
Scanlan coughs up, 73 – 69, loss to St. Raymond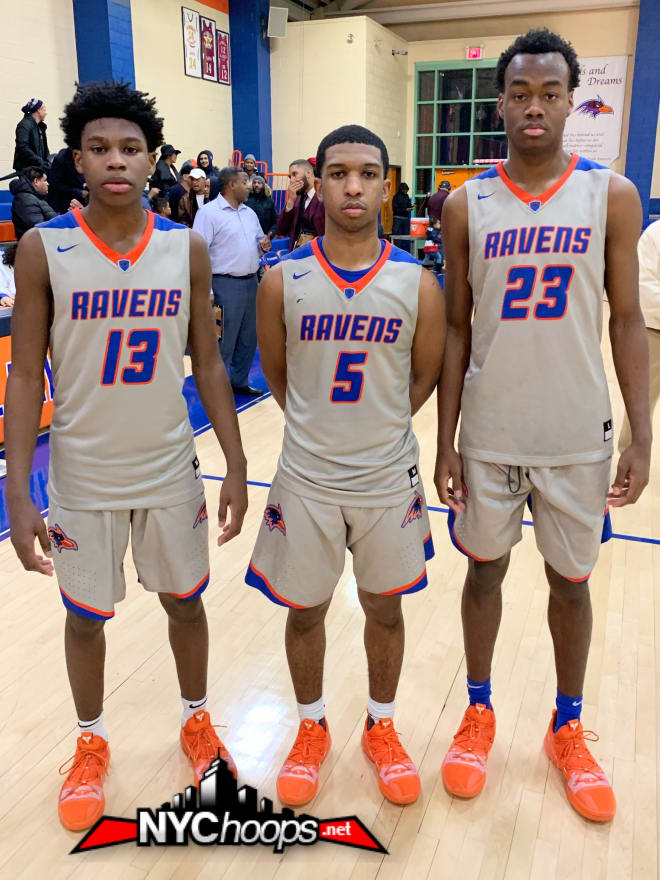 For three quarters of play, the St. Raymond Ravens were playing catch-up with the Scanlan Crusaders. Even playing on their home court did not seem to offer then the advantage. It would take a fourth quarter rally to give St. Ray's its 9th straight win since losing to L.I. Lutheran in December.
"I thought our defensive pressure [in the fourth quarter] was the difference, forcing turnovers and capitalizing off those turnovers which helped us catch-up and eventually take the lead," said Ravens head coach Jorge Lopez.
6'5" sharpshooter Kobe Brea '20 put Scanlan on the map early and gave them a 3-point advantage at the end of the first quarter. The Ravens were able to stay close during the first half primarily due to the efforts of Gary Grant '20, but Coach Lopez could see the teams lack of intensity. "You've gotta be killers today," he was were yelling at his team during a timeout. The Ravens responded somewhat, briefly taking a 2-point lead but 6'4" Joe Munden '20 put the kibosh on that, reclaiming the lead 28 – 27 at the midway point.
Able to shut down Brea in the second half, St. Ray's still had to deal with 6'8" Matt Mayers '19 who was money in the paint from Scanlan but Grant was steady Eddie for the Ravens always keeping the game within reach along with offense from 6'0" Reginald Hudson '20. Scanlan still managed to stay on top as the quarters ended and heading into the final quarter was no different. Down by 4 points, St. Ray's was heading for the almost won consolation prize.
Like an anaconda, the Ravens clamped down on defense late in the fourth quarter and the Crusaders began to cough up the ball and eventually the lead as Malachi Smith '21, Jalen Reneau '19 and 6'2" Luis Kortright '20 hit clutch shots down the stretch. After knotting the game at 56 with 5 minutes left in regulation, St. Ray's went on a 10 – 2 run. Now it was Scanlan playing catch-up.
The Crusaders did clap back with a 9 – 3 run, tying the game at 69 with under a minute. Grant scored critical shots in the closing seconds that sealed the deal for the Ravens. "Grant's done a lot for us," said Coach Lopez. "He's been consistent and many times he's been our best player."
Grant led the Ravens with 16 points with Hudson adding 10 points. Mayers paced Scanlan with a game high 22 points with Brea contributing 15 points.