NBPA Top 100 High School Camp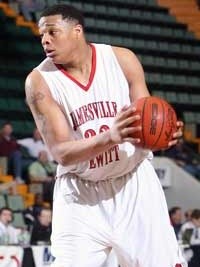 New York, NY - The National Basketball Players Association (NBPA) announced today that the 17th Annual NBPA Top 100 High School Camp, which exists to prepare up-and-coming players for life on and off the basketball court, will take place at the University of Virginia's John Paul Jones Arena in Charlottesville from Wednesday, June 16 through Sunday, June 20.
The Camp offers a unique and valuable curriculum designed to prepare players for competition and life at the next level. The training includes a sophisticated Skills Development Program, highlighted by its Mentoring, Personal Development and Education component. In addition, every camper participates in a series of group discussions and classes on topics ranging from stress management to sex education, to handling recruiting pressures, dressing for success, and other life-lesson subjects offered by expert trainers and counselors, as well as the NBA players.
On the court, players face-off against each other daily in top-quality competition during practices and games. As part of the NBPA's Coaching Development Program, current and retired NBA players work intensively with campers, coaching teams, teaching basketball fundamentals and leading skill development stations in one-on-one and group settings. The Coaching Development Program is an advanced opportunity for current players who desire to explore the coaching profession as their next career to learn coaching skills such as studying game film, scouting players and creating a coaching game plan.
The Camp, started in 1994, added the Parents Coaching Parents Program in 2003, a diverse educational program available to parents or guardians who attend the camp. This interactive program creates a "team approach" between parents and players, and informs parents about the recruiting process and beyond. This rapidly growing program has dramatically increased in parent attendance in each of its seven years.
Billy Hunter, NBPA Executive Director says, "The NBPA Top 100 Camp offers a personalized game plan for every camper that attends. Our comprehensive curriculum is designed to proactively educate these talented student-athletes about the keys to success in all walks of life, from the basketball court to the classroom and beyond."
"This year, we have raised the bar of excellence at our NBPA Top 100 Camp. In addition to the tremendous talent pool of high school basketball stars, we are bringing in additional educators and mentors to enhance the learning experience for the young men, says Tim McCormick, Camp Director. "Campers will learn from the pros and compete against the best, while receiving invaluable guidance about developing into successful players and people."

Click
Here
to view this Link.